Individualized medicine enabled by genomics in Saudi Arabia
BMC Medical Genomics
2015
8(Suppl 1):S3
Published: 15 January 2015
Abstract
The biomedical research sector in Saudi Arabia has recently received special attention from the government, which is currently supporting research aimed at improving the understanding and treatment of common diseases afflicting Saudi Arabian society. To build capacity for research and training, a number of centres of excellence were established in different areas of the country. Among these, is the Centre of Excellence in Genomic Medicine Research (CEGMR) at King Abdulaziz University, Jeddah, with its internationally ranked and highly productive team performing translational research in the area of individualized medicine. Here, we present a panorama of the recent trends in different areas of biomedical research in Saudi Arabia drawing from our vision of where genomics will have maximal impact in the Kingdom of Saudi Arabia. We describe advances in a number of research areas including; congenital malformations, infertility, consanguinity and pre-implantation genetic diagnosis, cancer and genomic classifications in Saudi Arabia, epigenetic explanations of idiopathic disease, and pharmacogenomics and personalized medicine. We conclude that CEGMR will continue to play a pivotal role in advances in the field of genomics and research in this area is facing a number of challenges including generating high quality control data from Saudi population and policies for using these data need to comply with the international set up.
Keywords
Genetic Counselling
Congenital Malformation
Assisted Reproductive Technology
Congenital Heart Defect
Gulf Cooperation Council
Introduction
Leadership of the Kingdom of Saudi Arabia, is more conscious than ever of the necessity of establishing dedicated and long-term strategies that focus on the prevention of the effects of severe genetic disorders (most often due to consanguinity) and the impact of environmental changes (e.g., Dietary changes, toxins) on the general health of the Saudi society. As outlined in Figure
1
, health policy planners and biomedical research scientists have conducted landscape surveys of the challenges facing the Saudi population, and formulated strategic objectives of how to move the health care research agenda forward with defined outcomes. Many of the decisions in investment in biomedical solutions for looming medical challenges are being grounded in establishing high-technology genomics and informatics-based centres that exploit the unique clinical and human resources available in the Middle Eastern countries, and in particular Saudi Arabia. International expertise is also being brought in through forward looking academic consultancies with universities and through new training initiatives.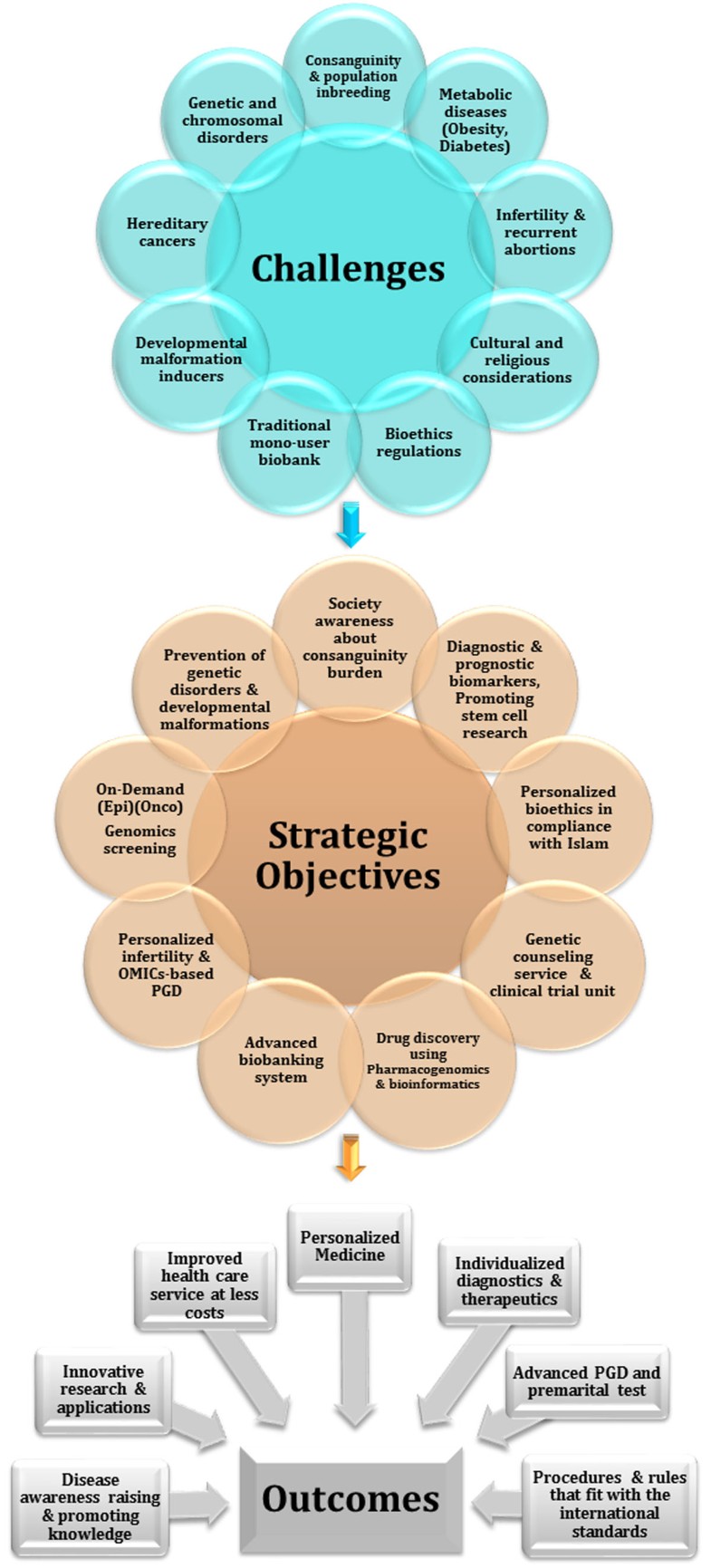 In order to apply 21st century solutions in biomedical health research, at least three foundational genomic research initiatives are under way in the Gulf Cooperation Council (GCC), which include Kingdom of Saudi Arabia, Qatar, Oman, Bahrain, Kuwait and United Arab Emirates. These initiatives include, the catalogue of transmission genetics in Arabs (CTGA) [1] hosted by the Centre for Arab Genomic Studies in the United Arab Emirates, the Qatar Biobank Initiative [2] and the Saudi human genome program (SHGP) [3].
Established in 2003, the main purpose of the CTGA is to increase public and academic awareness for early diagnosis of genetic diseases in the Pan Arab population and to translate scientific knowledge into individualized medical treatment and management programs. As of January 2014, the CTGA online database curates over 1,000 disease phenotypes with a focus on the epidemiology in the Arab world, and it also maintains a record of nearly 250 associated disease loci. Many of the disease phenotypes studied are either more frequent (such as G6PD deficiency) or are regionally endemic, restricted to certain tribal communities or even unique to consanguine families. Consanguinity, which is a main feature of the traditional Arabic culture (see below), leads to an increase of homozygosity for autosomal recessive genetic diseases which, from the perspective of research, can serve as an important repository for phenotype-genotype association studies [4]. The Qatar BioBank was initiated in 2010 aiming to take biosamples from Qatari population into repository to investigate diseases common to the domestic population [2]. Its ambitious goal is to serve as a driver for biomedical research inside and outside of Qatar. The SHGP intends to sequence the exomes and/or genomes of 100,000 Saudis within a period of five years taking advantage of the feasibility of next generation sequencing (NGS)[3]. In one of the large investments, NGS utilizing the Ion Proton technology (LifeTechnologies) has been allocated to the core facility of the SHGP in the capital Riyadh in addition to 15 planned satellite facilities across the Kingdom covering a substantial part of the 30 million nation's populated areas. The satellites are established as collaborating institutions with self-adopted timelines and projects, which are led by on-site researchers independently from the SHGP headquarter.
Using the new genomic data, the SHGP is aiming to investigate a number of diseases, which are common or endemic in the country and have a strong genetic component such as diabetes, deafness, cardiovascular disease, neurodegeneration, cancer and inherited and Mendelian disorders (discussed below). Translational research aspects of this project include genetic counselling and in some instances further genetic testing of families where the underlying genetic mutations have been identified. For example, a number of genetic counselling services for inherited disorders like the pre-marital screening and genetic counselling program in Saudi Arabia for hemoglobinopathies and viral infections have been implemented [5]. Developing applications in pharmacogenomics research and personalized medicine are prospective objectives that may also arise from the SHGP. In addition, the aggregate genetic information offers the opportunity to perform genome wide association studies (GWAS) in a new dimensional scale. Such studies may shed light upon a number of polymorphic traits that are associated with certain diseases and are suspected to add to their penetrance which may gain special importance for endemic conditions like body mass index and obesity [6], or for acute diseases like cancer [7].
Our review is divided into five themes that we believe are most relevant for genomic technologies to have impact in Saudi Arabia. We ordered the themes based on our interpretation of the challenges unique to Saudi Arabia and the Middle East (Fig.
1
). We believe the investment in research will have significant impact on our own health care systems and the lessons learned will also have an impact in other regions of the world, in particular as population migration expands and genetics becomes fully integrated into medical management for individuals and their family members [
8
]. Our vantage point is from working within the Centre of Excellence in Genomic Medicine Research (CEGMR), King Abdulaziz University (KAU), Jeddah, Kingdom of Saudi Arabia (KSA). This dynamic organization is aiming to develop and apply the best practices in genomic medicine driven by world-class research programs (Fig.
2
) to further the health of citizens of Saudi Arabia and the world.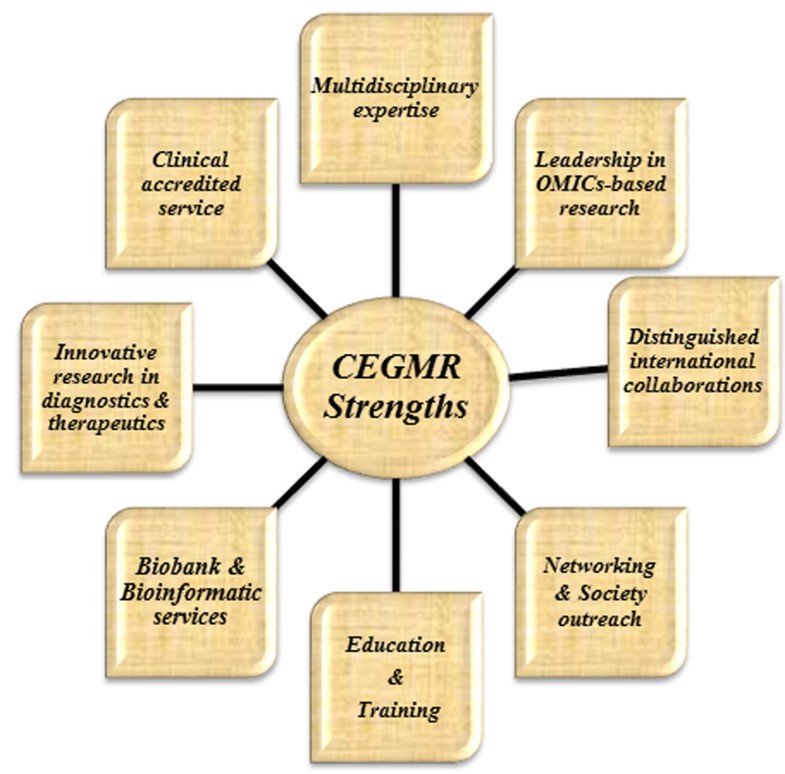 Discussion and summary
All of the investments in equipment in genomics infrastructure, and informatics at CEGMR aid in generating fundamental knowledge to facilitate effective decision making for individuals and families. Our primary objective is to generate the highest quality genomic data from patients and relevant family and population controls to enable opportunity for point-of-care, as well as iterative decision making based on the comparative medical data available. The advantage in the Saudi system is centralized medical care and shared experiences in families, which will also enable genome-based discoveries and treatments among families, physicians, and researchers [162].
We also recognize the importance of thoughtful deliberation on issues of societal awareness about consanguinity, infertility, and stigma associated with some genetic disorders and malformations. Therefore, the authority has launched several education and outreach programs in hospitals and schools [163]. CEGMR will continue to launch proactive communication plans with stakeholders such as government, media, children with disabilities, charitable associations, and other society representatives. Coupled with research, will also be newer ethical consenting processes that are particularly conscience of the vast array of genetic findings (and their implications) that arise from genome scanning [164]. Much of the data will be amenable to confidentiality, protection and control using an informatics-based approach [165, 166]. However, there remains an urgent need in Saudi Arabia for up to date policies that comply with international standards, which implement strict control and protection of privacy and public release of bio-specimens and data [166–168]. CEGMR will also continue to develop and implement new algorithms and databases enabling iterative dynamic interpretations of data in personalized health decision making [169–171].
Other considerations relevant to translational medicine in the Saudi system include making reproductive health and ART more accessible and affordable for the average Saudi citizen so this approach can further ease the current staggering impact congenital malformations and genetic disease are having on the health care system [41]. We believe that there is a need for a strategic plan to recommend the PGD for patients with hereditary genetic disorders and receiving IVF services in the Kingdom. There also needs to be proactive and clear policies on the use of the human Embryonic Stem Cells (hESCs) and these should be easily accessed by all who are interested in the human stem cells research.
Disclosures
The authors disclose no competing financial interests.
List of abbreviations
ADRs:

Adverse Drug Reactions
ALL:

Acute Lymphoblastic Leukaemia
APS:

Advanced Premarital Screening
ART:

Assisted Reproductive Technologies
ASR:

Average Standardized Rates
CDH1:

Cadherin-1
CEGMR:

Centre of Excellence in Genomic Medicine Research
CGH:

Comparative Genomic Hybridization
CHD:

Congenital Heart Defects
CIMP:

CpG Island Methylator Phenotype
CIPM:

Centre of Innovation for Personalized Medicine
CNS:

Central Nervous System
CTGA:

Catalogue of Transmission Genetics in Arabs
DMD:

Duchene Muscular Dystrophy
DME:

Drug Metabolizing Enzyme
EMs:

Extensive Metabolizer
eSET:

elective Single Embryo Transfer
ESR1:

Estrogen Receptor-1
FDA:

Food and Drug Administration
G1:

Gastrointestinal
GCC:

Gulf Cooperation Council
G6PD:

Glucose-6-phosphate dehydrogenase
GWAS:

Genome Wide Association Studies
HESCs:

human Embryonic Stem Cells
IARC:

International Agency for Research on Cancer
IMs:

Intermediate Metabolizers
IVF in vitro:

fertilization
KACST:

King Abdullah City for Science and Technology
KAU:

King Abdulaziz University
KFSH & RC:

King Faisal Specialist Hospital & Research Centre
KSA:

Kingdom of Saudi Arabia
MOH:

Ministry Of Health
ND:

Not Determined
NGS:

Next Generation Sequencing
NHL:

Non-Hodgkin`s Lymphoma
NSAIDs:

Non-Steroidal Anti-Inflammatory Drugs
PGD:

Pre-implantation Genetic Diagnosis
PGt:

Pharmacogenetics
PGx:

Pharmacogenomics
PMs:

Poor Metabolizers
SADRs:

Serious Adverse Drug Reactions
SCD:

Sickle Cell Disease
SHGP:

Saudi Human Genome Program
SNPs:

Single Nucleotide Polymorphisms
T2DM:

Type 2 Diabetes Mellitus
UMs:

Ultra-rapid Metabolizers
Declarations
Acknowledgement
We would like to thank KACST for funding and supporting research in Saudi Arabia from which many results are reported in this review. MAE is funded by KACST Project Codes: 13-BIO789-03, 13-BIO669-03 and 13-CIPM-1.PP is funded by KACST Strategic Project Codes: 12-BIO2719-03 and 12-BIO2267-03. FA is funded by KACST Strategic Project Codes: 09-BIO-693-03.
Declarations
Publication charges for this article were funded by the Center of Excellence in Genomic Medicine Research (CEGMR), King Abdulaziz University, Jeddah, 21589, Kingdom of Saudi Arabia.
This article has been published as part of BMC Medical Genomics Volume 8 Supplement 1, 2015: Selected articles from the 2nd International Genomic Medical Conference (IGMC 2013): Medical Genomics. The full contents of the supplement are available online at http://www.biomedcentral.com/bmcmedgenomics/supplements/8/S1
Authors' Affiliations
(1)
Centre of Excellence in Genomic Medicine Research (CEGMR), King Abdulaziz University, Jeddah, Saudi Arabia
(2)
KACST Technology Innovation Centre in Personalized Medicine at King Abdulaziz University (CIPM), Jeddah, Saudi Arabia
(3)
School of Biological Sciences, University of East Anglia, Norwich, UK
(4)
Zoology Department, Faculty of Science, Minia University, Minia, Egypt
(5)
The Centre for Applied Genomics and Program in Genetics and Genome Biology, The Hospital for Sick Children, Toronto, Canada
(6)
McLaughlin Centre and Department of Molecular Genetics, University of Toronto, Toronto, Canada
Copyright
© Abu-Elmagd et al; licensee BioMed Central Ltd. 2015
This article is published under license to BioMed Central Ltd. This is an Open Access article distributed under the terms of the Creative Commons Attribution License (http://creativecommons.org/licenses/by/4.0), which permits unrestricted use, distribution, and reproduction in any medium, provided the original work is properly cited. The Creative Commons Public Domain Dedication waiver (http://creativecommons.org/publicdomain/zero/1.0/) applies to the data made available in this article, unless otherwise stated.