Debate
Open Access
Open Peer Review
This article has Open Peer Review reports available.
Defining "mutation" and "polymorphism" in the era of personal genomics
BMC Medical Genomics
2015
8:37
Received: 2 October 2014
Accepted: 6 July 2015
Published: 15 July 2015
Abstract
Background
The growing advances in DNA sequencing tools have made analyzing the human genome cheaper and faster. While such analyses are intended to identify complex variants, related to disease susceptibility and efficacy of drug responses, they have blurred the definitions of mutation and polymorphism.
Discussion
In the era of personal genomics, it is critical to establish clear guidelines regarding the use of a reference genome. Nowadays DNA variants are called as differences in comparison to a reference. In a sequencing project Single Nucleotide Polymorphisms (SNPs) and DNA mutations are defined as DNA variants detectable in >1 % or <1 % of the population, respectively. The alternative use of the two terms mutation or polymorphism for the same event (a difference as compared with a reference) can lead to problems of classification. These problems can impact the accuracy of the interpretation and the functional relationship between a disease state and a genomic sequence.
Summary
We propose to solve this nomenclature dilemma by defining mutations as DNA variants obtained in a paired sequencing project including the germline DNA of the same individual as a reference. Moreover, the term mutation should be accompanied by a qualifying prefix indicating whether the mutation occurs only in somatic cells (somatic mutation) or also in the germline (germline mutation). We believe this distinction in definition will help avoid confusion among researchers and support the practice of sequencing the germline and somatic tissues in parallel to classify the DNA variants thus defined as mutations.
Keywords
Personal genomicsPrecision medicineDNA sequencingDNA variantsHuman genome
Background
The human genome consists of over 3 billion base pairs which reside in every nucleated cell of the body [1, 2]. The genome, which has remained well conserved throughout evolution, is at least 99.5 % identical between any two humans on the planet [3]. Modern genomic tools have revealed that it is more complex, diverse, and dynamic than previously thought, even though the genetic variation is limited to between 0.1 % [4–6] and 0.4 % [7] of the genome. Sequence variations, even in non-protein coding regions of the DNA, have begun to alter our understanding of the human genome. While some studies have linked certain variants to being predictive of disease susceptibility and drug response, the majority of diseases have a very complex genetic signature (reviewed in [8, 9]). Biomedical research is shifting towards understanding the functional importance of many such variations and their association with human diseases.
At the heart of these novel discoveries are the modern DNA sequencing tools, which continue to evolve at a rapid pace. The new sequencing technologies continue to become cheaper and more precise, and facilitate novel medical and biological breakthroughs all over the world [10, 11]. Scientific research has become nearly inconceivable without employing sequencing technology but, with the progress of technology and the increasing sequencing of individuals, a massive amount of data is being generated. However, any data without context and analysis is useless. The data from sequencing must be carefully annotated, securely stored, and easily accessible from repositories when needed. Such arduous tasks require functional collaboration among clinicians, researchers, and health professionals [12].
In a recent thread in the ResearchGate portal [13], an ongoing discussion on the difference between a mutation and a polymorphism elicited a response from more than three hundred participants from various scientific backgrounds. The variety of responses prompted us to write this document as a paper aimed at stimulating the discussion further and possibly finding a consensus on the usage of the terms mutation and polymorphism in the context of a reference sequence in a personal genome project.
Summary
Despite this rhetoric to better define the terms, there is no consensus in research papers or HGVS recommendations on how a mutation is different from a polymorphism. The lack of a consensus is creating a problem in the interpretation of data coming from personal genome software analysis, as described above. What is the reference? What is the threshold to distinguish common from rare DNA variants? This problem is not trivial when looking at the downstream effects. In fact, the term mutation is commonly conceived (wrongly) to carry an intrinsic negative impact on the function of a given gene.
We propose that the term "mutation" be used to indicate the result of a recent mutation event which has been detected using as a reference the germline DNA of the same individual. Therefore, a mutation would be a "DNA variant" acquired over the lifetime of an organism, i.e. a somatic mutation. In this sense, mutations are the principal causes of many diseases like cancer but are typically not inherited by their offspring. Alterations in the DNA of germ cells – sperms and eggs – can be inherited by offspring and are currently called germline mutations. In this case, the term mutation should be used only if the germline "variant" has been detected using as a reference the germline DNA of the same individual. While germline mutations can also increase the likelihood of succumbing to certain diseases, the signature of such mutations is found in each and every cell of the offspring [48]. This is because the original embryo (first cell in the body) is formed through the fusion of germ cells, from where all the somatic cells arise. So in essence, while these alterations in the parents' germ cells are appropriately termed germline mutations, calling both somatic and germline mutations simply "mutations" seems incongruent. The variation of genotypes among individuals, inherited from parents but still present in the DNA of each cell in the body, is the classic definition of a genetic polymorphism and we propose going back to this original definition: a polymorphism occurs in a population when the observed variation from individual to individual is not maintained by recurrent mutation.
Whereas it is perhaps not unreasonable to use the term mutation for the result of a mutation event, there is no analogy that would imply using the term polymorphism for a common variant because polymorphism is a condition found in a population, not an event. Genetic polymorphism, just like any other biological polymorphism (e.g. the siphonophores) occurs when members of a species differ in form [49]. When the notion that the different forms could be genotypes rather than phenotypes was first introduced [49], the focus was on the least frequent genotype not being due to recurrent mutation, and hence the arbitrary 1 % threshold; but a genetic locus with a thousand equi-frequent alleles would be considered extremely polymorphic. Most SNPs are tri-morphic, but are appropriately called polymorphisms in contrast to being mono-morphic.
Different from diseases associated with SNPs, which are expressed in all the cells of an organism, some diseases, like cancer, are caused by genetic variations typical of a small subset of somatic cells. In order to keep the difference between the two categories of DNA variants, we propose a clear distinction between a SNP and a somatic mutation. A tumor sample and a normal tissue sample from the same individual can be sequenced for analysis of genetic variations. For statistical and computing power, additional sequences coming from buccal swabs or peripheral blood DNA can be used to sequence the germline reference of a patient (paired approach). Since the tumor samples have additional genetic changes as compared with the specific individual's germline reference, these changes will serve as key attributes to understanding the cancer of this specific individual.
It is possible that germline sequences between this individual and others also differ, and this would constitute a polymorphism in the population, as originally defined. The genotypes/alleles that constitute a polymorphism should be called variants but never, without attribute, simply "mutations". In our proposal, the term "mutation" should be used only if the sequencing project used the germline reference (Fig.
1a
). In this context, in order to have a mutation it is not only required to detect a variation as compared with the reference, but also the reference needs to be represented by the germline cells of the same individual. Accordingly, the term "mutation" should always be accompanied by a qualifying prefix indicating if the "mutation" occurs only in somatic cells (somatic mutation) or also in the germ line cells (germline mutation) (Fig.
1a
). This would prevent mutations and polymorphisms from being incorrectly annotated in a sequencing project, with potential deleterious effects on the efficacy of genomics applied to precision medicine, as recently highlighted in recent studies [
45
–
47
].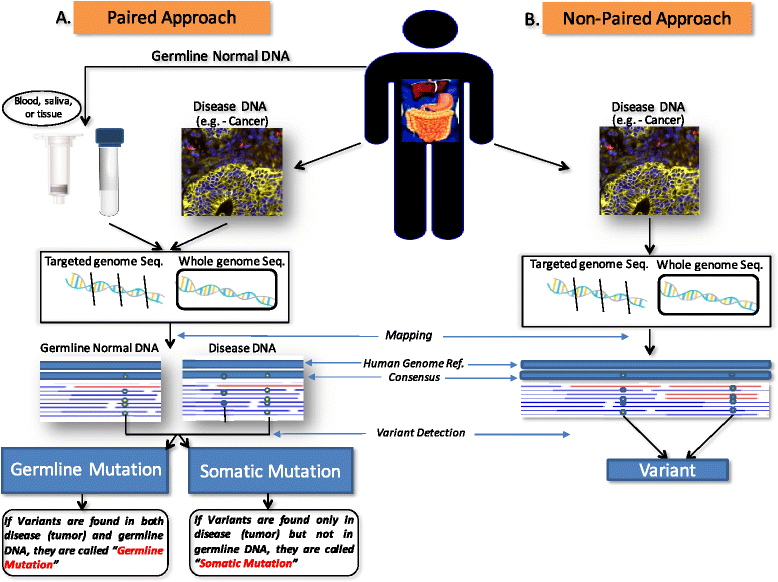 In the case a sequencing project did not include as a reference the germ-line DNA of an individual, the term "mutation" could not be used and should be replaced by the neutral term "variant" (Fig. 1b), as previously suggested [47]. Therefore, in the sequencing report the alternative use of the term "mutation" or "variant" will also clarify which kind of reference was adopted. We anticipate that this approach will encourage the use of referencing germline DNA in a sequencing project and will allow an immediate comparison between studies that used the same referencing method. Importantly, the term "polymorphism" should only be used in the context of a population. Accordingly, this term cannot be approved to classify variants in personal genomics.
Abbreviations
SNP:

Single nucleotide polymorphism
HGVS:

Human Genome Variation Society
Declarations
Acknowledgements
We thank Dr. Oliver Schildgen for prompting us to write this white paper aimed at forming a consensus of these terms and editing some portions of the manuscript. We also thank all the participants of the Research Gate thread for the useful and stimulating contributions, which we have tried to summarize in this manuscript.
Authors' Affiliations
(1)
Danbury Hospital Research Institute, Western Connecticut Health Network, Danbury, USA
(2)
Department of Epidemiology and Biostatistics, Case Western Reserve University School of Medicine, Cleveland, USA
Copyright
© Karki et al. 2015
This article is published under license to BioMed Central Ltd. This is an Open Access article distributed under the terms of the Creative Commons Attribution License (http://creativecommons.org/licenses/by/4.0), which permits unrestricted use, distribution, and reproduction in any medium, provided the original work is properly credited. The Creative Commons Public Domain Dedication waiver (http://creativecommons.org/publicdomain/zero/1.0/) applies to the data made available in this article, unless otherwise stated.