Technical advance
Open Access
Open Peer Review
This article has Open Peer Review reports available.
Comprehensive detection of germline variants by MSK-IMPACT, a clinical diagnostic platform for solid tumor molecular oncology and concurrent cancer predisposition testing
BMC Medical Genomics
BMC series – open, inclusive and trusted
2017
10:33
Received: 6 November 2015
Accepted: 8 May 2017
Published: 19 May 2017
Abstract
Background
The growing number of Next Generation Sequencing (NGS) tests is transforming the routine clinical diagnosis of hereditary cancers. Identifying whether a cancer is the result of an underlying disease-causing mutation in a cancer predisposition gene is not only diagnostic for a cancer predisposition syndrome, but also has significant clinical implications in the clinical management of patients and their families.
Methods
Here, we evaluated the performance of MSK-IMPACT (Memorial Sloan Kettering-Integrated Mutation Profiling of Actionable Cancer Targets) in detecting genetic alterations in 76 genes implicated in cancer predisposition syndromes. Output from hybridization-based capture was sequenced on an Illumina HiSeq 2500. A custom analysis pipeline was used to detect single nucleotide variants (SNVs), small insertions/deletions (indels) and copy number variants (CNVs).
Results
MSK-IMPACT detected all germline variants in a set of 233 unique patient DNA samples, previously confirmed by previous single gene testing. Reproducibility of variant calls was demonstrated using inter- and intra- run replicates. Moreover, in 16 samples, we identified additional pathogenic mutations other than those previously identified through a traditional gene-by-gene approach, including founder mutations in BRCA1, BRCA2, CHEK2 and APC, and truncating mutations in TP53, TSC2, ATM and VHL.
Conclusions
This study highlights the importance of the NGS-based gene panel testing approach in comprehensively identifying germline variants contributing to cancer predisposition and simultaneous detection of somatic and germline alterations.
Keywords
Germline MutationLynch SyndromePathogenic VariantCancer PredispositionHereditary Cancer Syndrome
Background
Our understanding of the genetic basis of cancer susceptibility has improved significantly in the last 30 years. Highly penetrant cancer predisposition genes (defined as genes in which germline mutations confer increased risks of cancer) were identified and shown to cause hereditary cancer syndrome with Mendelian modes of inheritance. To date, more than 100 of such genes have been identified, providing important scientific insights in the molecular mechanisms of cancer initiation, development and progression. Identifying whether a cancer is the result of an underlying disease-causing mutation in a cancer predisposition gene is not only diagnostic for a cancer predisposition syndrome, but also has significant clinical implications in the clinical management of patients and their families. In turn, this has potential to provide substantial cost-effective health benefits with respect to cancer treatment of patients and cancer prevention in healthy individuals [1–3].
The effective management of patients with clinical presentations of cancer predisposition syndromes relies on the accurate, comprehensive and high-throughput clinical assays to identify all disease-causing mutations present in the patients. Massively parallel next-generation sequencing (NGS) technology fulfills this need because it enables the unbiased identification of mutations across the genome or across more targeted regions with high sensitivity and specificity. In multiplex testing, the simultaneous interrogation of target genes of interest allows for an efficient and cost-effective method of screening panels of cancer genes concurrently [4, 5]. Several academic and commercial labs have established and implemented targeted cancer gene panel testing [1, 6–8].
The MSK-IMPACT (Integrated Mutation Profiling of Actionable Cancer Targets) assay is a comprehensive molecular profiling platform, utilizing solution-phase exon capture and next generation sequencing to detect somatic genetic alterations in FFPE tumor specimens. We designed custom DNA probes corresponding to all exons and selected introns of 341 oncogenes and tumor suppressor genes, including all genes that are "druggable" by approved therapies or are targets of experimental therapies being investigated in clinical trials at our Institute [9].
Since the MSK-IMPACT panel contains 76 cancer predisposition genes of clinical interest, we sought to validate the detection of germline mutations in these genes and subsequent reporting in a clinical setting. More importantly, as MSK-IMPACT is being performed at our institution as a matched tumor/normal test, we are in a unique position to enable simultaneous detection of germline and unambiguous somatic alterations in a clinical setting (Fig.
1a
). Here, we describe the analytic validation and a custom analysis pipeline to detect single nucleotide variants (SNVs), small insertions/deletions (indels <30 bp), copy number variants (CNVs), and structural variants (SVs). We assessed the accuracy and reproducibility of MSK-IMPACT to detect germline variants in normal blood, using a set of 223 samples previously determined to be positive for germline mutations/variants by independent methods. Moreover, since these specimens were initially tested for one or a couple genes related to the clinical symptoms of the diseases, we identified incidental pathogenic mutations in other cancer predisposition genes that would have otherwise been undiscovered by a traditional gene-by-gene approach. This study demonstrated the importance of broad NGS-based, cancer-panel testing in identifying germline genetic mutations contributing to various cancer spectrums in different families.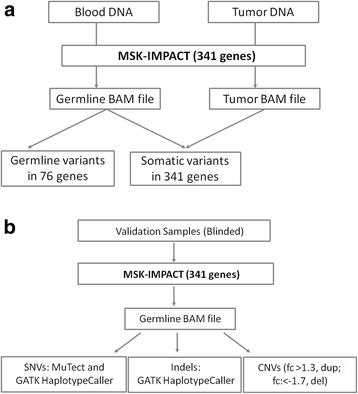 Methods
DNA samples
DNA samples used for validation experiments were derived from 228 unique blood samples. All samples were identified to carry one or more mutations through standard clinical testing in a Clinical Laboratory Improvement Amendments (CLIA) certified laboratory. Clinical testing was performed using a combination of Sanger sequencing, semi-quantitative PCR and MLPA (multiplex ligation-dependent probe amplification). Samples were anonymized and associated metadata were de-identified prior to analysis.
Sequencing and analysis workflow
We used the same probes for the MSK-IMPACT panel and capture protocol as previously published [9]. The variant calling procedures were modified for germline mutations: SNVs, indels and CNVs (large deletions/duplications). SNV calls are the union of output from two tools: MuTect version 1.1.4 [10] and GATK Haplotype caller (GATK version 2.3.9). GATK HaplotypeCaller (HTC) calls SNVs and Indels simultaneously from read data. Unlike HTC, MuTect [10] does not require correct assembly of a haplotype block prior to identification of SNVs. We determined that the following thresholds on coverage depth (DP) and variant frequency (VF) can detect the expected variants and reject almost all false positive calls: for exonic SNVs and Indels, DP ≥ 50X and VF ≥ 20%; for all other events, DP ≥ 50X and VF ≥ 25%. Large deletions and duplications were identified as germline copy number variant (CNVs), using an in-house algorithm that detects whole gene and partial gene (intragenic) gains or losses The following criteria is used to determine significance of gain or loss events: fold change > 1.3 (single copy gain) or < −1.7 (single copy loss), p < 0.05. DELLY version 0.3.3 [11] was used to detect structural variants in germline samples, using an unmatched reference normal as a control. The structural abnormalities validated here only include large deletions or duplications and do not include translocations or inversions. Figure 1b shows the approaches taken for the validation of the mutation types validated in this study. Additional details can be found under Additional file 1: Supplementary Methods.
Variant annotation
Annovar [12] is used to annotate calls made from MuTect [10] and GATK HaplotypeCaller [13]. Annovar also checks for the presence of each variant in a number of external databases, such as ClinVar [14], dbSNP [15], the 1000 Genomes cohort data [16] and the NHLBI Exome Sequencing Project cohort [17].
We used the scoring scheme outlined in the ACMG guidelines for variant interpretation [18, 19] to classify SNV and Indel variants as pathogenic (Class 5), likely pathogenic (Class 4), VUS (Class 3), likely benign (Class 2) or benign (Class 1).
Discussion
Using an extensive set of 228 samples with known germline mutations/variants, we have performed a thorough analytic validation of the MSK-IMPACT panel as a targeted sequencing assay for detecting a variety of germline variants – SNVs, Indels, large deletions/duplications (CNVs) and structural variants (SVs). The technical reproducibility of the variant calls is high, as assessed by both within- and across-batch replicates. Unlike whole exome sequencing, MSK-IMPACT, being a targeted panel assay, is focused on a limited set of genes and its scope is hence limited to reporting mutations related to cancer predisposition and somatic tumorigenesis. This reduces the burden and potential issues arising from detecting incidental pathogenic variants in genes outside the scope of the requested test indication – for instance, out of the 76 genes of clinical interest in MSK-IMPACT, only 26 genes overlap the ACMG list of recommended genes for reporting incidental findings. Additionally, since the baits in MSK-IMPACT were deliberately designed to fully tile exon-intron boundaries, the increased depth of coverage permits an analysis of intronic regions immediately flanking the targeted exons.
Our analysis pipeline uses a number of recommended 'best-practice' algorithms for detecting variants (MuTect and GATK HaplotypeCaller for SNVs and Indels, DELLY for structural rearrangements) and we have even developed in-house and benchmarked a custom algorithm for detecting whole and partial-gene germline CNVs.
We found a number of incidental findings, i.e., cases with pathogenic variants not previously identified, distinct from the mutations for which these cases were known to harbor and specifically selected for validation. These cases constituted about 7.5% of the sequenced samples, suggesting that while uncommon, cases with multiple pathogenic variants may occur at a substantial frequency within a clinical setting. This may not be unexpected since testing is performed on an enriched population of patients with suspected hereditary cancer syndromes. While some cases were co-occurring founder mutations, several cases had co-occurring pathogenic mutations in genes predisposing towards different cancer syndromes. Traditional single gene sequencing approaches, or even more limited panel-based NGS assays, would not have uncovered these additional pathogenic mutations, reinforcing arguments for a broader approach for NGS testing of cancer predisposition genes. Increasing the scope of genetic testing, when taken to an extreme, may advocate for using whole genome or exome sequencing as a standard in clinical cancer genetics testing, however the burden of incidental findings in non-cancer related genes may be too high with such an approach. Using a broad based, targeted sequencing panel focused on cancer predisposition genes, such as MSK-IMPACT, may provide a middle ground, allowing for completeness of coverage in terms of cancer predisposition, while mitigating potential complications from detecting incidental findings in non-cancer related genes.
The importance of a matched normal in clinical tumor sequencing was underscored by a recent paper by Jones et al. [21], where the authors showed that lack of a matched normal could lead to increased reporting of germline private variants as somatic 'false-positive' mutations. In line with these findings, we routinely perform MSK-IMPACT as a matched tumor/normal sequencing test at our institution. Our efforts to validate MSK-IMPACT as a germline test will not only enable its use as a dedicated test in the clinical setting for diagnosis of cancer predisposition syndromes, but will also enable the concurrent, unambiguous identification of somatic mutations and inherited germline variation in the matched tumor/normal setting. When performed at scale, this presents a unique opportunity to simultaneously interrogate the spectrum of somatic and germline mutations in cancer, with a high accuracy, comprehensive, targeted sequencing platform.
Conclusions
This study highlights the importance of the NGS-based gene panel testing approach in comprehensively identifying germline variants contributing to cancer predisposition. As MSK-IMPACT is also designed for use in paired tumor:normal sequencing, it enables simultaneous detection of somatic and germline alterations in that setting.
Abbreviations
CLIA:

Clinical laboratory improvement amendments
CNVs:

Copy number variants
HTC:

HaplotypeCaller
Indels:

Small insertions/deletions
MLPA:

Multiplex ligation-dependent probe amplification
MSK-IMPACT:

Integrated mutation profiling of actionable cancer targets
NGS:

Next generation sequencing
SNVs:

Single nucleotide variants
SVs:

Structural variants
Declarations
Acknowledgements
Not applicable.
Funding
Funds for this study were provided by the Department of Pathology, Memorial Sloan Kettering Cancer Center, the Farmer Family Foundation, the Geoffrey Beene Cancer Research Center, and the P30 CA008748 grant.
Availability of data and materials
All data generated or analysed during this study are included in this published article [and its Additional files].
Authors' contributions
DC, MB, KN, ML and LZ conceived of the study, and participated in its design and coordination and finalization of the manuscript. DC drafted the manuscript. DC, MP, AZ, AS, YW participated in the bioinformatics analysis of NGS data and variant calling. YC, RB, JS, JS, YL, ZY, DW carried out the NGS studies and Sanger sequencing/MLPA confirmations, MR and KO participated in the design and development of the NGS panel. All authors read and approved the final manuscript.
Competing interests
The authors declare that they have no competing interests.
Consent for publication
Not applicable.
Ethics approval and consent to participate
The ethics committee of Memorial Sloan Kettering Cancer Center granted an exemption as clinical laboratory test validation is not considered human subjects research. A copy of the document is available by the Editor of the journal.
Publisher's Note
Springer Nature remains neutral with regard to jurisdictional claims in published maps and institutional affiliations.
Open AccessThis article is distributed under the terms of the Creative Commons Attribution 4.0 International License (http://creativecommons.org/licenses/by/4.0/), which permits unrestricted use, distribution, and reproduction in any medium, provided you give appropriate credit to the original author(s) and the source, provide a link to the Creative Commons license, and indicate if changes were made. The Creative Commons Public Domain Dedication waiver (http://creativecommons.org/publicdomain/zero/1.0/) applies to the data made available in this article, unless otherwise stated.
Authors' Affiliations
(1)
Department of Pathology, Memorial Sloan Kettering Cancer Center, New York, USA
(2)
Human Oncology and Pathogenesis Program, Memorial Sloan Kettering Cancer Center, New York, USA
(3)
Department of Medicine, Memorial Sloan Kettering Cancer Center, New York, USA
(4)
Illumina Inc, Santa Clara, USA
(5)
Brigham and Women's Hospital, Boston, USA