Research article

Open Access

Open Peer Review
This article has Open Peer Review reports available.
Analyzing the regulation of metabolic pathways in human breast cancer
BMC Medical Genomics
2010
3:39
Received: 2 December 2009
Accepted: 10 September 2010
Published: 10 September 2010
Abstract
Background
Tumor therapy mainly attacks the metabolism to interfere the tumor's anabolism and signaling of proliferative second messengers. However, the metabolic demands of different cancers are very heterogeneous and depend on their origin of tissue, age, gender and other clinical parameters. We investigated tumor specific regulation in the metabolism of breast cancer.
Methods
For this, we mapped gene expression data from microarrays onto the corresponding enzymes and their metabolic reaction network. We used Haar Wavelet transforms on optimally arranged grid representations of metabolic pathways as a pattern recognition method to detect orchestrated regulation of neighboring enzymes in the network. Significant combined expression patterns were used to select metabolic pathways showing shifted regulation of the aggressive tumors.
Results
Besides up-regulation for energy production and nucleotide anabolism, we found an interesting cellular switch in the interplay of biosynthesis of steroids and bile acids. The biosynthesis of steroids was up-regulated for estrogen synthesis which is needed for proliferative signaling in breast cancer. In turn, the decomposition of steroid precursors was blocked by down-regulation of the bile acid pathway.
Conclusion
We applied an intelligent pattern recognition method for analyzing the regulation of metabolism and elucidated substantial regulation of human breast cancer at the interplay of cholesterol biosynthesis and bile acid metabolism pointing to specific breast cancer treatment.
Keywords
Breast Cancer
Bile Acid
Metabolic Network
Time Recurrence
Very Large Scale Integration
Background
Breast cancer is a prevalent disease and a leading cause of cancer death in women [1]. Worldwide, breast cancer is the second most common type of cancer after lung cancer and the fifth most common cause of cancer death. Breast cancer patients with the same stage of disease can have very different treatment responses and overall outcome. Clinical predictive factors like age, tumor size, lymph node status, histological and pathological grade or hormone-receptor status, often fail to accurately predict clinical outcome, distant metastasis and recurrence of the cancer.
Chemotherapy and hormonal therapy reduces the risk of distant metastases by approximately one third. However, 70-80% of the patients would have survived without it (five years of follow-up) [2–4]. A more accurate means of prognosis and selection of therapy would substantially improve disease-free and overall survival of breast cancer patients [5]. Cancer cells acquire their hallmarks of malignancy through the accumulation of advantageous gene activation and inactivation events over long periods of time [6]. Nevertheless, the molecular basis of breast cancer tumorigenesis remains poorly understood. A long-standing strategy for cancer treatment is to attack basic tumor metabolism by inhibiting nucleotide biosynthesis [7, 8] and DNA production [9].
Besides this, over the past decade there have been exciting developments in analyzing large scale gene expression profiles. This improved the understanding of the tumors' composition and behavior to develop new targets for therapy [1]. Many studies of gene expression identified expression profiles that are prognostic for patients with breast cancer. However, comparisons of the lists of genes derived from these studies showed that they overlap only slightly due to differences in the patient cohorts, microarray platforms, and mathematical methods of analysis [6]. One strategy to tackle this problem is to map lists of differentially expressed genes on groups of genes with related functions according to the information provided by several databases such as Gene Ontology [10] and KEGG [11]. Finding enrichments of specific gene sets related to certain phenotypes or cell states yields a functional grouping of differentially expressed genes which can be related to their pathogenic behavior and can lead to more robust results in comparison to the analysis of single genes.
To detect the enrichment of gene sets, commonly, a list of significantly differentially expressed genes is identified and statistical tests applied, such as Fisher's exact test and χ2 test. In a different approach, a gene-specific statistics, known as the "local" statistics, measures the strength of association between the gene expression and the phenotype for each gene. A global statistics for a gene set is then constructed as a function of local statistics for each gene in it. The significance is assessed by permutation tests [12]. A global test for gene sets to associate gene expression with clinical outcome was presented by Goeman and co-workers and enabled determining whether the global expression pattern of a group of genes is significantly related to clinical outcome of interest using a linear regression approach [13]. In another approach, expression levels of all genes in the gene sets are combined and presented as gene specific features. These features are then compared between the treatment and the control groups to identify significantly affected gene sets [14]. In general, these methods test the association of all genes in a gene set with the phenotypes, whereas often only genes in a subset of the gene set are associated with the phenotype. Some of the genes may not belong to the set due to incompleteness or errors in the available data. Additionally, even if all genes in the gene set have apparently the same function, or belong to the same process, it is likely that only a few genes are associated with the phenotype.
To overcome these and other gene-associated problems, transcriptional data was analyzed using topology information of cellular networks. Topological information derived from the metabolic network was connected by calculating Z-scores of highly correlated sub-networks [15]. Chuang and co-workers improved classification of breast cancers with expression patterns of small subnets of a signal transduction network [16]. Substantial new genetic mediators for prostate cancer were found using reverse engineered gene networks in combination with gene expression profiles [17]. Rapaport and co-workers found gene expression patterns of neighboring genes in the network yielding good classification of the profiled samples by calculating Fourier transformations and rejecting high frequency signals [18]. Common gene expression levels of neighboring nodes in a metabolic network were calculated by averaging over all neighbors of a gene, and revealed several interesting regulated pathways for the human immune system [19]. However, these approaches were not developed to detect highly contrasting expression of neighboring genes that undergo a switch-like shift of regulation in a tumor cell. Importantly, especially these switches can be highly relevant to identify potential drug targets that specifically attack the tumor at nodes at which it redirects fluxes in the network to establish parasitic advantages.
In our study, gene expression profiles of breast tumors having an "unfavorable" prognosis were compared to breast tumors with a "favorable" prognosis. We wanted to track how the aggressive (unfavorable) tumors have specifically regulated their metabolism to optimize their oncogenetic fitness, and to elucidate ways to severely perturb this process. For this, we used an approach that detects orchestrated regulation of neighboring enzymes in the metabolic network. We mapped gene expression data onto optimally arranged grid representations of pathways of the metabolic network and applied Haar wavelet transforms onto defined pathways of the network to combine gene expression values from neighboring enzymes. These combined features were tested using a non-parametric test (Wilcoxon) if they could separate samples from different treatments. Metabolic pathways were selected that had features with the most discriminative gene expression patterns. We detected a substantially higher number of significant gene expression patterns in comparison to commonly used enrichment tests. We revealed 19 significant metabolic pathways including increased purine and pyrimidine biosynthesis which were needed for increased mitosis cycles. Furthermore, we found pathways for increased energy metabolism (glycolysis, pyruvate metabolism and fructose/mannose metabolism). Interestingly, we observed the regulation of a possible a cellular switch in the pathway for bile acid biosynthesis redirecting the metabolic flux to the synthesis of steroids while preventing degradation into bile acids.
Results and Discussion
In this study, 250 patients were examined, 196 having a "favorable" and 54 patients an "unfavorable" prognosis. 1826 reactions could be extracted from KEGG [
11
] for 1771 out of which expression values could be assigned. The workflow of the method is depicted in Figure
1
. Pathway maps from KEGG were represented as two-dimensional lattice grids with densely packed reactions. The reactions were arranged in a way that their neighborhoods in the network were preserved as optimally as possible (using the grid arrangement method, for details see methods). Gene expression data was mapped onto the reactions representing the according expressed enzymes. Wavelet transforms were used to combine expression values of neighboring reactions by all possible combinations of subtractions and additions. The out-coming features were tested (Wilcoxon rank test) for their possibility to discriminate between the two tumor entities (favorable and unfavorable). Figure
2
illustrates the principle of the pattern analysis for an example pathway. Pathways with the best discriminating features were selected. We revealed significant features from 19 different pathways (Table
1
), including pyrimidine, purine, aminoacyl-tRNA metabolism, pyruvate metabolism, glycolysis/gluconeogenesis and fructose/mannose metabolism. These pathways have been expected as they accounted for higher biosynthesis of nucleic acids and proteins and higher energy demands of the aggressive (unfavorable) tumors. We also revealed less expected differentially regulated pathways, such as biosynthesis of steroids and bile acids. We compared the performance of our algorithm with commonly used enrichment methods. Fisher's exact tests revealed only one pathway (Lysine biosynthesis, P = 0.048) to be significantly enriched with differentially regulated genes (P ≤ 0.05, threshold for defining the differentially expressed genes also P = 0.05). In addition, we applied the well established Gene Set Enrichment Analysis (GSEA [
20
], two sided) to the data yielding also only one significantly enriched pathway, i.e. the pyrimidine metabolism (P = 2.2E - 03). We compared the performance of our method to Fisher's exact tests and GSEA with simulated data yielding considerably higher sensitivity for our method (see Additional file
1
A2 and Receiver Operator Characteristics: Figure A2). In the following, we will discuss the oncogenetic relevance of the pathways we found.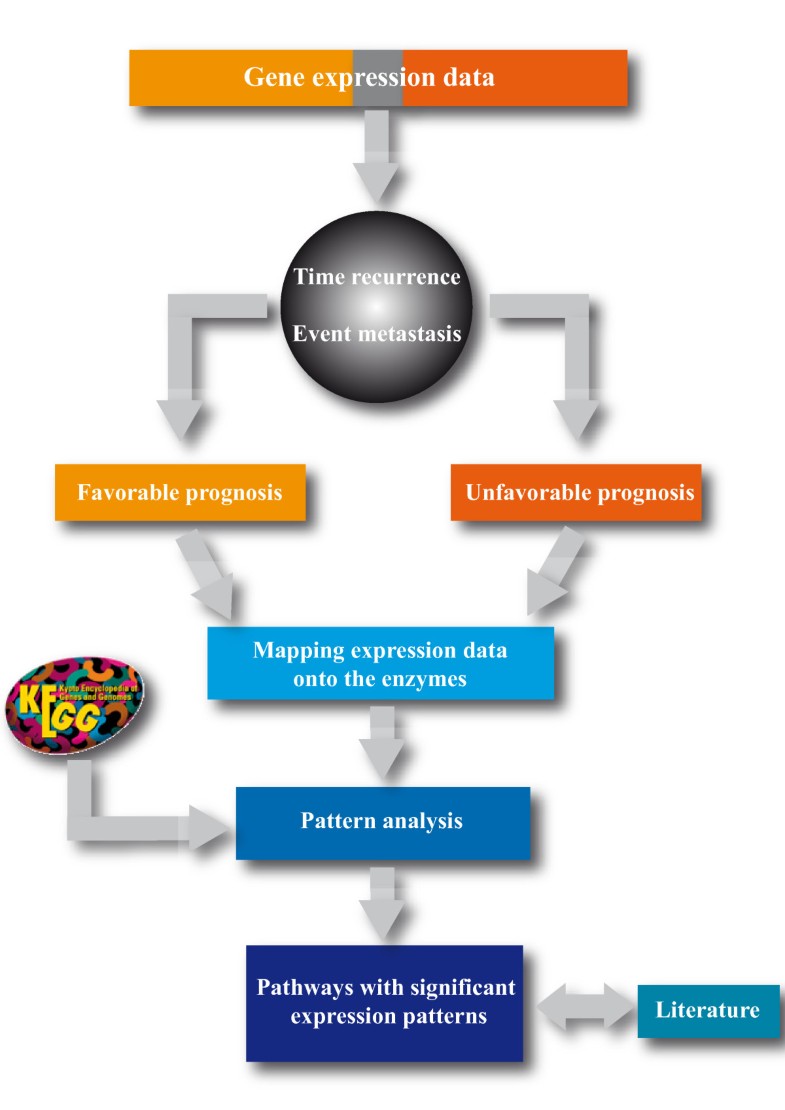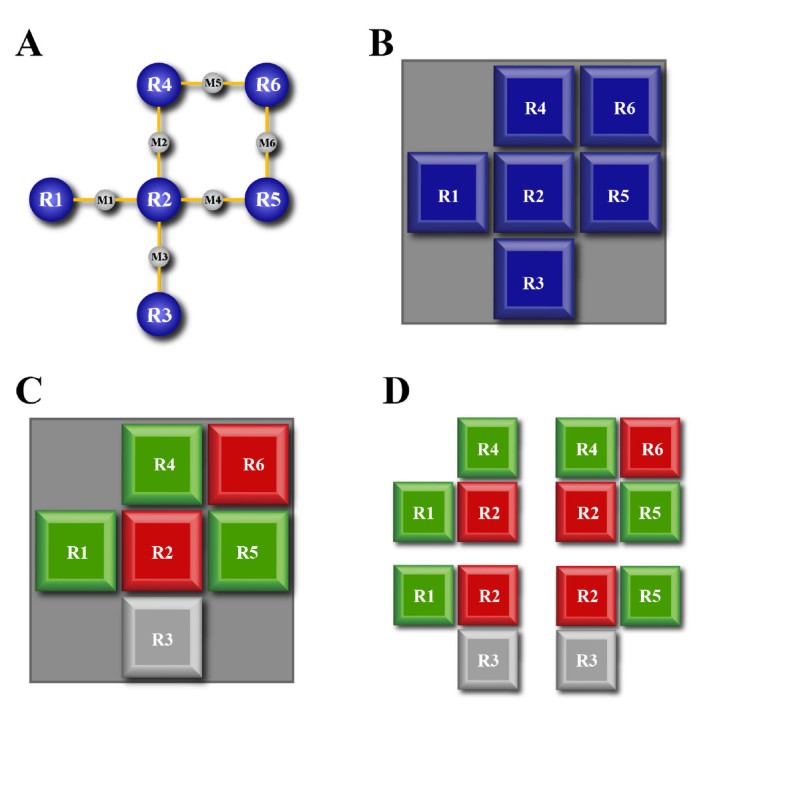 Table 1
Significantly differentially regulated pathways.
| Rank | Pathway | Differentially regulated | Number of reactions | Down-regulated in unfavorable | Up-regulated in unfavorable | P-value |
| --- | --- | --- | --- | --- | --- | --- |
| 1 | Histidine metabolism | 6 | 14 | 3 | 3 | 1.15E-05 |
| 2 | Alanine and aspartate metabolism | 8 | 19 | 2 | 6 | 1.56E-05 |
| 3 | Valine, leucine and isoleucine degradation | 13 | 36 | 10 | 3 | 3.74E-05 |
| 4 | Pyrimidine metabolism | 37 | 75 | 3 | 34 | 2.25E-04 |
| 5 | Fatty acid metabolism | 14 | 36 | 9 | 5 | 2.48E-04 |
| 6 | Biosynthesis of Steroids | 10 | 41 | 2 | 8 | 3.12E-04 |
| 7 | Methionine metaboplism | 4 | 12 | 2 | 2 | 7.36E-04 |
| 8 | Purine metabolism | 17 | 91 | 3 | 14 | 1.21E-03 |
| 9 | Glycine, Serine and Threonine metabolism | 12 | 31 | 4 | 8 | 1.28E-03 |
| 10 | Propanoate metabolism | 4 | 18 | 3 | 1 | 2.12E-03 |
| 11 | Lysine Biosynthesis | 6 | 6 | 5 | 1 | 2.33E-03 |
| 12 | Aminoacyl-tRNA biosynthesis | 5 | 20 | 1 | 4 | 2.83E-03 |
| 13 | Glycolysis/Gluconeogenesis | 17 | 32 | 1 | 16 | 3.85E-03 |
| 14 | Bile acid biosynthesis | 10 | 28 | 4 | 6 | 5.26E-03 |
| 15 | Pentose phosphate pathway | 5 | 20 | 1 | 4 | 8.84E-03 |
| 16 | Inositol phosphate metabolism | 8 | 25 | 1 | 7 | 9.75E-03 |
| 17 | Pyruvate metabolism | 6 | 27 | 2 | 4 | 1.20E-02 |
| 18 | Fructose and mannose metabolism | 11 | 23 | 1 | 10 | 1.55E-02 |
| 19 | Galactose metabolism | 8 | 24 | 4 | 4 | 2.00E-02 |
Conclusion
Performing a network based gene expression analysis revealed interesting insights into the metabolism and regulation of aggressive breast tumor cells. Expected differentially regulated pathways in cancer could be confirmed, e.g. the aggressive tumors showed significantly up-regulated pathways for purine and pyrimidine synthesis to maintain elevated proliferation, as well as the up-regulation of glycolysis and pyruvate metabolism to support energy supply for the tumor. The analysis revealed insights into differentially regulated metabolic pathways in breast cancer cells, which may support the induction of proliferation by inositol signal transduction cascades (inositol phosphate metabolism) and steroid hormones (biosynthesis of steroids). An interesting view in breast cancer metabolism was observed in the interplay of biosynthesis of steroids and bile acids, the latter of which was down-regulated possibly to convert cholesterol into proliferative acting steroid hormones. Such a cellular switch would be interesting to compare to other tumors and tissues, also in order to define a tumor specific therapy. Performing Fisher's exact tests as a standard enrichment analysis revealed the lysine biosynthesis pathway to be significantly enriched with differentially expressed genes. The GSEA method yielded pyrimidine biosynthesis. In addition to this pathway, our method yielded eighteen further significant regulation patterns. However, not all pathways detected by such enrichment tests and also our pattern analysis may be relevant for the pathogenesis of the analyzed disease. Some pathways in our results, such as valine, leucine and isoleucine degradation, could not be associated with oncogenesis and may need further examination.
Complex regulated pathways which were relevant to breast tumors with unfavorable prognosis were detected and described in a straightforward manner. The global analysis of network patterns offered a good insight into the regulation of metabolism in breast tumors and may support revealing new potential targets for drug design, specifically in the interplay of the biosynthesis of bile acids and steroids.
Methods
We wanted to identify pathways and regions of pathways that showed patterns of differentially regulated reactions. To find such patterns we applied wavelet transforms on the mapped gene expression data. For the application of wavelet transforms and the subsequent feature calculations we needed to arrange the metabolic pathways onto a 2-dimensional grid (Figure 2 illustrates this procedure with a small example pathway).
Declarations
Acknowledgements
This work was funded within the BMBF-FORSYS consortium Viroquant (#0313923), the Helmholtz Alliance on Systems Biology and the Nationales Genom-Forschungs-Netz (NGFN+) for the neuroblastoma project, ENGINE.
Authors' Affiliations
(1)
Department of Bioinformatics and Functional Genomics, Institute of Pharmacy and Molecular Biotechnology, and Bioquant, University of Heidelberg, INF 267, Heidelberg, Germany
(2)
Interdisciplinary Center for Scientific Computing, University of Heidelberg, Heidelberg, Germany
(3)
Theoretical Bioinformatics, German Cancer Research Center, INF 580, Heidelberg, Germany
Copyright
© Schramm et al; licensee BioMed Central Ltd. 2010
This article is published under license to BioMed Central Ltd. This is an Open Access article distributed under the terms of the Creative Commons Attribution License (http://creativecommons.org/licenses/by/2.0), which permits unrestricted use, distribution, and reproduction in any medium, provided the original work is properly cited.