Software
Open Access
Open Peer Review
This article has Open Peer Review reports available.
A novel SNP analysis method to detect copy number alterations with an unbiased reference signal directly from tumor samples
BMC Medical Genomics
2011
4:14
Received: 11 July 2010
Accepted: 26 January 2011
Published: 26 January 2011
Abstract
Background
Genomic instability in cancer leads to abnormal genome copy number alterations (CNA) as a mechanism underlying tumorigenesis. Using microarrays and other technologies, tumor CNA are detected by comparing tumor sample CN to normal reference sample CN. While advances in microarray technology have improved detection of copy number alterations, the increase in the number of measured signals, noise from array probes, variations in signal-to-noise ratio across batches and disparity across laboratories leads to significant limitations for the accurate identification of CNA regions when comparing tumor and normal samples.
Methods
To address these limitations, we designed a novel "Virtual Normal" algorithm (VN), which allowed for construction of an unbiased reference signal directly from test samples within an experiment using any publicly available normal reference set as a baseline thus eliminating the need for an in-lab normal reference set.
Results
The algorithm was tested using an optimal, paired tumor/normal data set as well as previously uncharacterized pediatric malignant gliomas for which a normal reference set was not available. Using Affymetrix 250K Sty microarrays, we demonstrated improved signal-to-noise ratio and detected significant copy number alterations using the VN algorithm that were validated by independent PCR analysis of the target CNA regions.
Conclusions
We developed and validated an algorithm to provide a virtual normal reference signal directly from tumor samples and minimize noise in the derivation of the raw CN signal. The algorithm reduces the variability of assays performed across different reagent and array batches, methods of sample preservation, multiple personnel, and among different laboratories. This approach may be valuable when matched normal samples are unavailable or the paired normal specimens have been subjected to variations in methods of preservation.
Keywords
Reference SignalSegmentation ResultCopy Number AlterationCopy Number AlterationSmoothing Window
Background
DNA copy number alterations (CNA) including sequence amplifications and deletions can cause oncogene activation or reduced tumor suppressor gene function associated with the emergence of cancer [1, 2]. Recent advances in microarray technology including high density SNP (single nucleotide polymorphism) profiling have provided a novel approach to evaluate CNA across the genome of patient tissue specimens as a potential diagnostic tool for tumor classification. However, detection of a copy number amplification or deletion is critically dependent on: 1) interrogation of SNPs and/or nonpolymorphic markers at a frequency sufficient to identify changes in specific genes, and 2) accurate detection of gene copy number in tumor tissues [3]. Evolution of arrays with increasing densities of SNPs has mitigated the first factor but the ability to accurately detect CNA remains a formidable challenge. Specifically, the signal-to-noise ratio of copy number intensity from tumor samples is markedly decreased (or inferior) compared to that obtained from ideal samples such as homogeneous cell lines or blood samples. These differences are likely associated with cellular heterogeneity e.g. normal cells mixed with tumor cells, infiltrating inflammatory cells and/or the presence of proliferating, apoptotic or necrotic cells. The variability is compounded further by sample preservation e.g. formalin-fixed paraffin embedded (FFPE) exhibit higher variability than frozen samples. Thus, there are substantial methodological hurdles to be resolved before CNA values from SNP arrays can be integrated into diagnostic evaluation of tumor samples.
An ideal experimental comparison for tumor copy-number evaluation comprises paired, normal tissue samples processed simultaneously with the tumor specimens thereby eliminating technical variability from personnel and batch effects. One additional advantage to paired comparisons is the suppression of CN aberrations present in both normal and tumor tissues. In practice however, paired tissue samples are rarely available and acquisition of paired normal tissue does not typically fall within the purview of therapeutic surgical intervention. Consequently, normal CNA profiles are often derived from a variety of normal specimens accumulated in a laboratory and often include archived FFPE specimens. Otherwise, investigators must rely on data from other laboratories employing the same CNA platform and/or by comparison to a publicly accessible database. The variability inherent in these other data sources further complicates interpretation of tumor sample CNA results. To address this issue, we have developed a SNP CN detection algorithm that derives a reliable copy number reference signal specifically from tumor samples thereby eliminating the need for a normal reference set. Validation tests indicated that this approach achieves a signal-to-noise ratio surpassing that obtained by other techniques including paired normal reference sets.
Results
Validation using Tumor/Normal Paired Samples
Nine paired tumor and normal samples with high intra-specimen tissue homogeneity and copy number signal intensity (Affymetrix: see see Additional file
1
) were used as "ideal" sample set to validate the Virtual Normal algorithm developed in this study. These paired samples were combined with the normal HapMap samples in multiple combinations to emulate scenarios of data acquisition and processing. Specifically, processing strategies were compared using (1) paired analysis of the nine optimal tumor-normal pairs; (2) non-paired analysis of the nine tumors using HapMap normals as the reference set; and (3) the reference signal generated by the Virtual Normal algorithm from the nine tumor samples with the HapMap normals as a baseline. The results from processing sample CRL-2324, Chr.1 are presented in Figure
3
(A-C: sigma values above each graph represent the standard deviation (SD) of log2 ratio). The Virtual Normal algorithm provided the lowest noise level among all three approaches while yielding comparable results for raw CN and segmentation.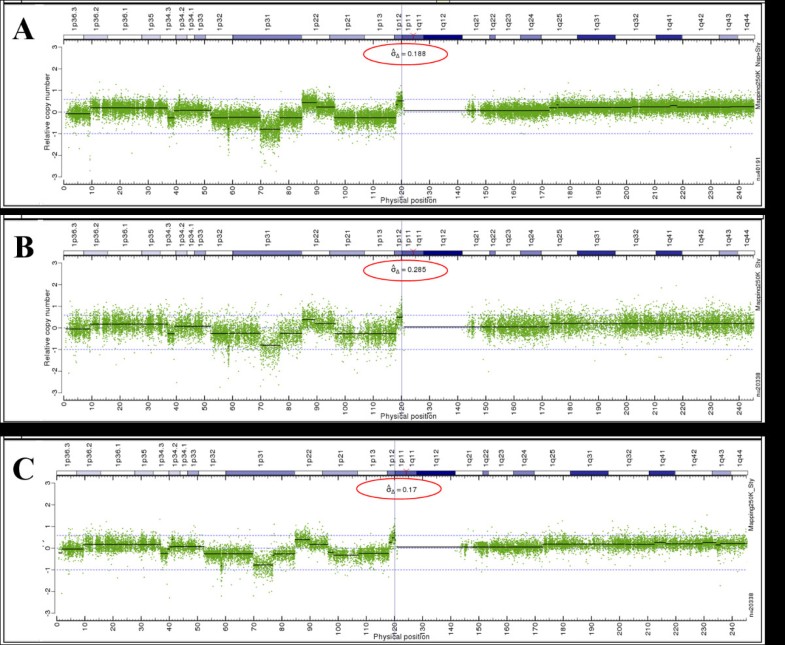 Application to Pediatric Glioma Using FFPE Samples
We compared the results of processing with the Virtual Normal algorithm to traditional approaches utilizing different reference sets including: (1) a set of normal frozen tissue samples processed in the laboratory; (2) the HapMap reference set obtained from frozen tissue; (3) samples of normal tissue after formalin fixation and paraffin embedding (FFPE) and (4) the VN reference set with HapMap data as a baseline. A comparison of the raw CN estimates along with segmentation results for sample 08_0015 on Chr.7 is presented in Figure
4
. These data demonstrate that inter-laboratory variability (HapMap), sample preservation (FFPE vs. frozen) and inter-batch variability (in-lab FFPE reference set) all contribute to increased noise that is further compounded when admixtures of these sample types are combined. It is important to note that the virtual reference signal constructed from the tumor data set using the VN algorithm achieved the lowest noise level of the four methods (panel D). Concordance between segmentation results for the FFPE reference set and the VN reference set was assessed by generating plots of segmentation results corresponding to +/- 0.2 threshold in log2 ratio. Summary plots of segments detected on Chr.7 compared VN with the best results achieved by traditional methods (Figure
5
) demonstrating high concordance between the VN approach and the best traditional methods.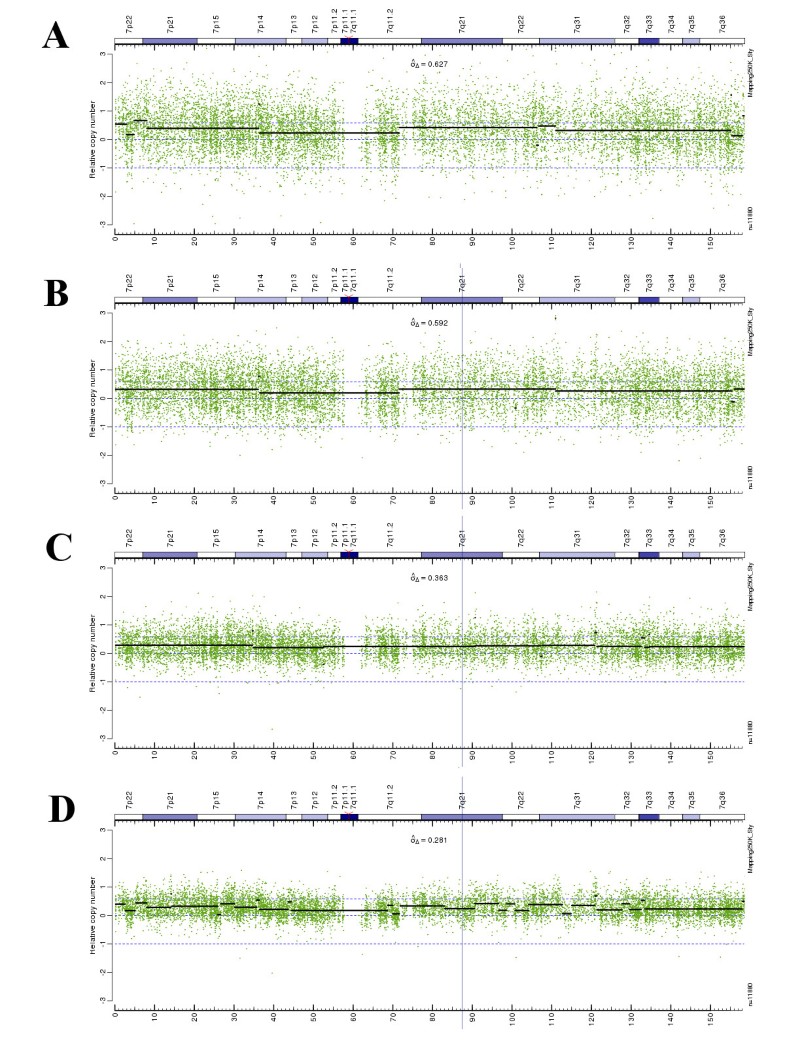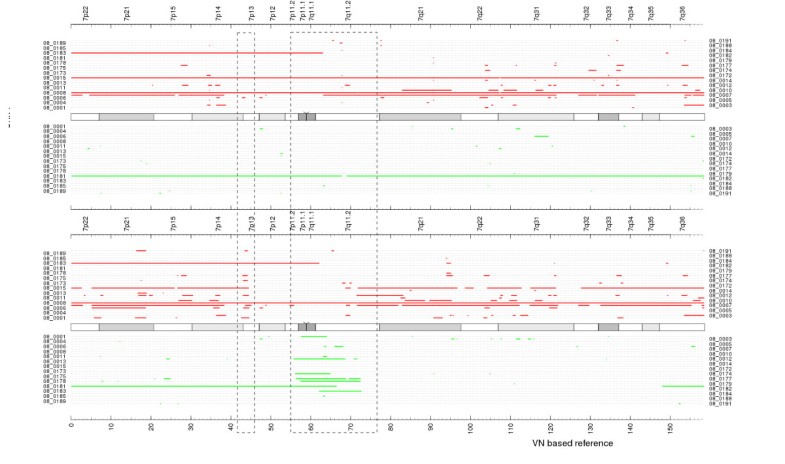 Segmentation plots of all chromosomes demonstrated high concordance between the VN analysis and the best traditional approaches (see Additional file
1
). Comparison of raw copy number standard deviation and corresponding signal-to-noise ratio averaged over all glioma samples/chromosomes for the 4 processing scenarios are summarized in Table
1
. Use of the Virtual Normal method increased the signal-to-noise ratio from unacceptable (< 1) when processing FFPE tissue samples using the frozen reference set to a reliable level (~2) with minimal pre-segmentation signal smoothing of the VN reference signal. Validation of the analysis is demonstrated in Figure
6
including measurement of copy number in a region of chromosome 4 and 15. The region of Chr.4 was determined to be elevated in several glioma tumor samples whereas all samples were determined to have a copy number of 1.97 for this region of Chr.15 using the VN approach. Copy number changes determined using our VN analysis were confirmed using a PCR-based copy number analysis approach. The VN assay indicated that a specific 2.9 Mb region of Chr.4 was amplified with a raw CN average of 3.48 for samples 08_0175 and 08_0177. PCR analysis of this region computed a copy number of 4.18+/- 0.45 and 4.47+/-0.58 reinforcing the sensitivity of copy number determinations obtained using the VN approach.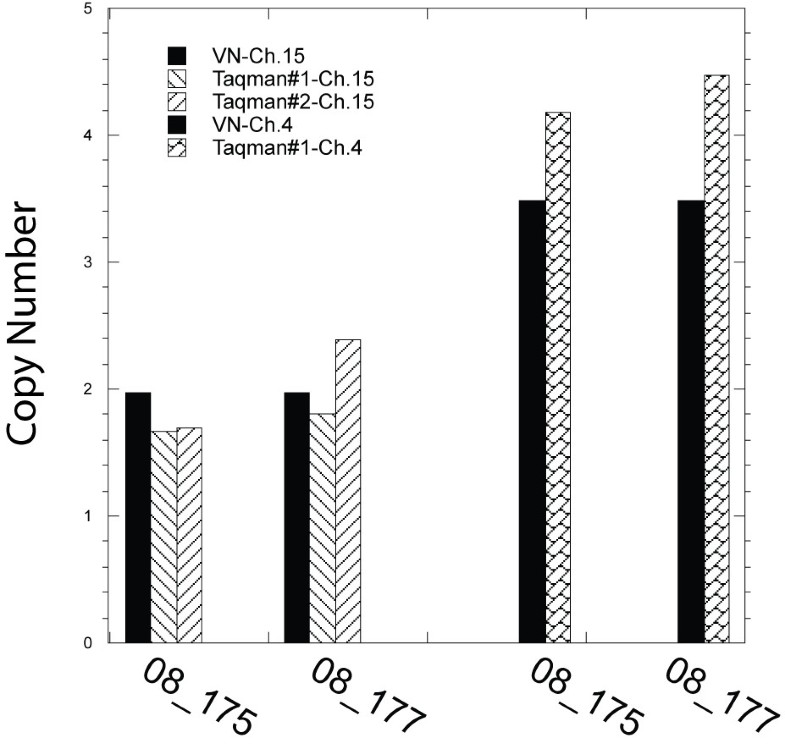 Table 1
Comparison of a standard deviation (SD) and signal to noise (S/N) ratio for a raw CN signal obtained using different types of references. Here SD is an average of all SDs obtained for each raw CN segmented region in log2 scale, and S/N is computed as a ratio of the difference between the raw CN values corresponding to CN = 3 and CN = 2 in log2 scale and the SD value defined above
| FFPE Tumor vs: | Blood normals (frozen) | HapMap (frozen) | FFPE normals | VN based |
| --- | --- | --- | --- | --- |
| SD (log2) | 0.627 | 0.592 | 0.363 | 0.281 |
| S/N ratio for CN = 3 (log2) | 0.797 | 0.845 | 1.377 | 1.78 |
Application to higher density arrays
Initially we were motivated to develop this algorithm for the particular study on the Affymetrix 500K platform due to the absence of the adequate normal FFPE reference set, i.e. under the most unfavorable conditions. However, the algorithm is generic enough to be applied to a wide range of platforms which utilize the normal sample set to generate a reference signal. In particular, it was successfully tested during the renal carcinoma studies (frozen tumor and normal samples) performed on the Affymetrix Genome-Wide 6.0 platform (see Additional file 1, Figure S7 A, B and C). Here we show the exemplary raw CN and segmentation processing results for a renal carcinoma sample on Chr. 2 which utilize three different sources of the reference signal: a) HapMap normal set (Additional file 1, Figure S7a); b) in-lab normal set (Additional file 1, Figure S7b) and c) VN using HapMap as a template (Additional file 1, Figure S7c). The reference signal generated using VN algorithm allowed to achieve the best signal-to-noise ratio compared to the traditional methods even when in-lab normal reference set with matching preservation protocol was available.
Conclusions
We have demonstrated that it is possible to construct a reference signal directly from the tumor sample intensities using the normal sample reference set as a template and that such a reference has the properties to minimize the noise in the resulting raw CN signal. The proposed algorithm allows minimizing the negative effect of inter-batch or inter-lab variability and is generic enough to be applicable to a variety of platforms which utilize the reference signal for processing. When the test sample preservation protocol differs from the one for the available normal reference set or when the in-lab reference set is unavailable, the described approach could likely be an ideal option to produce reliable total CN estimates. We did not investigate the applicability of the method for allele-specific CN estimates, but it's likely it could be used in such instances as well.
We have discussed the tradeoffs between segmentation based and filter based VN versions. Our primary goal was to accommodate the different signal-to-noise ratios between two average intensities so to achieve the maximum spatial resolution while minimizing FP/FN events. We believe, that using the wavelet based filtering similar to CDF 5/3 [15, 16], would help to achieve an optimal compromise between a low FN/FP rate as for filtering based VN and the highest possible spatial resolution. We are working on incorporating such filtering as an option for the VN algorithm.
The recent trend in CNV detection algorithms is to use the total and allele-specific CN estimates and the genotyping call results together to obtain the more reliable CN event detection [17]. We plan to work on such extension of the aroma.affymetrix package including the VN into the processing pipeline in a near future.
Finally, during evaluation, the VN algorithm demonstrated a better signal-to-noise ratio than paired analysis. Still, in most cases, the paired analysis is preferable as it allows exclusion of CN aberrations that are not disease-specific. However, in rare cases, the paired normal may have disease specific aberrations if obtained in close proximity to the tumor. We suggest that using both methods applied to the same dataset would provide more information on the disease related CN aberrations, than each method applied alone.
The algorithm was implemented in R language as an add-on to the open source aroma.affymetrix package but can be easily adapted for use with other packages. The algorithm source code as well as the GC correction module along with necessary modifications in aroma.affymetrix package is readily available for download at the following URL - http://lnx02.dbmi.pitt.edu/download/Aroma%20Extensions.zip.
Availablility and Requirements
Project name: Virtual Normals
Project home page: http://lnx02.dbmi.pitt.edu/download/Aroma%20Extensions.zip
Operating system(s): Platform independent.
Programming language: R
Other requirements: R 2.11 or higher, aroma.affymetrix 1.5.0 or higher.
License: Please contact corresponding author (RWS) for commercial license. No license required for academic use.
Any restrictions to use by non-academics: License needed for commercial use.
Abbreviations
VN:

virtual normals
(algorithm described herein) CN:

copy number
CNA:

copy number alterations
SNP:

single-nucleotide polymorphism
FFPE:

formalin-fixed paraffin embedded sample preservation protocol
FP:

false positive
FN:

false negative
SD:

standard deviation
GC:

GC content: guanine-cytosine content
GC wave:

variation in hybridization intensity associated with the GC content
Declarations
Acknowledgements
This work was supported by the American Cancer Society [RWS] [RSG-05-246-01-GMC] and the National Institutes of Health [RWS] [CA132385; GM087798; CA148629] and [IFP] [NS37704]. Funding was also provided to RWS from the St. Baldrick's Foundation and the National Childhood Cancer Foundation.
Authors' Affiliations
(1)
Department of Biomedical Informatics, University of Pittsburgh School of Medicine, Pittsburgh, USA
(2)
Department Department of Pathology, University of Pittsburgh School of Medicine, Pittsburgh, USA
(3)
Department of Neurosurgery, University of Pittsburgh School of Medicine, Children's Hospital of Pittsburgh, Pittsburgh, USA
(4)
Department of Pharmacology & Chemical Biology, University of Pittsburgh School of Medicine, Pittsburgh, USA
(5)
Clinical Genomics Facility, University of Pittsburgh School of Medicine, Pittsburgh, USA
(6)
University of Pittsburgh Cancer Institute, Hillman Cancer Center, Pittsburgh, USA
(7)
Division of Pediatric Hematology/Oncology, Children's Hospital of Pittsburgh, Pittsburgh, USA
(8)
Department of Pediatric Neurosurgery, Children's Hospital of Pittsburgh, Pittsburgh, USA
(9)
Department of Human Genetics, University of Pittsburgh Graduate School of Public Health, Pittsburgh, USA
Copyright
© Lisovich et al; licensee BioMed Central Ltd. 2011
This article is published under license to BioMed Central Ltd. This is an Open Access article distributed under the terms of the Creative Commons Attribution License (http://creativecommons.org/licenses/by/2.0), which permits unrestricted use, distribution, and reproduction in any medium, provided the original work is properly cited.