Database

Open Access

Open Peer Review
This article has Open Peer Review reports available.
NeuroGeM, a knowledgebase of genetic modifiers in neurodegenerative diseases
BMC Medical Genomics
2013
6:52
Received: 21 August 2013
Accepted: 8 November 2013
Published: 14 November 2013
Abstract
Background
Neurodegenerative diseases (NDs) are characterized by the progressive loss of neurons in the human brain. Although the majority of NDs are sporadic, evidence is accumulating that they have a strong genetic component. Therefore, significant efforts have been made in recent years to not only identify disease-causing genes but also genes that modify the severity of NDs, so-called genetic modifiers. To date there exists no compendium that lists and cross-links genetic modifiers of different NDs.
Description
In order to address this need, we present NeuroGeM, the first comprehensive knowledgebase providing integrated information on genetic modifiers of nine different NDs in the model organisms D. melanogaster, C. elegans, and S. cerevisiae. NeuroGeM cross-links curated genetic modifier information from the different NDs and provides details on experimental conditions used for modifier identification, functional annotations, links to homologous proteins and color-coded protein-protein interaction networks to visualize modifier interactions. We demonstrate how this database can be used to generate new understanding through meta-analysis. For instance, we reveal that the Drosophila genes DnaJ-1, thread, Atx2, and mub are generic modifiers that affect multiple if not all NDs.
Conclusion
As the first compendium of genetic modifiers, NeuroGeM will assist experimental and computational scientists in their search for the pathophysiological mechanisms underlying NDs. http://chibi.ubc.ca/neurogem.
Keywords
Neurodegenerative diseasesGenetic modifiersDatabaseKnowledgebaseAlzheimer's diseaseParkinson's diseaseHuntington's disease
Background
Intracellular protein aggregation is a feature of many late-onset neurodegenerative diseases (NDs), also called proteinopathies. These include Alzheimer's disease (AD), Parkinson's disease (PD), and nine polyglutamine expansion diseases exemplified by Huntington's disease (HD). The pathophysiology of NDs is very complex, which is one of the reasons why there are no effective strategies that slow or prevent neurodegeneration.
In recent years, significant efforts have been made to identify genes that modify the severity of NDs. Altering the activities of these genetic modifier genes on their own may not result in obvious phenotypes in the absence of the conditioning (neurodegeneration-causing) mutation. However, the identified genetic modifiers allow the characterization of biological pathways that modulate the disease and, in some cases, discovery of tractable therapeutic targets. The identification of genetic modifiers has been facilitated due to the development of in vivo models of different proteinopathies in organisms such as D. melanogaster and C. elegans[1–3]. Moreover, genome-wide screens for genetic modifiers have become possible because of high-throughput technologies such as RNA interference [4] or public availability of various transgenic stocks covering most genes such as fly stocks with P-element insertion mutations [5].
Nevertheless, due to the complex nature of the pathological processes underlying proteinopathies, there are large inconsistences in the collected data. Even more importantly, data alone without knowledge or integration into existing databases is bound to remain inaccessible and thus cannot be utilized by the broad scientific community. An integrated database of genetic modifiers of NDs would assist computational and experimental scientists alike in improving their approaches to discover what is common to and distinct for different proteinopathies.
In order to address this need, we assembled the first comprehensive database of genetic modifiers in NDs. NeuroGeM ('neurodegenerative disease genetic modifiers database') catalogues and cross-links genetic modifiers of 9 different NDs in three different model organisms, and associates them with information on protein function and other annotations. NeuroGeM contains detailed information on the experimental conditions in which the modifiers were identified, displays the protein-protein interaction sub-network around modifiers, and provides search and display tools to deduce testable hypotheses. Furthermore, in order to demonstrate the broad applicability of the data and tools provided by NeuroGeM, we present the results of a first meta-analysis.
Construction and content
Data collection
NeuroGeM is a comprehensive collection of literature data on genetic modifiers of NDs and associated genetic information from a variety of databases (Figure
1
). The ND models include AD subclassified as AD
Aβ
(amyloid-beta models) and AD
Tau
(tau models), HD, PD, Spinocerebellar ataxia type 1, 3 and 7 (SCA1, SCA3, SCA7), Amyotrophic lateral sclerosis (ALS) and generic polyQ-induced disease in
D. melanogaster
,
C. elegans
, and
S. cerevisiae
. At the time of data compilation, all known high-throughput (HT) screens for modifiers carried out in the model organisms and a handful of low-throughput (LT) experimental results were included. Overall, NeuroGeM contains 87,864 experimental records (3,618 for modifiers and 84,246 for non-modifiers) from the 9 different disease models in the three different species (Table
1
).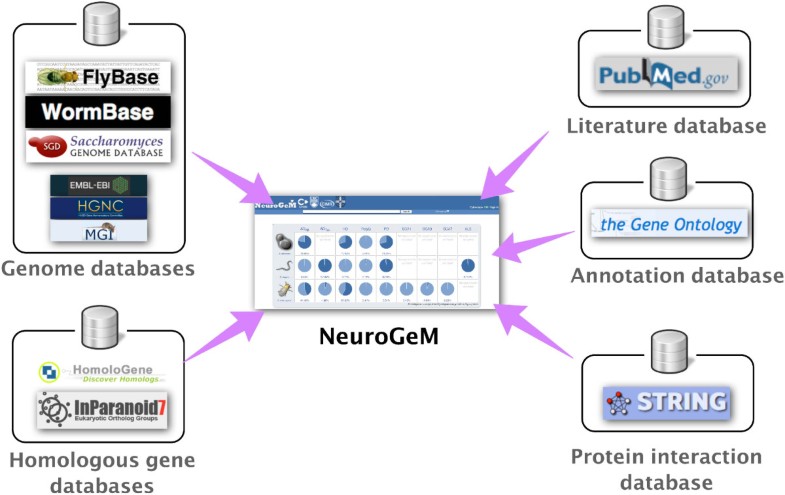 Table 1
Statistics of genetic modifiers in NeuroGeM
Species

Disease models

Experimental records

Modifiers1

Gene coverage2(%)

Positive records

Negative records

Enhancers

Suppressors

Non-modifiers

D. melanogaster

ADTau

144

571

65

60

549

4.89

ADAβ

61

6062

25

22

6059

44.43

PD

1

-

-

1

-

0.01

HD

1260

8142

130

90

7732

57.82

SCA1

66

24

16

21

21

0.42

SCA3

623

52

55

520

49

4.54

SCA7

14

19

8

5

18

0.23

PolyQ

22

44

7

10

43

0.44

C. elegans

ADTau

75

15909

-

75

15899

97.86

ADAβ

6

-

1

5

-

0.04

HD

22

2

1

17

2

0.12

PD

290

18121

-

268

15767

98.24

ALS

168

15909

88

80

15817

97.92

PolyQ

459

40

152

195

20

2.11

S. cerevisiae

ADAβ

106

5262

18

23

5248

78.83

HD

82

9422

28

54

4670

70.83

PD

216

4699

22

181

4577

71.26

PolyQ

1

-

-

1

-

0.01
Importantly, we continually update the knowledgebase with newly published results. In addition, users can submit their own data upon request of a login and the uploaded data will be made accessible to all users after curation (see Additional file 1).
In order to provide comprehensive information on genetic modifiers, we integrated relevant data from other sources into NeuroGeM. All entries in NeuroGeM contain information on gene function/annotations and are accompanied by direct links to the relevant information on FlyBase for D. melanogaster (ver Feb 2012) [6], WormBase for C. elegans (ver WS230) [7] and SGD for S. cerevisiae (downloaded in Jan 2012) [8]. Each gene entered in NeuroGeM contains an ID that is identical to the primary ID of the gene in its respective genome database (FlyBase, WormBase, or SGD). These IDs will allow users to easily access other databases and avoid the effort required for ID conversion. NeuroGeM records have a link to the PubMed entry of the original study from which the records stem.
As protein-protein interaction networks allow identification of functionally associated proteins or important functional clusters [9, 10], NeuroGeM visualizes the protein interaction sub-network around a queried gene; each protein node in the network is color-coded according to the available experimental results deposited in NeuroGeM. For this feature, NeuroGeM utilizes the protein interaction data from STRING (ver 9.05) [11]. In order to facilitate the identification of genetic modifiers with the same function or involved in the same process, NeuroGeM provides an ontology-based search functionality that searches for genes by GeneOntology (GO) annotations and the hierarchical structure of GO terms [12].
As users might be interested in finding homologs of the genetic modifiers entered in NeuroGeM, we also integrated homologous gene data from NCBI HomoloGene (build 65) [13] and InParanoid (ver7) [14, 15]. Orthologs are defined as genes in different species that have evolved from a common ancestral gene, while paralogs are genes related by duplication within the same species that often have different functions. Homologs are either paralogs or orthologs (for details see NCBI HomoloGene (build 65) [13] and InParanoid (ver7) [14, 15]). The homology data covers not only the three model organisms but also H. sapiens and M. musculus, though no modifiers from these organisms are deposited in NeuroGeM yet. Cross-linking genes via homology should facilitate the expansion of modifier studies in other organisms; for instance, confirmation of important modifiers in higher organisms. Gene information, GO annotations and protein interaction data for human and mouse genes were also integrated to help users search for modifiers that are homologous to human and mouse genes of interest. (source: EMBL Rel 68 [16], HGNC downloaded in Jan 2013 [17]; EMBL Rel 68 [18]; and MGI downloaded in Dec 2012 [19]). As detailed information on genes and proteins is frequently updated in their source databases, NeuroGeM also provides links to those databases when available.
Database implementation
The database was implemented with a web interface compatible with common web browsers to provide access to researchers. The data is stored in a relational database using a MySQL 5.0.59 server. Data processing and HTML generation for displaying information are carried out using PHP 5.3.3. Javascript and AJAX technology are used to improve search functions. CytoscapeWeb [20] is employed to visualize protein-protein interaction networks. The current database is running on Redhat Linux 5.6 with an Apache server 2.2.3. All the data in NeuroGeM can be downloaded as plain text files.
Utility and discussion
NeuroGeM allows users to access the integrated data in three different ways: (i) a categorical search, (ii) a keyword search, and (iii) an ontology-based search. All search methods take users first to a list of publications or a list of genes that fit the search criteria, from which users can select a gene of interest and consult its modifier information page. Figures
2
and
3
and Additional file
2
: Figures S1 and Additional file
3
: Figure S2 illustrate the three ways to search genetic modifiers in NeuroGeM and show detailed information on genetic modifiers provided by NeuroGeM.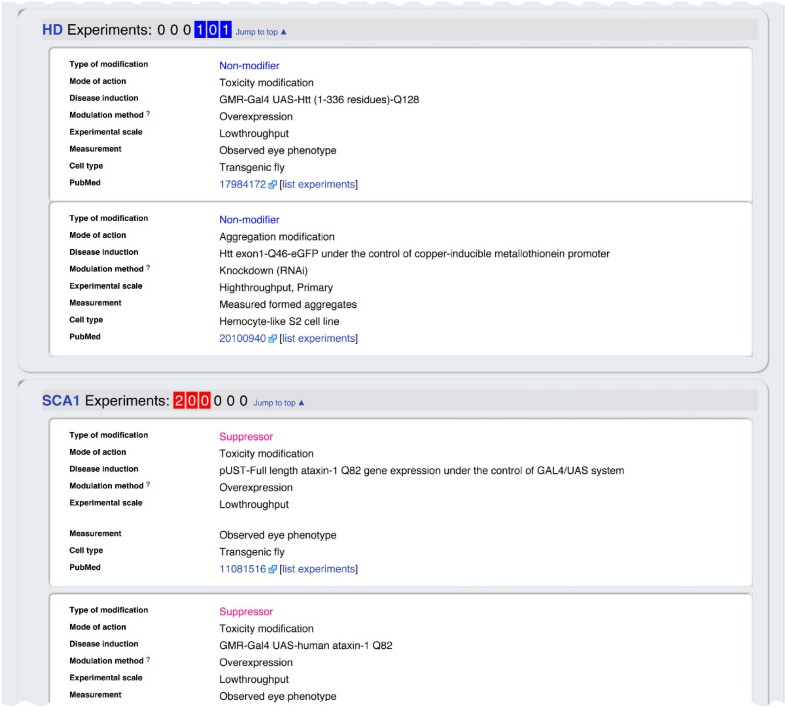 Conclusion
Here we report, to the best of our knowledge, the first database (NeuroGeM) of genetic modifiers of NDs. NeuroGeM provides a platform for searching modifiers, retrieving experimental conditions used for modifier identification, interpreting the roles of a queried modifier in the context of the protein interaction network, and expanding knowledge in one organism to other organisms through homologous genes. Therefore, NeuroGeM allows users to evaluate their hypotheses and develop new research directions. Furthermore, NeuroGeM provides all information, including gene information, protein interactions, experimental set-ups, etc. in down-loadable files, which will facilitate other computational analyses of modifiers similar to the meta-analysis presented in this work. Consequently, NeuroGeM will assist scientists immensely in their search for the pathophysiological mechanisms underlying NDs by providing the first compendium that catalogues and cross-links their genetic modifiers.
Availability and requirements
Abbreviations
ND:

Neurodegenerative diseases
AD:

Alzheimer's disease
ADTau:

Alzheimer's disease caused by tau
ADAβ:

Alzheimer's disease caused by Aβ
ALS:

Amyotrophic lateral sclerosis
PD:

Parkinson's disease
PolyQ:

PolyQ disease
SCA1:

Spinocerebellar ataxia type 1
SCA3:

Spinocerebellar ataxia type 3
SCA7:

Spinocerebellar ataxia type 7
HT:

High-throughput
LT:

Low-throughput
GO:

GeneOntology.
Declarations
Acknowledgement
Jörg Gsponer, David C. Rubinsztein and Cahir J. O'Kane were supported by the Centres of Excellence in Neurodegeneration Research (CoEN). Jörg Gsponer was supported by the Canadian Institutes of Health Research (CIHR), and David C. Rubinsztein was supported by the Medical Research Council (MRC) and a Wellcome Trust Principal Fellowship.
Authors' Affiliations
(1)
Department of Biochemistry and Molecular Biology, Centre for High-throughput Biology, University of British Columbia, Vancouver, Canada
(2)
Department of Computer Science, University of British Columbia, Vancouver, Canada
(3)
Department of Genetics, University of Cambridge, Cambridge, UK
(4)
Department of Medical Genetics, University of Cambridge, Cambridge Institute for Medical Research, Addenbrooke's Hospital, Cambridge, UK
(5)
School of Integrative Engineering, Chung-Ang University, Dongjak-gu, Republic of Korea
Copyright
© Na et al.; licensee BioMed Central Ltd. 2013
This article is published under license to BioMed Central Ltd. This is an open access article distributed under the terms of the Creative Commons Attribution License (http://creativecommons.org/licenses/by/2.0), which permits unrestricted use, distribution, and reproduction in any medium, provided the original work is properly cited.