Research article
Open Access
Open Peer Review
This article has Open Peer Review reports available.
Using logistic regression to improve the prognostic value of microarray gene expression data sets: application to early-stage squamous cell carcinoma of the lung and triple negative breast carcinoma
BMC Medical Genomics
2014
7:33
Received: 15 October 2013
Accepted: 27 May 2014
Published: 10 June 2014
Abstract
Background
Numerous microarray-based prognostic gene expression signatures of primary neoplasms have been published but often with little concurrence between studies, thus limiting their clinical utility. We describe a methodology using logistic regression, which circumvents limitations of conventional Kaplan Meier analysis. We applied this approach to a thrice-analyzed and published squamous cell carcinoma (SQCC) of the lung data set, with the objective of identifying gene expressions predictive of early death versus long survival in early-stage disease. A similar analysis was applied to a data set of triple negative breast carcinoma cases, which present similar clinical challenges.
Methods
Important to our approach is the selection of homogenous patient groups for comparison. In the lung study, we selected two groups (including only stages I and II), equal in size, of earliest deaths and longest survivors. Genes varying at least four-fold were tested by logistic regression for accuracy of prediction (area under a ROC plot). The gene list was refined by applying two sliding-window analyses and by validations using a leave–one-out approach and model building with validation subsets. In the breast study, a similar logistic regression analysis was used after selecting appropriate cases for comparison.
Results
A total of 8594 variable genes were tested for accuracy in predicting earliest deaths versus longest survivors in SQCC. After applying the two sliding window and the leave-one-out analyses, 24 prognostic genes were identified; most of them were B-cell related. When the same data set of stage I and II cases was analyzed using a conventional Kaplan Meier (KM) approach, we identified fewer immune-related genes among the most statistically significant hits; when stage III cases were included, most of the prognostic genes were missed. Interestingly, logistic regression analysis of the breast cancer data set identified many immune-related genes predictive of clinical outcome.
Conclusions
Stratification of cases based on clinical data, careful selection of two groups for comparison, and the application of logistic regression analysis substantially improved predictive accuracy in comparison to conventional KM approaches. B cell-related genes dominated the list of prognostic genes in early stage SQCC of the lung and triple negative breast cancer.
Keywords
Early DeathLogistic Regression MethodPrognostic GeneSlide Window AnalysisKaplan Meier
Background
When commercial microarrays encompassing most of the human genome transcripts became available, much attention was focused upon gene expression patterns of primary tumors as indicators of likely disease progression. The presumption was that evidence of dysregulation of certain genes within the excised primary tumor could be used to improve the prognostic discrimination of clinical and pathologic staging alone [1, 2], by indicating the likelihood [3–6] that dissemination of the tumor had already occured [7, 8]. Although this strategy has yielded limited success with certain malignancies, the hope that microarray analysis would provide prognostic data complementary to clinical staging has largely remained unfulfilled [9–16]. This difficulty becomes quite evident when gene lists from similar studies are compared and show little if any overlap. By way of example, to date 13 analyses of large expression data sets of squamous cell carcinoma of the lung (SQCC) cases have been published [11, 17–28]. However, the deduced gene profiles have very few genes in common [19], even when the same data set was analyzed independently by three different groups [18, 20, 22]. Similarly, Roepman, et al. [19], compiled prognostic genes from eight analyses of NSCLC and found only five of 327 genes in common. Three of the consensus genes were from two independent reports of the same data set [29, 30].
Although a number of factors, from tissue acquisition to compilation of clinical data, conspire to complicate the task of identifying prognostic gene expressions (reviewed in [31, 32]), we focus here upon two vital considerations in the analysis of microarray data sets: optimal use of clinical data and rigorous, robust mathematical analysis. In this report, we describe the application of the well-established statistical approach, logistic regression, to the analysis of large gene expression data sets which include corresponding clinical data, such as survival or therapeutic response. Typically, an expression data set is analyzed by (1) identifying individual gene expression variations which demonstrate the largest excursions within the data set; (2) grouping the cases into quantiles based on sorted expression values of these genes; (3) comparing survival between quantiles, using Cox proportional hazard models to stratify clinical data and Kaplan Meier (KM) plots [33]; (4) applying statistical tests to deduce the success of the quantiles in predicting survival; and (5) compiling a predictive "signature" or "metagene" and, often, constructing a mathematical formula in which expression values of the signature genes are weighted to optimize its predictive success.
Our approach differs substantively from KM analysis, and consequently circumvents several limitations of the methodology just described [34]. First, two classes of patient cases - equal in size - are compared (in this report, "earliest deaths" and "longest survivors") to assess the accuracy of gene expression predictors; this strategy avoids relying upon KM survival plots, which are often based upon incomplete or heavily right-censored clinical data [35]. Second, after isolating a subset of genes which are highly variable across the entire data set, and using the groups just described, logistic regression is employed to identify those genes offering statistically significant predictive value, as judged by the area under the curve (AUC) of a receiver operating characteristic (ROC) plot and statistical examination of the logistic regression model [36, 37]. This initial list of prognostic genes is further refined by first enlarging the two groups and then executing two sliding window analyses of the larger groups of early deaths and longest survivors. The final list of independently prognostic genes is validated by assigning training and testing subsets using a leave-one-out [38] or similar approach.
Our approach evolved as we sought to identify genes prognostic of early death or long survival in patients with early-stage SQCC, using a large published data set and accompanying clinical information [18]. In this report we describe our analytic process using logistic regression; we ultimately identified 24 genes which have excellent prognostic discrimination. Application of a conventional KM approach to the same data, however, succeeded in identifying only a minority of the 24 genes found by logistic regression. Interestingly, immune cell-related genes, especially those associated with the B cell lineage, dominated the 24-gene list, in agreement with a substantial body of other experimental evidence, as recently reviewed by Whiteside [39]. As further proof of the utility of the logistic regression method for identifying prognostic genes, we extended the same computational methods to a triple negative breast carcinoma data set. Treatment of this disease presents similar clinical challenges to SQCC [40]. Remarkably, the analysis revealed a major role for B-cell and also for other immune-related genes in disease recurrence after tumor resection.
Methods
All data analyses including statistical calculations, graphical displays, and probe annotations were produced using R programming tools (http://www.R-project.org) and BioConductor libraries (http://www.bioconductor.org). For the lung study, a previously published data set [18] of gene expression measurements of tissue samples of non-small-cell lung cancer on Affymetrix HGU133A microarrays was obtained from the GEO (gene expression omnibus data set) at NCBI (http://www.ncbi.nlm.nih.gov/gds). "The samples were collected from patients from the University of Michigan Hospital between October 1991 and July 2002 with patient consent and Institutional Review Board approval" [18]. Additional clinical information was obtained from the original authors' submission, the soft file in entry GSE4573, and from supplementary data in the published paper. Matching of clinical cases to microarray samples was aided by using Unix scripts. The GDS expression data had been log transformed and normalized across the data sets for each Affymetrix probe. Density plots of each array revealed that the distribution of intensities was similar across the set and thus could readily be compared. The probe data set for each gene was averaged when multiple probes were present. In order to identify genes that were predictors of survival, gene subsets in which the interquartile difference was 0.5 logs or 1.0 logs, and in which > 0.25 of the log values were > 6.6 were chosen.
For the breast study, a total of 2874 HGU133A Affymetrix CEL files was obtained from GEO data sets GSE31519, GSE11121, GSE2034, GSE2990, GSE3494, GSE5327, GSE6532, and GSE7390, and the 98 of those that were triple negative cases were selected. These CEL files were processed using the rma function of the BioConductor affy library, and probes for the same gene were averaged. Since the files originated from multiple data sets, the data for each array were normalized to standard scores centered on zero using the scale function. These standard scores were used in the analysis. (However, similar results were obtained with the original scores.) The clinical data for 578 breast cancer cases were provided by the GSE31519 data set. These data were used to select a set of 63 cases that were suitable for logistic regression analysis of the early recurrence and long term, event-free survival groups. To select cases clinically similar to those used in the SQCC analysis, only patients with breast cancers classified as triple-negative, which carries a particularly poor prognosis [40], and who had not received adjuvant chemotherapy, were included.
The SQCC cases were first sorted based on given survival times, then the group of 20 earliest death cases was compared with the group of 20 longest survivors. In later analyses, groups of 20 from among the 40 longest survivors were compared to early death cases 1 through 20; conversely, groups of 20 from the 40 earliest deaths were compared to the longest 20 survivors. For each of the 80 comparisons, a logistic model for each of the 8,594 most variable genes was produced, and the accuracy of each model in predicting survival class was evaluated. Accuracy is the area under a ROC curve of 1 – specificity on the x axis and sensitivity on the y axis, where sensitivity is the proportion of true positive cases that are predicted correctly (sensitivity = TP/TP + FN where TP is the number of early death cases predicted correctly and FN is the number of long term survival cases predicted incorrectly), and specificity is the proportion of long survival cases predicted correctly (specificity = TN/TN + FP where TN is the number of long term survival cases predicted correctly and FP is the number of early death cases predicted incorrectly). It should be noted that the area under a ROC curve can be calculated by a simple, intuitive method, as described by Hosmer and Lemeshow [41]. Using this method, the ratios of each value in one class (early death group) with every value in the other class (longest survivor group) are calculated to determine how often the value in one class is less than or greater than the value in the other class. If, for example, 320 of the 400 ratios are greater than 1, the accuracy of that gene in predicting the correct class based on its expression values is 320/400 = 0.8. This ratio is precisely the area under the ROC.
The significance of each gene model was further evaluated using a chi squared ANOVA test of the logistic model slope coefficient, as described [41]. In the leave-one-out validation test, early death cases 5 through 24 were used to refine the gene selection; in our clinical experience, it is unlikely that at least the first four early postoperative deaths were related to SQCC progression.
Results and discussion
The work flow of analyses described in this section is outlined in Figure
1
.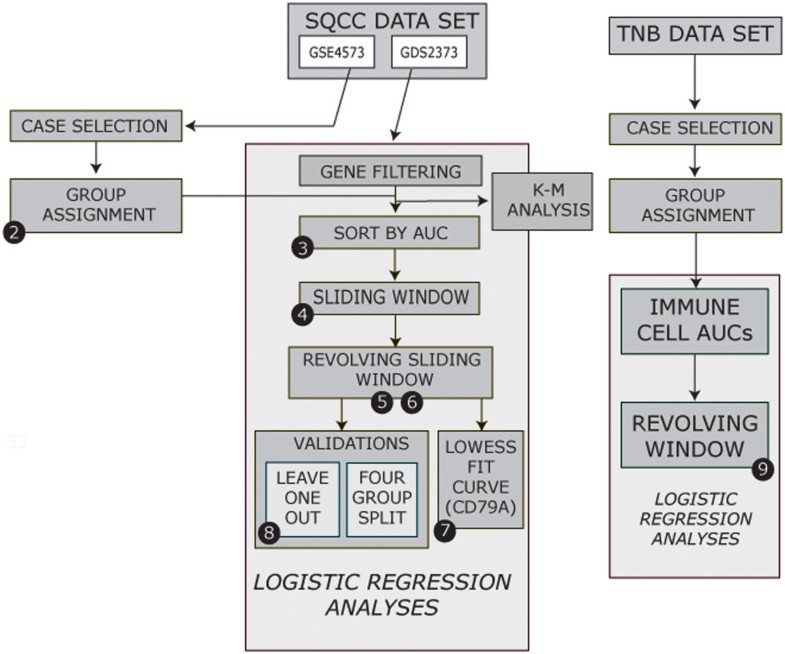 Conclusions
The many large gene expression data sets available in the public domain afford invaluable opportunities for analysing and understanding the effects of genetic and epigenetic effects on cellular phenotypes dictating outcomes in patients with malignancies. In this report we describe a logistic regression methodology for data set analysis which circumvents the principal shortcoming of conventional Kaplan Meier approaches, its reliance upon accurate survival data. Comparing classes of cases allows inaccurate, incomplete survival data to be used effectively. No less important is the careful stratification of cases based on clinical data and the choice of classes for comparison.
Our logistic regression analysis of a previously thrice-analysed SQCC data set revealed a number of B cell immune-related genes, all highly correlated in expression. This represents a novel finding in SQCC, although similar gene lists have been reported for other solid tumors. Indeed, we have also identified the predictive value of B-cell gene expressions in TNB. We propose that B cell activity within primary SQCC tumors is an important indicator of prolonged survival and, as such, merits further examination and experimentation. Understanding the role of B cells in determining outcomes in patients with SQCC may lead to improvements in diagnosis and therapy of this aggressive carcinoma.
Abbreviations
ROC:

Receiver operating characteristic
SQCC:

Squamous cell carcinoma (of the lung)
KM:

Kaplan Meier analysis
AUC:

Area under the curve (of a ROC plot)
ANOVA:

Analysis of variance
NSCLC:

Non-small cell lung cancer
RLN:

Regional lymph nodes
TNB:

Triple negative breast carcinoma.
Declarations
Acknowledgements
The authors gratefully acknowledge the developers of the R-project and BioConductor resources which were used for all of the data analysis performed; we also acknowledge the use of NCBI GEO resources for data retrieval. Catherine C. Liu carefully critiqued and edited the manuscript at various stages in its preparation. This work was supported in part by the Arizona Cancer Center Core Support grant NIH P30 CA23074 with funds allocated to the Bioinformatics Shared Service (DWM, RP, AM) and NIH grant CA107510 to JDM.
Authors' Affiliations
(1)
Bioinformatics Shared Service, Arizona Health Sciences Center, The University of Arizona, Tucson, USA
(2)
Department of Surgery, Arizona Health Sciences Center, The University of Arizona, Tucson, USA
(3)
Arizona Comprehensive Cancer Center, The University of Arizona, Tucson, USA
(4)
Department of Medicine, Arizona Health Sciences Center, The University of Arizona, Tucson, USA
(5)
Department of Cellular and Molecular Medicine, Arizona Health Sciences Center, The University of Arizona, Tucson, USA
Copyright
© Mount et al.; licensee BioMed Central Ltd. 2014
This article is published under license to BioMed Central Ltd. This is an Open Access article distributed under the terms of the Creative Commons Attribution License (http://creativecommons.org/licenses/by/2.0), which permits unrestricted use, distribution, and reproduction in any medium, provided the original work is properly credited. The Creative Commons Public Domain Dedication waiver (http://creativecommons.org/publicdomain/zero/1.0/) applies to the data made available in this article, unless otherwise stated.