Research article
Open Access
Open Peer Review
This article has Open Peer Review reports available.
Massive interstitial copy-neutral loss-of-heterozygosity as evidence for cancer being a disease of the DNA-damage response
BMC Medical Genomics
2015
8:42
Received: 5 March 2015
Accepted: 1 June 2015
Published: 25 July 2015
Abstract
Background
The presence of loss-of-heterozygosity (LOH) mutations in cancer cell genomes is commonly encountered. Moreover, the occurrences of LOHs in tumor suppressor genes play important roles in oncogenesis. However, because the causative mechanisms underlying LOH mutations in cancer cells yet remain to be elucidated, enquiry into the nature of these mechanisms based on a comprehensive examination of the characteristics of LOHs in multiple types of cancers has become a necessity.
Methods
We performed next-generation sequencing on inter-Alu sequences of five different types of solid tumors and acute myeloid leukemias, employing the AluScan platform which entailed amplification of such sequences using multiple PCR primers based on the consensus sequences of Alu elements; as well as the whole genome sequences of a lung-to-liver metastatic cancer and a primary liver cancer. Paired-end sequencing reads were aligned to the reference human genome to identify major and minor alleles so that the partition of LOH products between homozygous-major vs. homozygous-minor alleles could be determined at single-base resolution. Strict filtering conditions were employed to avoid false positives. Measurements of LOH occurrences in copy number variation (CNV)-neutral regions were obtained through removal of CNV-associated LOHs.
Results
We found: (a) average occurrence of copy-neutral LOHs amounting to 6.9 % of heterologous loci in the various cancers; (b) the mainly interstitial nature of the LOHs; and (c) preference for formation of homozygous-major over homozygous-minor, and transitional over transversional, LOHs.
Conclusions
The characteristics of the cancer LOHs, observed in both AluScan and whole genome sequencings, point to the formation of LOHs through repair of double-strand breaks by interhomolog recombination, or gene conversion, as the consequence of a defective DNA-damage response, leading to a unified mechanism for generating the mutations required for oncogenesis as well as the progression of cancer cells.
Keywords
Copy number variationDouble strand break repairGain-of-heterozygosityGene conversionInter-homologous recombinationLoss-of-heterozygosity
Background
As a common feature of cancer cells, LOHs have been investigated by cytogenetics, fluorescence in situ hybridization, comparative genomic hybridization (CGH), array-CGH, and single nucleotide polymorphism (SNP)-based microarrays [1–4]. With the application of next-generation sequencing, analysis of LOH in cancer can further be conducted at the level of single base resolution [5, 6]. However, owing to the importance of LOHs giving rise to loss of major alleles and inactivation of tumor suppressor genes, hitherto investigations of LOHs in cancers have been focused mainly on LOHs that yield homozygous-minor genotypes. Yet a comprehensive understanding of the properties and origins of LOHs in cancers requires analysis of all types of LOHs in multiple cancers.
Accordingly, in the present study next-generation sequencing was applied to determine at single-base resolution the LOHs in the genomic sequences of various types of cancers, covering not only sequence regions that have undergone loss of heterozygosity but also single nucleotide changes where a heterozygous position has mutated to a homozygous one. Thirty tumor-control pairs of six different types of cancers including glioma (glioblastoma and astroglioma), acute myeloid leukemia, gastric adenocarcinoma, hepatocellular carcinoma, primary lung cancer (pulmonary squamous-cell carcinoma, adenocarcinoma and neuroendocrinal carcinoma), and lung-to-brain metastatic adenocarcinoma were analyzed with the AluScan platform established by our laboratory, based on the capture of ~8–25 Mb/genome of inter-Alu sequences by inter-Alu PCR amplification using multiple consensual Alu sequence-based primers for next-generation sequencing [7].
The results obtained on both LOH mutations forming homozygous-major genotypes and those forming homozygous-minor genotypes have yielded a comprehensive LOH landscape across different types of cancers that identifies the outstanding characteristics of cancer LOHs: (a) occurrence of massive percentile LOH mutations of heterozygous residues in the cancer genomes, far exceeding the percentile gain-of-heterozygosity (GOH) mutations of homozygous-major residues; (b) cancer LOHs are mainly interstitial ones indicative of gene conversion rather than segmental deletion as the major underlying mechanism for their production; and (c) cancer LOHs display preferences for the production of homozygous-major genotypes over homozygous-minor genotypes, and for transitional over transversional changes. These characteristics of cancer LOHs, determined using the AluScan platform and also confirmed by the whole-genome sequences reported for a lung-to-liver metastatic cancer [8] and a primary liver cancer [9], indicate that cancer LOHs are generated mainly by repair of double-strand breaks (DSB) through interhomolog recombination with the homologous chromosome serving as repair template. The massive scale of the interhomolog recombinations called for by the cancer LOHs suggests that a defective DNA-damage response, by weakening cell cycle checkpoints in the cancer cells, allows the entry of DSB-bearing DNA into the S-phase of the cell cycle, thereby enabling interhomolog recombination and production of the LOH and tag-along GOH mutations needed by the cells during their post-oncogenesis as well as pre-oncogenesis phases.
Discussion
On account of the complexity of cancer cells, genomic studies provide an excellent approach to find surprises [24]. In the present study, a characterization of the landscape of cancer LOHs revealed the surprisingly massive rates of LOH formation in various cancers, far exceeding the rates of GOH-M formation, and these cancer LOHs displayed a number of special properties.
Features of cancer copy-neutral LOHs
Mode of double strand break repair in cancers
Since random point mutations would yield similar rates of mutation of Mm residues to yield LOHs and MM residues to yield GOHs, the vastly higher RLOH than RGOH-M values in Table 1 rule out point mutations as an important mechanism for the generation of cancer LOHs. This together with the limited role of CNV focuses attention on repair of double strand breaks (DSB) as a major source of cancer LOHs. In eukaryotic cells, DSBs are repaired by a spectrum of mechanisms through non-homologous end-joining, and homologous recombinations (HR) that include crossover pathways, break-induced replication, and synthesis-dependent strand-annealing employing a repair template supplied by sister chromatid in inter-sister chromatid recombination (ISR), a homologous chromosome in interhomolog recombination (IHR), or some ectopic sequence to bring about gene conversion [30].
Break-induced replication would be inconsistent with the largely interstitial character of the LOHs, and deletions of base residues at Mm sites due to non-homologous end-joining would not be called as SNVs (either LOHs or GOHs) in variant analysis (see Methods). In contrast, the HR process is known to produce relatively short patches of new DNA [
31
], in accord with the interstitial character of the cancer LOHs. Because ISR enhances both R
MM
and R
LOH
comparably whereas IHR enhances R
LOH
far in excess of R
MM
, the finding of R
LOH
> > R
GOH-M
with the different types of cancers strongly favored IHR over ISR as the underlying mechanism for the massive cancer LOHs. This conclusion was supported by the linear correlations between the levels of LOH, GOH-M and GOH-m, where GOH-M denotes GOHs arising from homozygous MM residues, and GOH-m denotes GOHs arising from homozygous mm residues (Fig.
7
). That the occurrence of GOH mutations in MM and mm tagged along in correlation with the occurrence of LOH mutations was to be expected with IHR, which would cause not only the Mm residues involved to undergo LOH mutation due to the use of the allelic template for DSB repair, but also significant mutations of the Mm, MM and mm residues involved owing to the highly error-prone nature of the DNA polymerase employed for invading strand elongation in the course of IHR, increasing the mutation rate by up to 1400-fold [
32
]. That R
GOH-m
was also much greater than R
GOH-M
would be consistent with the presence of extensive selection against mm-genotypes during cancer cell evolution, as suggested by the preference for M-alleles amongst the cancer LOHs.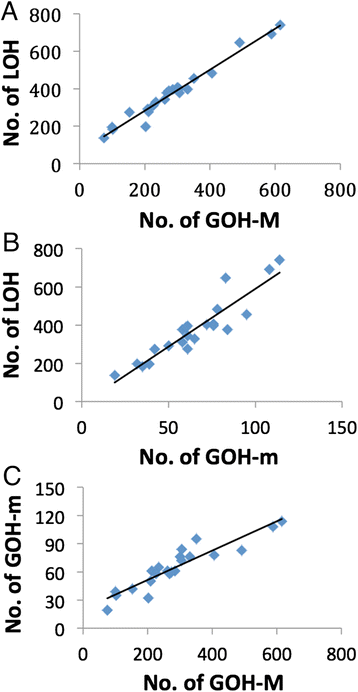 The choice between ISR and IHR for DSB repair depends on a wide array of regulatory factors [33]. IHR prevails in meiotic cells. In mitotic cells, ISR prevails over IHR on account of the close positioning of sister chromatids secured by cohesin [34–36], but IHR can be increased upon induction of a chromosomal DSB by two to three orders of magnitude up to 1 % of the target sites to yield short tract nonreciprocal gene conversions [37]. Cellular systems are also known to undergo enhanced LOH production under special circumstances. In a Bloom mouse model, Blm-deficient ES cells exhibited elevated mitotic recombination rates with an 18-fold increase in somatic LOH [38]. In aging diploid mother yeast cells, recombination rates could increase to 200-fold the rate in young cells to result in an age-induced switch to a hyper-recombination state [39]. Thus the degenerative states in ageing yeast cells and the various types of tumors analyzed in Table 1 shared the common attribute of hyper-recombination. Interestingly, copy-neutral LOHs in ovarian cancer were found to be more frequent in older patients, suggesting that the effects of cancer and ageing could be additive in this regard [40].
The rate of DSB occurrence in cells has been estimated at about 50 DSBs per cell per cell cycle [41] or ten per day [42], and it is increased by both exogenous agents such as chemicals, ultraviolet and ionizing radiation, and endogenous events such as arrested replication forks, nucleases and reactive oxygen species from cellular metabolism [30, 43]. In the event that both leading and lagging strands of DNA are synthesized by discontinuous synthesis in human cells as has been suggested for Escherichia coli [44, 45], DNA synthesis itself can be a significant source of DSBs [33]. Evidence for oncogene-induced DSBs has been provided by using the presence of p53 binding protein 1 (53BP1) nuclear foci as indicator of DSBs, whereby 10–20 foci per cell could be detected in cancer cell lines but not in proliferating normal cells [46].
Defective DNA-damage response
To cope with the continuous threat of DSBs, eukaryotic cells possess the capacity to mount a DNA-damage response (DDR) that arrests cell-cycle progression at the G1-S, intra-S and G2-M checkpoints to increase the time available for DNA repair; if the DNA damage cannot be removed, chronic DDR triggers cell death by apoptosis or cellular senescense [47–49]. Analysis of the relationship between DDR and oncogenesis has brought important insight into how oncogene activation-induced DNA hyper-replication could lead to S-phase DNA damage, onset of DDR and abrogation of cell cycle checkpoints, leading to a circumvention of the apoptosis and senescence pathways normally elicited by DDR, and hence oncogenesis [46, 50–52]. Notably, this chain of events, by diminishing or nullifying the action of the cell cycle checkpoints, not only would increase the influx of DSB-bearing DNA into the S-phase during the pre-oncogenesis phase to induce oncogenesis, but also may be expected to continue in the post-oncogenesis phase.
While usage of IHR for DSB repair is suppressed in favor of ISR in mitotic cells, the situation is radically altered upon oncogenesis and relaxation of checkpoints to enable the entry of DSB-bearing DNAs into S-phase. Under these circumstances, when a DSB-bearing chromatid replicates to yield a sister chromatid, the two sister chromatids will be unable to provide a useful repair template to one another. Instead, either a homologous chromosome or a homologous ectopic sequence will have to supply the requisite repair template [53]. Given the reliable presence of the homologous chromosome as template compared to the haphazard availability of a homologous ectopic sequence, DSB repair by IHR will prevail giving rise to hyper-accumulation of LOH mutations in the cancer cells. Although DSB repair by HR in general can be a source of mutations arising from error-prone polymerases or replication forks [32, 54, 55], in the presence of intact cell cycle checkpoints ISR will be strongly preferred over IHR for DSB repair during S-G2, such that the error-prone polymerases would bring about comparable RGOH-M and RLOH rates instead of the vastly higher RLOH than RGOH-M rates found in cancer samples. Therefore only impaired cell cycle checkpoints arising from a defective DDR can lead to the hugely greater RLOH than RGOH-M displayed by different types of cancer cells.
Conclusions
The question has been posed regarding how might the requisite genetic changes, estimated to be about six mutations, be acquired to initiate oncogenesis, and whether mutator phenotypes participate in the process [56]. This question is important not only to oncogenesis, but also to the post-oncogenesis phase with respect to the mutations needed to implement the manifold hallmarks of the neoplastic state, i.e. sustaining proliferative signaling, evading growth suppressors, resisting cell death, enabling replicative immortality, inducing angiogenesis, and activating invasion and metastasis [57], and complex metabolic reprogramming to support rapid growth even under conditions of fluctuating oxygen tension through enhanced glucose uptake, aerobic glycolysis, decreased conversion of pyruvate to acetyl-CoA etc. [58]. Thus solid tumors compared to leukemias are confronted with irregular vascularization and more fluctuations in oxygen tension and nutrient supplies, which might contribute to the higher percentile LOH and GOH occurrences displayed by solid tumors compared to leukemias (Fig. 4b). Overall, the intimate relationship between defective DDR and cancer is clearly underlined by the numerous human genetic diseases that are associated with both DDR defects and predisposition to cancers including xeroderma pigmentosum, familial breast cancer, Bloom syndrome, MYH-associated polyposis, hereditary nonpolyposis colorectal cancer, etc. [59].
Accordingly, in the pre-oncogenesis phase, the weakening of cell cycle checkpoints caused by oncogene-induced DDR alterations can usher in mutations to initiate oncogenesis [46, 50–52]. In the post-oncogenesis phase, a defective DDR allows the continued accumulation of LOHs and GOHs, which can be self-amplifying insofar that some of the accumulated mutations can further alter DDR, to result in the wide landscape of mutations including LOHs, GOHs, CNVs, indels and chromosomal instabilities that characterize cancers, thus meeting fully the mutations needed for post-oncogenesis alterations which may be expected to outnumber those required for oncogenesis. Table 2 illustrates some of the LOH and GOH mutations in tumor suppressor and other cancer related genes potentially arising from interhomolog recombination enabled by a defective DDR that could be utilized by various cancers.
In conclusion, analysis of cancer LOHs and GOHs in the present study has revealed evidence for the occurrence of LOHs and tag-along GOHs in cancers brought about by repair of DSBs through interhomolog recombination under conditions of relaxed cell cycle checkpoints due to a defective DDR. On this basis, cancer may be regarded foremost as a disease of the DNA-damage response, where the mutator phenotype arising from DDR derangement provides a unified mechanism for generating interhomolog recombination-induced mutations (Fig.
8
) to drive the initiation, development and aggressiveness of the neoplastic state from its oncogenic beginning to its terminal stages of unconstrained growth and proliferation.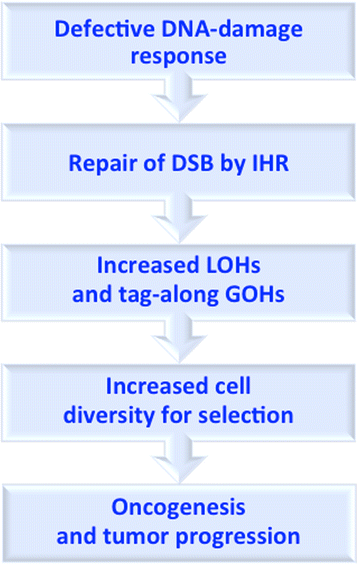 Availability of supporting data
All supporting data are included as additional files.
Abbreviations
BWA:

Burrows-Wheeler Aligner
CGH:

Comparative genome hybridization
CNV:

Copy number variation
DDR:

DNA damage response
DSB:

Double strand break
FS:

Fisher's exact test to detect strand bias
GATK:

Genome Analysis Tool-Kit
GOH:

Gain of heterozygosity
HR:

Homologous recombination
ISR:

Inter-sister chromatid recombination
IHR:

Inter-homolog recombination
LOH:

Loss of heterozygosity
QD:

Quality by Depth
RGOH-M:

Percentile mutation of MM residues in the form of GOH
RGOH-m:

Percentile mutation of mm residues in the form of GOH
RLOH:

Percentile mutation of Mm residues in the form of LOH
RMm:

Percentile mutation of Mm residues
Rmm:

Percentile mutation of mm residues
SAM:

Sequence Alignment/Map
SNP:

Single nucleotide polymorphism
WGS:

Whole genome sequencing
Declarations
Acknowledgements
The study was supported by grants to H. Xue from University Grants Council of Hong Kong SAR (VPRDO09/10.SC08, VPRDO14SC01, DG14SC02, SRFI11SC06 and SRFI11SC06PG), grants to S. Li from National Science Foundation of China (91229201 and 81225025), grant to L. Zhang from 863 Program, Ministry of Science and Technology, China (2012AA02A201), and grants to J. F. Chen (National 973 Basic Research Program of China, No. 2013CB911300; National Natural Science Foundation of China, No. 81272469; and Natural Science Foundation of Jiangsu Province special clinical project No. BL2012016). Y. Kumar was recipient of Hong Kong PhD Fellowship from Government of Hong Kong SAR. F.W. Pun was recipient of Research Fellowship from HKUST Jockey Club Institute of Advanced Study. We thank Prof. J. Tze-Fei Wong for valuable discussion.
Authors' Affiliations
(1)
Division of Life Science, Applied Genomics Centre and Centre for Statistical Science, Hong Kong University of Science and Technology, Clear Water Bay, Hong Kong
(2)
Eastern Hepatobiliary Surgery Institute, Second Military Medical University, Shanghai, China
(3)
Department of Oncology, Nanjing First Hospital, and Collaborative Innovation Center for Cancer Personalized Medicine, Nanjing Medical University, Nanjing, China
(4)
Jiangsu Key Laboratory of Cancer Molecular Biology and Translational Medicine, Jiangsu Cancer Hospital, Nanjing, China
(5)
Department of Hematology, Changhai Hospital, Second Military Medical University, Shanghai, China
(6)
Department of Surgery, The Chinese University of Hong Kong, Hong Kong, China
(7)
Department of Neurosurgery, Beijing Tiantan Hospital, Capital Medical University, Beijing, China
(8)
MOE Key Laboratory of Bioinformatics and Bioinformatics Division, TNLIST, and Department of Automation, Tsinghua University, Beijing, China
Copyright
© Kumar et al. 2015
This article is published under license to BioMed Central Ltd. This is an Open Access article distributed under the terms of the Creative Commons Attribution License (http://creativecommons.org/licenses/by/4.0), which permits unrestricted use, distribution, and reproduction in any medium, provided the original work is properly credited. The Creative Commons Public Domain Dedication waiver (http://creativecommons.org/publicdomain/zero/1.0/) applies to the data made available in this article, unless otherwise stated.