Review
Open Access
Open Peer Review
This article has Open Peer Review reports available.
From big data analysis to personalized medicine for all: challenges and opportunities
BMC Medical Genomics
2015
8:33
Received: 21 January 2015
Accepted: 15 June 2015
Published: 27 June 2015
Abstract
Recent advances in high-throughput technologies have led to the emergence of systems biology as a holistic science to achieve more precise modeling of complex diseases. Many predict the emergence of personalized medicine in the near future. We are, however, moving from two-tiered health systems to a two-tiered personalized medicine. Omics facilities are restricted to affluent regions, and personalized medicine is likely to widen the growing gap in health systems between high and low-income countries. This is mirrored by an increasing lag between our ability to generate and analyze big data. Several bottlenecks slow-down the transition from conventional to personalized medicine: generation of cost-effective high-throughput data; hybrid education and multidisciplinary teams; data storage and processing; data integration and interpretation; and individual and global economic relevance. This review provides an update of important developments in the analysis of big data and forward strategies to accelerate the global transition to personalized medicine.
Keywords
Big dataOmicsPersonalized medicineHigh-throughput technologiesCloud computingIntegrative methodsHigh-dimensionality
Introduction
Access to large omics (genomics, transcriptomics, proteomics, epigenomic, metagenomics, metabolomics, nutriomics, etc.) data has revolutionized biology and has led to the emergence of systems biology for a better understanding of biological mechanisms. Systems biology aims to model complex biological interactions by integrating information from interdisciplinary fields in a holistic manner (holism instead of the more traditional reductionism). In contrast to treating a mixture of factors as single entities leading to an endpoint, systems biology relies on experimental and computational approaches in order to provide mechanistic insights to an endpoint [1]. Traditional observational epidemiology or biology alone are not sufficient to fully elucidate multifaceted heterogeneous disorders and this directly limits all prevention and treatment pursuits for such diseases [2, 3]. It is widely recognized that multiple dimensions must be considered simultaneously to gain understanding of biological systems [4]. Systems approaches are driving the leading-edge of biology and medicine [5, 6]. The use of deterministic networks for normal and abnormal phenotypes are thought to allow for the proactive maintenance of wellness specific to the individual, that is predictive, preventive, personalized, and participatory medicine (P4, or more generally speaking, personalized medicine) [1].
Many predict the emergence of personalized medicine in the near future, but it is not likely to come about as quickly as the scientific community and the media may think [7]. In parallel to an escalating two-tiered health system at the global level, a similar two-tiered phenomenon is observed with regard to our ability to generate and analyze omics data that may delay even further the transition to personalized medicine. The generation and management (storage, and computational resources) of omics data remain expensive despite technological progress. This implies that personalized medicine could be restricted to the wealthier countries [8]. This is mirrored by a growing gap in our abilities to generate and interpret omics data. The bottleneck in omics approaches is becoming less and less about data generation and more and more about data management, integration, analysis, and interpretation [9]. There is an urgent need to bridge the gap between advances in high-throughput technologies and our ability to manage, integrate, analyze, and interpret omics data [10–12]. This review addresses the growing gaps in socioeconomic and scientific progress toward personalized medicine.
Conclusion
This review aims to stimulate research initiatives in the field of big data analysis and integration. Omics data embody a large mixture of signals and errors, where our current ability to identify novel associations comes at the cost of tolerating larger error thresholds in the context of big data. Major investments need to be made in the fields of bioinformatics, biomathematics, and biostatistics to develop translational analyses of omics data and make the best use of high-throughput technologies. New generations of multi-talented scientists and multidisciplinary research teams are required to build accurate complex disease models and permit effective personalized prevention, diagnosis and treatment strategies. Our ability to integrate and interoperate omics data is an important limiting factor in the transition to personalized medicine. Overcoming these limitations may boost the nation-wide implementation of omics facilities in clinical settings (Fig.
6
). The subsequent economies of scale may in turn favor the access to personalized medicine to disadvantaged nations, repelling the growing shadow of two-tiered personalized medicine.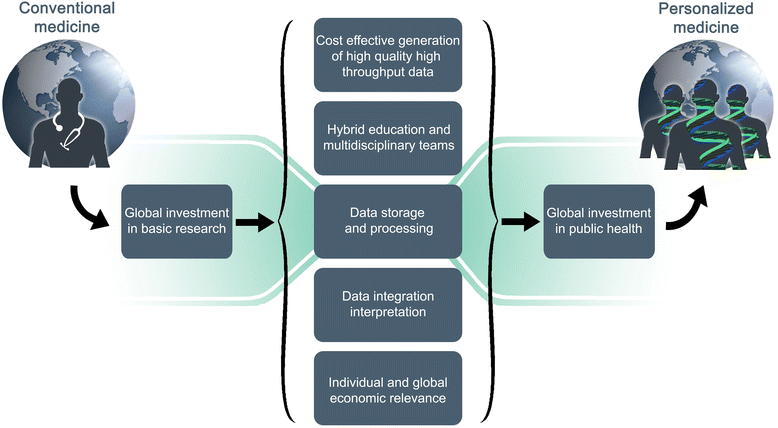 Declarations
Acknowledgements
We thank A Abadi for the helpful comments and editing of the manuscript. AA is supported by the Youth Employment Fund (YEF) from the Ontario Canadian Government. DM is supported by a Canada Research Chair in Genetics of Obesity.
Authors' Affiliations
(1)
Department of Clinical Epidemiology and Biostatistics, McMaster University, Hamilton, Canada
(2)
Department of Pathology and Molecular Medicine, McMaster University, Hamilton, Canada
Copyright
© Alyass et al. 2015
This article is published under license to BioMed Central Ltd. This is an Open Access article distributed under the terms of the Creative Commons Attribution License (http://creativecommons.org/licenses/by/4.0), which permits unrestricted use, distribution, and reproduction in any medium, provided the original work is properly credited. The Creative Commons Public Domain Dedication waiver (http://creativecommons.org/publicdomain/zero/1.0/) applies to the data made available in this article, unless otherwise stated.