Exome analysis of carotid body tumor
BMC Medical Genomics
BMC series – open, inclusive and trusted
2018
11(Suppl 1):17
Published: 13 February 2018
Abstract
Background
Carotid body tumor (CBT) is a form of head and neck paragangliomas (HNPGLs) arising at the bifurcation of carotid arteries. Paragangliomas are commonly associated with germline and somatic mutations involving at least one of more than thirty causative genes. However, the specific functionality of a number of these genes involved in the formation of paragangliomas has not yet been fully investigated.
Methods
Exome library preparation was carried out using Nextera® Rapid Capture Exome Kit (Illumina, USA). Sequencing was performed on NextSeq 500 System (Illumina).
Results
Exome analysis of 52 CBTs revealed potential driver mutations (PDMs) in 21 genes: ARNT, BAP1, BRAF, BRCA1, BRCA2, CDKN2A, CSDE1, FGFR3, IDH1, KIF1B, KMT2D, MEN1, RET, SDHA, SDHB, SDHC, SDHD, SETD2, TP53BP1, TP53BP2, and TP53I13. In many samples, more than one PDM was identified. There are also 41% of samples in which we did not identify any PDM; in these cases, the formation of CBT was probably caused by the cumulative effect of several not highly pathogenic mutations. Estimation of average mutation load demonstrated 6–8 mutations per megabase (Mb). Genes with the highest mutation rate were identified.
Conclusions
Exome analysis of 52 CBTs for the first time revealed the average mutation load for these tumors and also identified potential driver mutations as well as their frequencies and co-occurrence with the other PDMs.
Keywords
Carotid body tumorParagangliomasHead and neck paragangliomasMutationsHigh-throughput sequencingExome
Background
Carotid body tumors (CBTs) are neoplasms of the paraganglia located at the bifurcation of carotid arteries and belong to head and neck paragangliomas (HNPGLs). These highly vascularized tumors originate in the neural crest and are typically benign. However, in 10–15% of cases the tumors can become malignant, characterized by multifocal growth, metastases, and relapse after surgical treatment. Typically, CBTs are slow-growing tumors. Surgical treatment remains high-risk and extremely challenging due to the location of the tumor in close proximity of important nerves and blood vessels. Potential damage to carotid arteries can result in cerebral circulation dysfunction [1]. One of the main difficulties in CBT management is the identification of tumors that are predisposed to be aggressive, since morphological criteria alone are not sufficiently informative [2]. To create more specific treatment strategies, there is a growing need for identification of new biomarkers that can distinguish between indolent and aggressive metastatic forms of CBTs. Many germline and somatic mutations are involved in progression of paragangliomas (PGLs). Up to 30–40% of all HNPGLs are hereditary [3, 4]. The majority of these familial paraganglioma syndromes are due to mutations in genes encoding distinctive subunits of the mitochondrial succinate dehydrogenase (SDH) complex [5]. The SDH complex participates in both the citric acid cycle and the electron transport chain, playing an essential role in energy metabolism. Besides, somatic mutations in more than 30 causative genes are described as drivers for paragangliomas [6–9].
The Cancer Genome Atlas (TCGA) consortium published the results of comprehensive molecular profiling including exome, mRNA, and miRNA sequencing, epigenomic analysis as well as reverse phase protein array for 173 pheochromocytoma (PCC) and paraganglioma tumors [10]. Four molecular subtypes were revealed in this work. Unfortunately, HNPGLs were not included in the analysis because such tumors are often embolized prior to surgery, leaving excessive necrotic tumor tissue that is insufficient for molecular analysis. The majority of researches include PGLs from many localizations and PCC in a single group, therefore it is impossible to determine the frequency of mutations in particular genes in tumors with different localizations [2, 11]. This work is dedicated to exome analysis of carotid paragangliomas for understanding the difference in causative gene set and frequency of mutations with other PGLs.
Somatic mutations occur in all cancer types [12]. In some of them, a part of somatic mutations is generated by exposures such as tobacco smoking in lung cancer and ultraviolet light in cutaneous melanoma [13], or by abnormalities of DNA maintenance as a defective DNA mismatch repair in some colorectal tumors [14]. Different mutational processes often generate different combinations of mutation types termed "signatures" [15]. Using high-throughput sequencing technology, thousands of somatic mutations can be identified in each tumor sample, and it was demonstrated that it is not correct to include only "driver" mutations in the analysis of signatures of mutational processes and mutation load (ML) [12]. Therefore, the sequencing of blood or adjusted normal tissue is used for revealing germline mutations, except ML analysis. Variant filtering by frequency in healthy population can be used to exclude potentially germline mutations in absence of non-tumor tissue. Then ML is estimated as a number of mutations per megabase (Mb) of coding regions. It was recently observed that the samples with high mutation load among the other samples in the same cancer type are more sensitive to immunotherapy, which can be very promising for tumor treatment [16–19]. This is the first reported data on mutation load and its range in CBTs.
Methods
Tissue sample collection and nucleic acid isolation
The paraffin-embedded tissues of 52 CBTs were collected at the Vishnevsky Institute of Surgery, Ministry of Health of the Russian Federation. The sections from paraffin-embedded tissues were prepared on glass slides and then stained with hematoxylin-eosin (H&E). Tumor areas were chosen in unstained sections according to the reference H&E slide and transferred into microcentrifuge tubes. DNA was isolated using the High Pure FFPET DNA Isolation Kit (Roche, Switzerland). DNA concentrations were measured using NanoDrop 1000 spectrophotometer (Thermo Fisher Scientific, USA) in addition to Qubit 2.0 fluorimeter (Thermo Fisher Scientific). DNA quality was estimated using the Agilent 2100 Bioanalyzer (Agilent Technologies, USA). The cohort consisted of Russian citizens with both familial and sporadic forms, 32–80 years, predominantly women (61%) requested for surgical treatment of CBTs. Patient's consent for the study was obtained, and the protocol for investigation was approved by the ethical committee according to the preliminary discussion and agreement.
Library preparation, sequencing, and analysis
Library preparation for exome sequencing was carried out using the Nextera® Rapid Capture Exome Kit (Illumina, USA). Sequencing was performed using NextSeq 500 System (Illumina). At least 60 million paired-end reads of 75 nucleotides in length were obtained for each sample with 300× minimal coverage.
Raw data from high-throughput sequencing in *.fatsq.gz format were aligned on hg19 reference human genome using bwa mem software. The resulting files of *.bam format were sorted and deduplicated using the SAMtools program package. Mutation calling was performed with freebayes software with filtration of identified variants with vcffilter of vcflib program package. Annotation of variants was performed using SnpSift of snpEff program package. Databases dbSNP, dbNSFP, ClinVar, MutationTaster, SIFT, PolyPhen-2, FATHMM, phastCons, PhyloP, 1000 Genomes Project, ExAC, COSMIC, GO, ConsensusPathDB, and OMIM were used as information resources for identified variants.
List of genes, which can have potential driver mutations (PDMs) involved in PGL formation, was created based on detailed literature analysis including exome sequencing results of TCGA project (http://cancergenome.nih.gov/) [2, 10]. Then PDMs in selected genes were analyzed for 52 CBT samples and characterized. We determined all non-synonymous mutations and then applied a set of filters to discriminate mutations that can be drivers for CBTs (Additional file 1). We did not discriminate somatic and germline mutations at this step because both of them can cause PGLs in a similar way, as well as we did not have access to blood or matched non-tumor tissue for many FFPE samples collected since 1990.
Mutation load analysis was performed for all samples. Variants observed in healthy population were excluded as potentially germline mutations. Therefore, we used stringent parameters for filtration, and potentially somatic deleterious mutations were counted to estimate their number per megabase of coding regions [12].
Results
The list of 42 potentially causative genes for PGLs was created:
VHL
,
SDHA
,
SDHB
,
SDHC
,
SDHD
,
NF1
,
RET
,
HRAS
,
KRAS
,
EPAS1
(
HIF2A
),
ATRX
,
CSDE1
,
BRAF
,
FGFR1
,
FGFR2
,
FGFR3
,
FGFR4
,
FGFRL1
,
SETD2
,
ARNT
,
TP53
,
TP53BP1
,
TP53BP2
,
TP53I13
,
KMT2D
,
BAP1
,
IDH1
,
IDH2
,
SDHAF1
,
SDHAP2
,
FH
,
EGLN1
,
MDH2
,
TMEM127
,
MAX
,
KIF1B
,
MEN1
,
GDNF
,
GNAS
,
CDKN2A
,
BRCA1
, and
BRCA2
. Selected genes are involved in many important pathways including TCA cycle, DNA repair, oxidative phosphorylation, HIF-1 signaling pathway, Ras signaling pathway, PI3K-Act signaling pathway, carbon metabolism, etc. (Fig.
1
, Additional file
2
). Moreover, many of them are causative for different cancer types and other diseases (Fig.
2
, Additional file
2
). These genes were analyzed in CBTs, and high impact mutations were identified in 32 genes. Potential driver mutations were found only in 21 of them:
ARNT, BAP1, BRAF, BRCA1, BRCA2, CDKN2A, CSDE1, FGFR3, IDH1, KIF1B, KMT2D, MEN1, RET, SDHA, SDHB, SDHC, SDHD, SETD2, TP53BP1, TP53BP2,
and
TP53I13.
In 27% of CBT samples, more than one potential driver mutation was observed. Two PDMs were found in the same gene in two samples. The results are summarized in Fig.
3
, Fig.
4
, Table
1
, and Additional file
3
.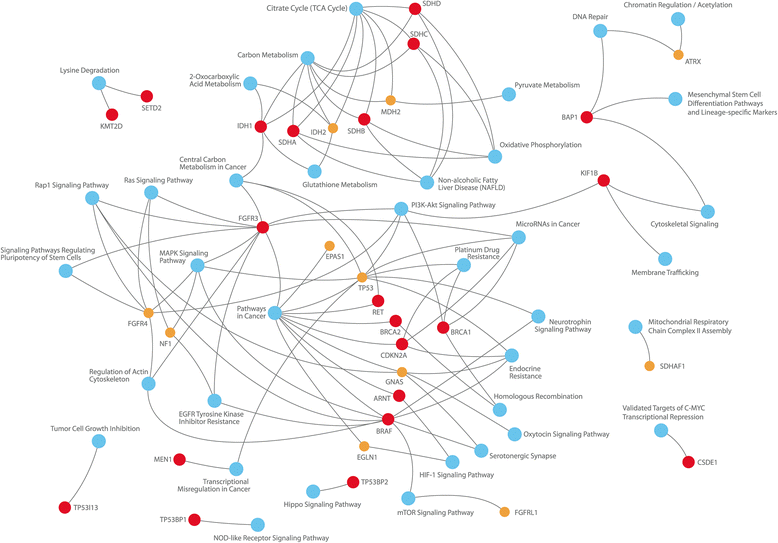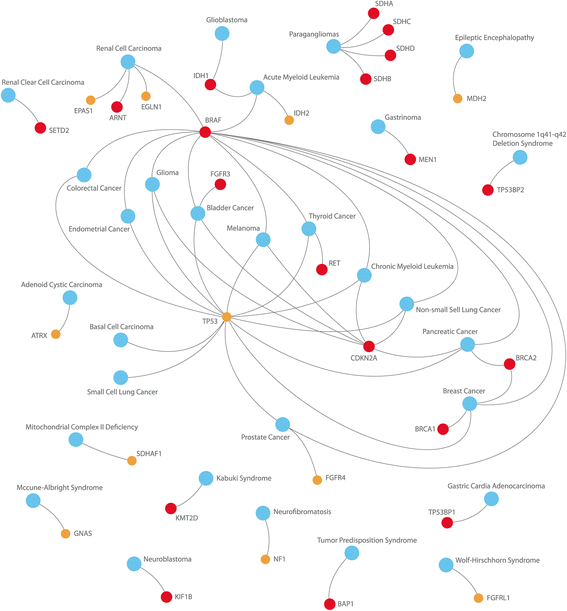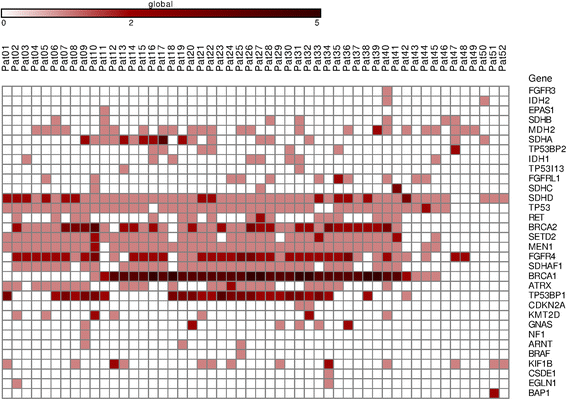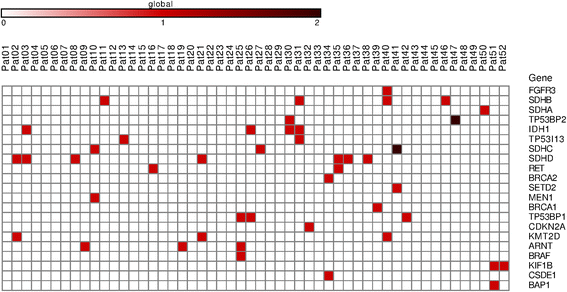 Table 1
Frequency of potential driver mutations (PDMs) in the selected genes, and their co-occurrence in carotid body tumor (CBT) samples
| Gene | Frequency of samples with mutations, % | Associations with mutations in the other genes |
| --- | --- | --- |
| SDHD | 13.5 | RET, KMT2D, IDH1 |
| IDH1 | 7.7 | SDHB, SDHD, TP53BP1, TP53BP2, TP53I13 |
| SDHB | 7.7 | IDH1, FGFR3, TP53I13, KMT2D |
| ARNT | 5.8 | BRAF, TP53BP1 |
| SDHC | 5.8 | SDHC , SETD2,MEN1 |
| KMT2D | 5.8 | SDHD, SDHB, FGFR3 |
| TP53BP1 | 5.8 | ARNT, BRAF, IDH1 |
| TP53BP2 | 3.8 | TP53BP2 , IDH1 |
| TP53I13 | 3.8 | IDH1, SDHB |
| RET | 3.8 | SDHD |
| KIF1B | 3.8 | BAP1 |
| CDKN2A | 1.9 | – |
| BRAF | 1.9 | ARNT, TP53BP1 |
| BRCA2 | 1.9 | CSDE1 |
| BAP1 | 1.9 | KIF1B |
| CSDE1 | 1.9 | BRCA2 |
| SETD2 | 1.9 | SDHC |
| MEN1 | 1.9 | SDHC |
| FGFR3 | 1.9 | SDHB, KMT2D |
| BRCA1 | 1.9 | – |
| SDHA | 1.9 | – |
Discussion
Carotid body tumor is the most common form of HNPGLs (60–80%), but it is not well investigated with different molecular methods, such as mRNA and miRNA analysis, as well as methylation profiling. The first reason is absence of normal matched tissue. The second one is the requirement for embolization of tumors before surgical treatment [76]. Necrotic tissue forms after this procedure, and mutational tests became the only possible molecular analysis. Thus, TCGA consortium excluded CBTs from PGLs/PCC analysis due to inability for comprehensive approach to this type of tumor, and the reliable mutation frequency for all patients with CBT is unknown [10]. Commonly, only the cohorts with familial history or the cohorts with multiple tumors, as well as with metastatic cases are included in mutational analysis [77]. It provides incorrect data on frequency of mutations in different genes across all CBT cases. For example, regarding molecular genetics, head and neck paragangliomas have been associated with nine susceptibility genes NF1, RET, VHL, SDHA, SDHB, SDHC, SDHD, SDHAF2 (SDH5), and TMEM127 [77]. Inherited HNPGLs are mostly caused by mutations in SDHD, SDHB, and SDHC genes. HNPGLs are rarely associated with mutations of VHL, RET, and NF1. In addition, it was shown that multiple HNPGLs are common in patients with SDHD mutations, while malignant head and neck paragangliomas are mostly seen in patients with SDHB mutations [77]. Thus, it was demonstrated that the penetrance for SDHD germline mutations is about twice as high as that of SDHB carriers. SDHD mutations induced HNPGLs about 20 years earlier compared with SDHB mutations [78]. And only correlation of germline SDHB mutations with tumor aggressiveness is indicated as an established fact.
For the first time exome analysis for representative cohort of 52 carotid paragangliomas, collected from the single origin (carotid body) and consisting of patients with familial and sporadic forms, was performed hereby. The frequencies of PDMs in different cancer-associated genes and mutation load were determined in CBTs from Russian patients. According to our results, the frequency of mutations in the main causative genes is different from the other investigations [10, 79]. The most common gene with PDMs was SDHD, 13.5% of the entire cohort (Table 1). In total, SDHx mutations span 26% of patients, but in some cases, SDHx mutations co-occur with PDMs in other genes. Mutations in SDHx genes increase the stability of HIFs and, thus, the expression of their targets through the intracellular accumulation of their substrate, succinate. It could determine pseudohypoxic phenotype potentially resulting in energy metabolism changes and correlate with aggressive phenotype, and it requires different management [47, 80, 81].
We did not identify mutations in NF1, VHL, MEN1, SDHAF2, and TMEM127 genes, which are indicated in many papers as causative for carotid PGLs. Differences in frequency could be elucidated either by population specificity or inclusion of PGLs from different origins as well as even PCC in this cohort and their simultaneous analysis. One more reason might be the difference in filtration methods for evaluation of potentially pathogenic mutations. Future investigations will allow standardizing this procedure after depositing new mutations in databases and experimental estimation of their pathogenic effect.
In 27% of CBT samples, more than one potential driver mutation was observed. In two samples, two PDMs were observed in the same gene (SDHC and TP53BP2). It is possible that one mutation is not always enough for oncogenic cell transformation. In some cases, it could probably be explained by tumor heterogeneity. We did not identify PDMs in 44% of tumors using sufficiently strong settings for filtration. We suggest that two or more non-highly pathogenic mutations demonstrate cumulative effect and can cause tumor growth in many cases. It is critically important to be concentrated on the PDMs in other genes, which were not described before as PGLs/PCC causative.
The prevalence of somatic mutations was demonstrated to be highly variable between and within cancers, ranging from about 0.001/Mb to more than 400/Mb. The lowest ML was observed in pilocytic astrocytoma and the highest one - for malignant melanoma, lung, and bladder cancer [12]. In CBTs, we revealed ML of approximately 6-8 mutations per megabase. Although, we cannot compare our data directly with the result published in [15] because of different methods for somatic mutation identification. In mentioned paper, normal DNA from the same individuals was sequenced to establish the somatic origin of variants [12]. We used samples collected since year 1990, and in most cases the non-tumor tissues were unavailable. Thus, the computational methods for potentially germline mutation exclusion were used. Algorithms for filtration based on frequency of mutations in healthy individuals (1000 Genomes project) have been shown to exclude more than 96% of germline mutations [82]. We used additional database and applied more stringent requirements for filtration. The only variants established as somatic mutations were the ones non-existent in populations of healthy individuals according to the ExAC database and 1000 Genomes data. We considered only deleterious variants (i.e., frameshift or non-synonymous coding variants) for further analysis of ML. In order to estimate ML across all patients, we have normalized the number of potentially somatic deleterious mutations per megabase of coding region. The coding region length was 45,540,944 base pairs. To identify the most mutated genes, we divided the number of potentially somatic deleterious mutations by the length of gene coding region (gene length).
Therefore, using this type of analysis allows comparing samples within cohort to distinguish hypermutated samples. Recently, a close relationship between ML and response to checkpoint immunotherapy was demonstrated for several cancer types [83–85]. In highly mutated samples, a number of neoantigens become visible to the immune system, creating the basis for effective T cell responses. Checkpoint inhibitors, such as ipilimumab, nivolumab, and pembrolizumab, have provided a breakthrough in cancer immunotherapy including treatment of melanoma, colorectal, and lung cancers [86]. Immunotherapy will probably be a promising approach for treatment of carotid paragangliomas with high ML, especially for aggressive and metastatic tumors.
Conclusions
Exome analysis of CBTs revealed the average mutation load for these tumors, identified potentially driver mutations as well as their frequencies and co-occurrence with other PDMs. Several novel undescribed mutations were identified. Evaluation of driver mutations leading to tumor growth, progression, and differences in clinicopathologic characteristics, as well as identification of highly mutated samples provide opportunities to develop new approaches for targeted therapy and immunotherapy of the disease, and increase the management level of CBTs.
Abbreviations
CBT:

Carotid body tumor
HNPGLs:

Head and neck paragangliomas
ML:

Mutation load
PCC:

Pheochromocytoma
PDM:

Potential driver mutation
PGLs:

Paragangliomas
SDHx :

Genes encoding components of succinate-dehydrogenase complex. In this work: SDHA, SDHB, SDHC, SDHD, SDHAF1, and SDHAF2
Declarations
Acknowledgements
Authors thank Vishnevsky Institute of Surgery for supplying samples; National Medical Research Radiological Center, Vavilov Institute of General Genetics, and Pirogov Russian National Research Medical University for the assistance in computational analysis; Initium-Pharm, LTD for providing computational resources.
This work was performed using the equipment of EIMB RAS "Genome" center (http://www.eimb.ru/rus/ckp/ccu_genome_c.php).
Funding
This work and publication costs were funded by the Russian Science Foundation, grant 17-75-20105.
Availability of data and materials
All data generated or analyzed during this study are included in this published article and its supplementary information files. The sequencing data are available through the NCBI Sequence Read Archive (project ID: PRJNA411769).
Authors' contributions
ENL, AVS, and AVK conceived and designed the work; AVS, AVK, NVK, EAP, MSF, NNV, OAS, EAZ, SLK, AVL, ISA, YEY, KSV, NVM, and DSS performed the experiments; ENL, GSK, DVK, AAD, AVG, AAM, GSK, MVK, AAD, BYA, ARZ and AVK analyzed the data; AVK, ENL, AVP, and BYA wrote the manuscript. All authors read and approved the final manuscript.
Ethics approval and consent to participate
The study was approved by The Ethics committee of A.V. Vishnevsky Institute of Surgery, Ministry of Health of the Russian Federation. The study was done in accordance with the principles outlined in the Declaration of Helsinki (1964).
Consent for publication
Not applicable.
Competing interests
The authors declare that they have no competing interests.
Publisher's Note
Springer Nature remains neutral with regard to jurisdictional claims in published maps and institutional affiliations.
Open AccessThis article is distributed under the terms of the Creative Commons Attribution 4.0 International License (http://creativecommons.org/licenses/by/4.0/), which permits unrestricted use, distribution, and reproduction in any medium, provided you give appropriate credit to the original author(s) and the source, provide a link to the Creative Commons license, and indicate if changes were made. The Creative Commons Public Domain Dedication waiver (http://creativecommons.org/publicdomain/zero/1.0/) applies to the data made available in this article, unless otherwise stated.
Authors' Affiliations
(1)
Engelhardt Institute of Molecular Biology, Russian Academy of Sciences, Moscow, Russia
(2)
Vishnevsky Institute of Surgery, Ministry of Health of the Russian Federation, Moscow, Russia
(3)
National Medical Research Radiological Center, Ministry of Health of the Russian Federation, Moscow, Russia
(4)
Pirogov Russian National Research Medical University, Moscow, Russia