Research article
Open Access
Open Peer Review
This article has Open Peer Review reports available.
Whole genome identification of Mycobacterium tuberculosisvaccine candidates by comprehensive data mining and bioinformatic analyses
BMC Medical Genomics
2008
1:18
Received: 10 December 2007
Accepted: 28 May 2008
Published: 28 May 2008
Abstract
Background
Mycobacterium tuberculosis, the causative agent of tuberculosis (TB), infects ~8 million annually culminating in ~2 million deaths. Moreover, about one third of the population is latently infected, 10% of which develop disease during lifetime. Current approved prophylactic TB vaccines (BCG and derivatives thereof) are of variable efficiency in adult protection against pulmonary TB (0%–80%), and directed essentially against early phase infection.
Methods
A genome-scale dataset was constructed by analyzing published data of: (1) global gene expression studies under conditions which simulate intra-macrophage stress, dormancy, persistence and/or reactivation; (2) cellular and humoral immunity, and vaccine potential. This information was compiled along with revised annotation/bioinformatic characterization of selected gene products and in silico mapping of T-cell epitopes. Protocols for scoring, ranking and prioritization of the antigens were developed and applied.
Results
Cross-matching of literature and in silico-derived data, in conjunction with the prioritization scheme and biological rationale, allowed for selection of 189 putative vaccine candidates from the entire genome. Within the 189 set, the relative distribution of antigens in 3 functional categories differs significantly from their distribution in the whole genome, with reduction in the Conserved hypothetical category (due to improved annotation) and enrichment in Lipid and in Virulence categories. Other prominent representatives in the 189 set are the PE/PPE proteins; iron sequestration, nitroreductases and proteases, all within the Intermediary metabolism and respiration category; ESX secretion systems, resuscitation promoting factors and lipoproteins, all within the Cell wall category. Application of a ranking scheme based on qualitative and quantitative scores, resulted in a list of 45 best-scoring antigens, of which: 74% belong to the dormancy/reactivation/resuscitation classes; 30% belong to the Cell wall category; 13% are classical vaccine candidates; 9% are categorized Conserved hypotheticals, all potentially very potent T-cell antigens.
Conclusion
The comprehensive literature and in silico-based analyses allowed for the selection of a repertoire of 189 vaccine candidates, out of the whole-genome 3989 ORF products. This repertoire, which was ranked to generate a list of 45 top-hits antigens, is a platform for selection of genes covering all stages of M. tuberculosis infection, to be incorporated in rBCG or subunit-based vaccines.
Keywords
Vaccine CandidateQuantitative ScoreQualitative ScoreInternal ScoreDosR Regulon
Background
Mycobacterium tuberculosis (Mtb), the causative agent of tuberculosis (TB), remains a major health threat. Each year, 8 million new TB cases occur and 2 million individuals die of TB [1]. Moreover, it is estimated that one third of the population is latently infected with Mtb, of which ~10% will develop active disease during lifetime. The development of active TB occurs when the balance between natural immunity and the pathogen changes (e.g. upon waning of protective immune response during adolescence and in HIV patients, [2]). In addition, at present ~50 million individuals are probably infected with multi drug-resistance (MDR) strains of Mtb (WHO, 2006), rendering antibiotic treatment difficult.
The current vaccine, introduced over 80 years ago, is the live attenuated bacterium Mycobacterium bovis Bacillus Calmette-Geurin (BCG), designed as a prophylactic vaccine for pre-infection administration. BCG is known to protect young children against severe forms of TB however it does not efficiently and consistently protect adults against the most prevalent form of the disease, namely, pulmonary TB (variable protective efficacy ranges from 0% to 80%), nor does BCG offer protection from establishment of latent TB and subsequent reactivation [3–9].
In principle, current putative vaccination strategies against TB can be divided into two groups: (a) prophylactic vaccines (aimed at disease prevention), based on BCG with or without antigens secreted by replicating bacteria recognized during the early stage of infection (e.g. ESAT-6 or Ag85A/B), or protective mutants (live attenuated BCG substitutes) and (b) as yet undefined post-exposure vaccines (boosting BCG) aimed at elimination/containment of latent TB and prevention of reactivation. Ideally, a prime-boost approach comprising of a prophylactic vaccine with subunit, viral vectored or DNA-based vaccines, based on late-stage antigens induced in the dormant stage (transition from replicating to non-replicating stage, latency antigens) or resuscitation/reactivation stage, should have maximum impact on all stages of Mtb infection [2, 6, 10–15].
In the past few years there have been important breakthroughs in the development of improved prophylactic TB vaccines. Novel vaccine candidates, mostly selected as single gene products, include: rBCG vaccines (e.g. rBCG30 – expressing Ag85B or ΔureCHly+rBCG – an urease deficient strain expressing listeriolysin), virus-based recombinant vaccines (e.g. MVA85A – Rv3804c expressed in replication-deficient vaccinia virus), live attenuated Mtb strains and subunit vaccines comprising of dominant secreted antigens which could boost the immune response after priming with BCG (e.g. Mtb72F, Ag85B-ESAT-6 fusion), (reviewed by [1, 4–7, 10, 16]).
Post-exposure vaccine development requires identification of gene products participating in adaptation of Mtb to the intracellular habitat as Mtb changes from replication to dormancy or from dormancy to resuscitation. Moreover, in the absence of effective prediction models and animal models assessing protective immunity, evaluation of a large number of individual antigens remains laborious [12]. In vitro gene expression studies under conditions which mimic dormancy and/or reactivation constitute the major source of information. Availability of whole genome sequences of diverse mycobacterial strains in conjunction with data from global analyses such as whole-genome DNA microarray and proteomic technologies have been the subject of intensive research in the recent years, both at site of pulmonary TB and in ex vivo macrophages [11, 17]. To identify genes expressed specifically during latency, different in vitro conditions have been suggested to model the harsh environment within macrophages or granulomas. These include oxygen deprivation, nutrient starvation and iron limitation. Together with expression studies in lungs/granulomas, in phagocytized bacteria inside activated macrophages or in murine/guinea pig infection models, these datasets provide better understanding of the transition of bacteria through stages of active multiplication, dormancy and resuscitation. Based on bioinformatic studies and analysis of multiple dormancy-related datasets, novel drug targets against the dormant phase of Mtb infection have been recently identified [18].
Several attempts have been made to modify the immunogenicity or antigenicity of BCG by generating recombinant strains expressing cytokines, pore-forming listeriolysin/perfringolysin, immunodominant antigens or additional antigens missing from the genome of the avirulent M. bovis BCG genome. Over 200 genes located in 14 gene segments assigned to defined regions of difference (RDs) are missing in the vaccine strain. In principle, potency of BCG vaccines could be improved by supplementing with missing immunodominant RD genes; however critical evaluation is required since RD regions are associated with virulence. Indeed, when BCG was supplemented by the classical RD-1 antigen ESAT-6 (with or without Ag85B [19]), enhanced protection was observed in mice however the recombinant strain was more virulent as compared to the wild-type. In a more recent study, Kalra & Grover [20] demonstrated the enhanced prophylactic potential of selected combinations of RD antigens supplementing BCG, improving protection in aerosol exposed mice.
Mtb is an intracellular pathogen and as such cell mediated immunity rather than antibody-mediated immunity is essential for the control of bacterial replication and subsequent protection against TB [7]. It is thought that a coordinated response of the cellular immune response is fundamental to the protective immunity [21–23], including both CD4 and CD8 T-cells and several cytokines such as IFNγ and TNFα. It has been suggested that CD4 T-cells are mainly crucial during the early phases of infection, while the CD8 T-cells play an important role in the chronic phase of the disease [21–23], however little is known about antigen-specific human T-cell responses against persisting mycobacteria, particularly in the context of latent infection and protection against disease, with the exception of some products of the DosR regulon [24, 25]. Therefore, rational selection of sequences that may function as T-cell epitopes in vaccine formulations is crucial. Relatively few human CD8 T-cell epitopes have been found by conventional methods. The availability of the genomic sequence [26] provides new horizons in analyzing the potential immunome of the bacilli, using in silico identification of CTL binders. Several prediction screens of Mtb T-cell epitopes were reported to date [25, 27–32], nevertheless these analyses were mostly restricted either to few MHC alleles or to a limited number of preselected subset of genes.
In this study, we have combined multiple published datasets from: (a) gene expression and DNA microarray experiments mimicking conditions leading to dormancy or at the dormant state; (b) genome-wide insertional mutagenesis examining gene essentiality under different conditions; (c) genes expressed in macrophages under conditions mimicking persistence; (d) genes expressed in lungs/granulomas; (e) expression under iron limiting conditions; (f) identification of genes products reported to elicit humoral and cellular response or potential vaccine candidates; (g) in silico identification of T-cell epitopes by dedicated epitope-mapping algorithms and databases compiling relevant experimental data. We designed a whole-genome scoring, ranking and prioritization algorithm and used it to analyze the combined dataset. Accordingly, we selected a set of 189 putative vaccine candidate proteins covering all disease phases, from which we further derived a shorter list of 45 top-ranking antigens for vaccine studies.
Methods
Genome sequences and annotations of Mycobacterium tuberculosis H37Rv [GenBank: AL123456] were downloaded from the NCBI [33]. Sequence similarity searches were conducted using the Blast algorithm, vs. the non-redundant (nr, NCBI) database. Comparisons against secondary databases of domains and motifs were performed as follows: CDD [34], SMART [35], Pfam [36], Interpro [37], Prosite [38]. Secretion signals were analyzed by SignalP [39, 40] for the secretion via the SecA pathway, and TATfind for searching of the Twin-Arginine Translocation (Tat) motif of the TAT pathway [41]. Transmembrane helical segments were predicted by Tmpred [42]. The database of bacterial lipoproteins, Dolop [43] was searched for putative lipoproteins. Predictions of CTL epitopes were carried out using the NetCTL integrative approach [44], which combines predictions of MHC class I binding, TAP transport efficiency, and proteasomal cleavage. The analysis was conducted for each of 12 HLA supertypes. A threshold of 1.25 was set on the combined prediction score. The results were parsed by in-house perl scripts. Immune epitope information was complemented by querying the IEDB database [45] for documented B- and T-cell epitopes. The following Mtb-related servers and databases were screened for additive relevant data: TB-sgc – The TB Structural Genomics Consortium [46], Tuberculist-the database on Mycobacterium tuberculosis genetics [47], TBDB – an integrated platform for TB drug discovery [48], MTBreg – The Database of Conditionally Regulated Proteins in Mycobacterium tuberculosis [49] and BioHealthBase – the Biodefense and Public Health Database [50]. Functional categories provided for the selected ORF products were as implemented in [26, 51], and their assignment to each of the antigen was derived from the Tuberculist database (see above). Classes/phases of Mtb infection were assigned as well to the selected antigens: the well established classical antigens, DosR-regulated antigens (as reported in [52, 53]), reactivation antigens (antigens listed by Talaat and his coworkers [54], as well as documented putative implications of individual antigens), and the 5 known resuscitation antigens [55]; antigens not belonging to any of the above classes, were denoted as "Others". p-values were calculated using the binomical distribution of frequencies.
Results and Discussion
The strategy for whole genome-based selection of candidate genes to be included in a vaccine platform, consisted of: (1) compilation of documented data originating from global analyses pertaining to criteria relevant to vaccine and to
M. tuberculosis
(Mtb) pathogenesis (2) selection of a subset of genes for further evaluation, based on the accumulated data, by cross matching the data in the different criteria; (3) bioinformatic analyses aimed at both further characterization of the candidate genes, in terms of annotation, gene context and cellular localization and; immunoinformatic analysis conducted for the prediction of T-cell epitopes; (4) development and application of a ranking scheme, based on qualitative and quantitative measures, as a tool for prioritizing the selected candidates. A schematic presentation of the various steps, as well as the reductive scheme generating a list of best-hit antigens, is given in Figure
1
.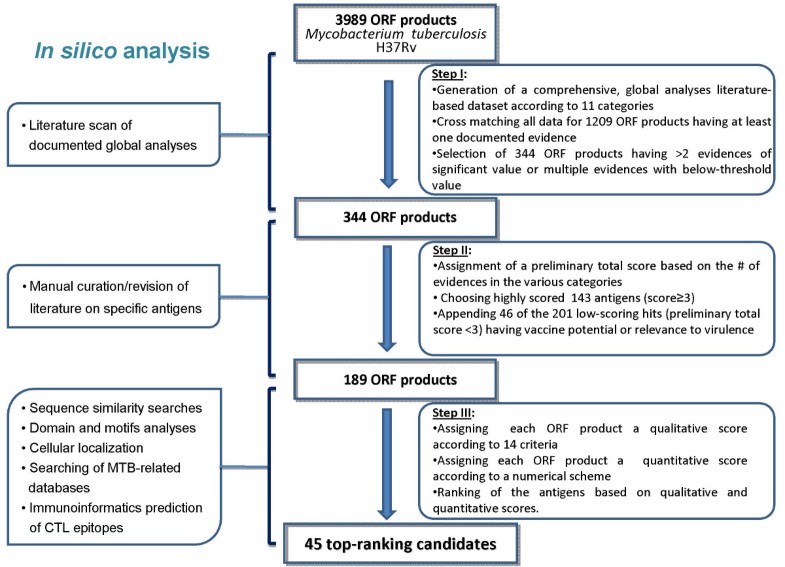 Conclusion
This study illustrates the process of screening the complete Mtb genome, aiming at identifying and selecting potential vaccine candidates. The screen was implemented to discern genes covering all phases of the infection, which would, in turn, contribute either to construction of a multi-stage vaccine or to the design of a subunit vaccine supplemental to the BCG vaccine, solely directed to the early-phase events of the infection. The strategy designed for rational candidate selection was applied onto a knowledge dataset which compiled numerous sources of relevant published experimental information. The literature-based dataset includes ~1200 antigens, for which evidences on aspects relevant to vaccine and/or virulence traits of the bacteria, existed (classified into 11 categories). An initial reduction to a list of 344 antigens was conducted, based on: (1) a preliminary total score calculated from the number of positive signs in the various categories, resulting in 143 antigens having a relatively high score of 3–8; (2) a subsequent selection from the remaining 201 antigens (scoring 1–2), by manual curation of specific sources of information related either to vaccine or pathogenesis; resulted in additional 46 antigens (interestingly, only 4 of the 46: the classical Rv1908c, Rv1926c, Rv1980c, and the ESAT protein Rv1793 were eventually included among the final list of 45 top-hits antigens (Table 3)). These filtering steps generated the list of 189 selected vaccine candidates, on which further extensive bioinformatic and immunoinformatic analyses were conducted. Of the 189 antigens in the list, only 34 were previously described in the literature as putative vaccine candidates. These 34 known antigens represent over 80% of the total number of such antigens listed in the previous step of the selection process (see Figure. 1). Among these 34 antigens, at least 5 are under clinical trials (the classical antigens: Ag85A (Rv3804c) and Ag85B (Rv1886c), ESAT-6 (Rv3875); mtb72f: Rv0125 and Rv1196), 10 were used in protective studies in animal models and 19 are candidates eliciting a strong immune response.
Examination of the distribution of the 189 selected antigens among whole genome-defined functional categories (Additional file 1: List of 189 selected antigens) discloses an enrichment of proteins related to lipid metabolism as well as virulence and stress proteins, in comparison to their fraction in the genome. Also, the in silico analyses contributed to the updating of the annotation, resulting in a dramatic decrease in the number of proteins of unknown function in comparison to their fraction in the whole genome. The comprehensive dataset was then employed to rank the selected antigens, by applying a ranking scheme based on the assignment of both qualitative and quantitative scores to each of the antigens, in the 14 criteria employed. This ranking enabled to down select a list of the best 45 candidates, denoted as top-hit antigens (Table 3).
Inspection of the proposed list of 189 antigens provided in Additional file 1: List of 189 selected antigens reveals representatives of all classes/phases of the infection, including early phase well-documented classical antigens as well as 14 other early phase antigens. It is worth noting that all five known resuscitation antigens (RpfA-E) are included and furthermore, all 5 are among the 45 top-hit antigens (Table 3). The DosR regulon comprises of ~50 genes [52, 53, 235] (1.3% of the genome), 36 of which are represented in the list of 189 antigens, and 20 in the list of 45 top-ranking antigens (Additional file 1: List of 189 selected antigens and Table 3). Overall, an enrichment of DosR-regulated and reactivation/resuscitation antigens is observed in the list of 45 top-ranking antigens (74% as compared to 36% in the list of 189 selected antigens). This enrichment is obviously in part a consequence of the criteria used for selection, which emphasize late stage phases of the bacteria life cycle. In light of this observation, the result that early stage classical antigens (such as Rv1886 (Ag85B), Rv3804 (Ag85A) and Rv0288 (esxH)) are found among the highest scoring candidates (GroupI and GroupII of the top-ranking 45 antigens, Table 3), provides some validity to the methodology used in this study to map antigens pertinent to all phases of the disease. Murphy and coworkers [18] recently suggested a list of 118 putative dormancy drug targets; interestingly, 27 of these overlap with our 189 selected candidates. Out of these 27 antigens, 16 are part of the DosR regulon, and 11 are included in the list of 45 top-hit antigens. This extent of overlap is a reflection of the facts that: (a) our datasets are not identical; (b) in our analysis, considerable weight was assigned to the immunogenic and virulence potential of each ORF in the genome.
The list of top-ranking 45 antigens (Table 3) could therefore provide a platform for choosing combinations of representatives from the late-stage antigens, which, together with the classical antigens, may contribute to an improved protection as compared to current vaccines based on the early-phase directed BCG. Inclusion of DosR antigens in a future vaccine may be essential in view of the apparent limited immune response induced by the BCG to the DosR regulon proteins, indicating that the vaccine strain probably does not express these late stage antigens [118] moreover the DosR regulon was shown to be constitutively expressed in the Beijing epidemic strain [168], further emphasizing the relevance of these late stage proteins.
Guided by the analysis described in this study, and based on the list of 45 top-ranking antigens (Table 3), we have recently generated a novel rBCG vaccine denoted AERAS-407, which allows over expression of the following selected antigens from this list: (1) the classical antigens Ag85A and Ag85B; (2) DosR regulon genes, the expression of which was induced via overexpression of dosR; (3) the resuscitation antigens Rv0867c, Rv1884c, and Rv2389c. In addition the AERAS-407 vaccine includes the reactivation antigen Rv3407 [95]. This novel rBCG vaccine candidate has been produced and is currently under experimental evaluation.
Declarations
Acknowledgements
This work was supported by a grant from AERAS Global TB Vaccine Foundation.
Authors' Affiliations
(1)
Israel Institute for Biological Research, Ness Ziona, Israel
(2)
Aeras Global TB Vaccine Foundation, Rockville, USA
Copyright
© Zvi et al; licensee BioMed Central Ltd. 2008
This article is published under license to BioMed Central Ltd. This is an Open Access article distributed under the terms of the Creative Commons Attribution License (http://creativecommons.org/licenses/by/2.0), which permits unrestricted use, distribution, and reproduction in any medium, provided the original work is properly cited.