Research article
Open Access
Open Peer Review
This article has Open Peer Review reports available.
Discovery of DNA methylation markers in cervical cancer using relaxation ranking
BMC Medical Genomics
2008
1:57
Received: 03 June 2008
Accepted: 24 November 2008
Published: 24 November 2008
Abstract
Background
To discover cancer specific DNA methylation markers, large-scale screening methods are widely used. The pharmacological unmasking expression microarray approach is an elegant method to enrich for genes that are silenced and re-expressed during functional reversal of DNA methylation upon treatment with demethylation agents. However, such experiments are performed in in vitro (cancer) cell lines, mostly with poor relevance when extrapolating to primary cancers. To overcome this problem, we incorporated data from primary cancer samples in the experimental design. A strategy to combine and rank data from these different data sources is essential to minimize the experimental work in the validation steps.
Aim
To apply a new relaxation ranking algorithm to enrich DNA methylation markers in cervical cancer.
Results
The application of a new sorting methodology allowed us to sort high-throughput microarray data from both cervical cancer cell lines and primary cervical cancer samples. The performance of the sorting was analyzed in silico. Pathway and gene ontology analysis was performed on the top-selection and gives a strong indication that the ranking methodology is able to enrich towards genes that might be methylated. Terms like regulation of progression through cell cycle, positive regulation of programmed cell death as well as organ development and embryonic development are overrepresented. Combined with the highly enriched number of imprinted and X-chromosome located genes, and increased prevalence of known methylation markers selected from cervical (the highest-ranking known gene is CCNA1) as well as from other cancer types, the use of the ranking algorithm seems to be powerful in enriching towards methylated genes.
Verification of the DNA methylation state of the 10 highest-ranking genes revealed that 7/9 (78%) gene promoters showed DNA methylation in cervical carcinomas. Of these 7 genes, 3 (SST, HTRA3 and NPTX1) are not methylated in normal cervix tissue.
Conclusion
The application of this new relaxation ranking methodology allowed us to significantly enrich towards methylation genes in cancer. This enrichment is both shown in silico and by experimental validation, and revealed novel methylation markers as proof-of-concept that might be useful in early cancer detection in cervical scrapings.
Keywords
Cervical CancerImprint GeneMethylation MarkerCervical Cancer Cell LineNormal Cervix
Background
DNA methylation represents a modification of DNA by addition of a methyl group to a cytosine, also referred to as the fifth base [1]. This epigenetic change does not alter the primary DNA sequence and might contribute to overall genetic stability and maintenance of chromosomal integrity. Consequently, it facilitates the organization of the genome into active and inactive regions with respect to gene transcription [2]. Genes with CpG islands in the promoter region are generally unmethylated in normal tissues. Upon DNA hypermethylation, transcription of the affected genes may be blocked, resulting in gene silencing. In neoplasia, hypermethylation is now considered as one of the important mechanisms resulting in silencing expression of tumour suppressor genes, i.e. genes responsible for control of normal cell differentiation and/or inhibition of cell growth [3]. In many cancers, various markers have been reported to be hypermethylated [4]. The detection of DNA hypermethylation was revolutionized by two discoveries. Bisulfite treatment results in the conversion of cytosine residues into uracil, except the protected methylcytosine residues [5]. Based on the sequence differences after bisulfite treatment, methylated DNA can be distinguished from unmethylated DNA, using methylation specific PCR (MSP) [6].
In the last few years, hypermethylated biomarkers have been used in cancer research and diagnostics [7–9]. Presently, DNA hypermethylation of only few markers is of clinical relevance [9]. Two classical examples are hypermethylation of MGMT in the prediction of treatment response to temozolomide in glioblastoma [10] and DNA hypermethylation of GSTP1 in the early detection of prostate cancer [11]. The search for markers that are hypermethylated in specific cancer types resulted in a large list of genes but more recent evidence revealed that many of these markers are methylated in normal tissues as well [12, 13].
To discover novel markers that are specific for certain stages of cancer with a high specificity and sensitivity, large-scale screening methods were developed such as Restriction Landmark Genomic Scanning [14], Differential Methylation Hybridization [15–17], Illumina GoldenGate® Methylation, microarray-based Integrated Analysis of Methylation by Isoschizomers (MIAMI) [18] and MeDIP [19] in combination with methylation-specific oligonucleotide microarray [20]. These approaches demonstrated that large-scale screening techniques have a large potential to find novel methylation targets in a whole range of cancers. To identify cancer related hypermethylated genes, also pharmacological unmasking expression microarray approaches were suited [21–23]. In this approach, the re-activation of gene expression using microarray analysis was studied during functional reversal of DNA methylation and histone acetylation in cancer cell lines using demethylating agents and histone deacetylase inhibitors. This methodology generally results in a list of several hundreds of candidate genes. Although the analysis of the promoter (e.g. screening for dense CpG islands) is used to narrow down the number of candidate genes, the number list is still too large. This methodology has proven relevant as its application resulted in the identification of new potential methylated genes [24, 25].
However, the initial large scale screening approach will also detect many genes that are not directly methylation targets themselves but become re-activated due to the re-expression of for instance transcription factors [26]. Furthermore, in most studies only re-expression data after demethylation in cell lines were used. Smiraglia and co-workers [27] calculated that more than 57% of the loci methylated in cell lines were never methylated in 114 primary cancers of different malignancy types. The small number of cell lines used to identify methylated genes does not allow to draw conclusions on the relevance of such cancer-specific genes without testing a large series of primary tumours, which is not done in most studies.
Finally, the completion of the sequence of the human genome provided information on genes, promoter gene structure, CG-content and chromosomal localization. These data are useful to define criteria for the candidate genes to act as appropriate targets for DNA methylation.
To identify genes that are downregulated due to promoter hypermethylation and to enrich for those genes that are most frequently involved in cervical cancer, we performed the following experiments:
Affymetrix expression microarray analysis on a panel of frozen tissue samples from 39 human primary cervical cancers to identify cancer specific down-regulated genes

To select those genes that are hypermethylated in cervical cancer, Affymetrix expression microarray analysis on a panel of 4 different cervical cancer cell lines in which the expression of (hyper)methylated genes was re-activated upon treatment with 5-aza-2'deoxycytidine (DAC) (blocking DNA methylation), and/or trichostatin A (TSA) (inhibiting histone deacetylase (HDACi))

Data from both approaches were combined, and a novel non-parametrical ranking and selection method was applied to identify and rank candidate genes. Using in silico promoter analysis we restricted the analysis to those candidate genes that carry CpG islands
To validate whether our new approach resulted in a significant enrichment of hypermethylated genes, we compared the first 3000 high-ranking candidate probes with lists of imprinted genes, X-chromosome located genes and known methylation markers. In addition, to investigate whether the promoters of these selected gene probes are hypermethylated and this methylation is present in cancer and not in normal tissue, we determined the hypermethylation status of the 10 highest ranking candidate genes in both cervical cancers and normal cervices using COBRA (COmbined Bisulfite Restriction Analysis). These data revealed a highly significant enrichment of methylated genes.
Results
To identify novel markers that are methylated in cervical cancer, we applied a multistep approach that combines re-expression of silenced hypermethylated genes in cervical cancer cell lines (using DAC and DAC/TSA), downregulated expression in 39 cervical cancers expression, and selection of candidate markers using a relaxing ranking algorithm. The best profile of a candidate marker would be: no expression in any of the 39 cervical primary cancers and 4 untreated cancer cell lines, but re-activation of expression after demethylation and/or blocking of histone deacetylation in all 15 cell lines treated with various combinations of DAC/TSA (P-calls: 0-0-15). However, none of the probe sets showed this ideal profile. To generate a list of candidate genes, a relaxation ranking algorithm was applied.
The only variable used in the relaxation ranking is the number of probes we would like to retrieve. As shown in Figure
1
, the number of probes retrieved (w) with parameters x, y and z (the number of P-calls in respectively primary tumour samples, untreated and treated cell lines) follows a complex profile which consists not only of additive elements, but also interactions between the parameters. In general, the number of P-calls in primary cancer samples (x) has the largest influence on w. The sorting methodology has the advantage that no cut-off values have to be chosen for x, y and z, and therefore there is no need to implicitly link a relative weight factor to the parameters.

To calculate the most optimal number of potentially hypermethylated candidate markers for further analysis, we estimated this number based on known (i.e. described in literature) methylation markers in cervical cancer. Forty-five known methylation markers were found using text-mining using GeneCards [
35
] as source of aliases/symbols to query PubMed through NCBI E-Utils (Additional file
4
). The position of the markers after ranking ("observed") was determined as shown in the step plot in Figure
2
. If the markers would be randomly distributed in the ranking, the profile would be similar to the curve, marked 'expected'. This 'expected' curve is not a straight line, but is calculated based on whether a probe could be assigned with a gene symbol and taking probes into account that are associated with a gene that was already associated with an earlier selected probe. The number of observed methylation markers has in general the same slope as expected. However, up to about 3000 probes, the slope of the number observed markers versus the number of selected probes (in dashed lines) cannot be explained if the markers would be randomly distributed as its steepness is much higher. When selecting more than 3000 probes, the slope suddenly decreases to a level that is close to random distribution. This enrichment can also statistically be proven (see further). Therefore, we selected the first 3000 probes, referred to as TOP3000, in the ranking for further analysis. In this TOP3000 list, 2135 probes are associated with a gene symbol, of which 1904 are unique.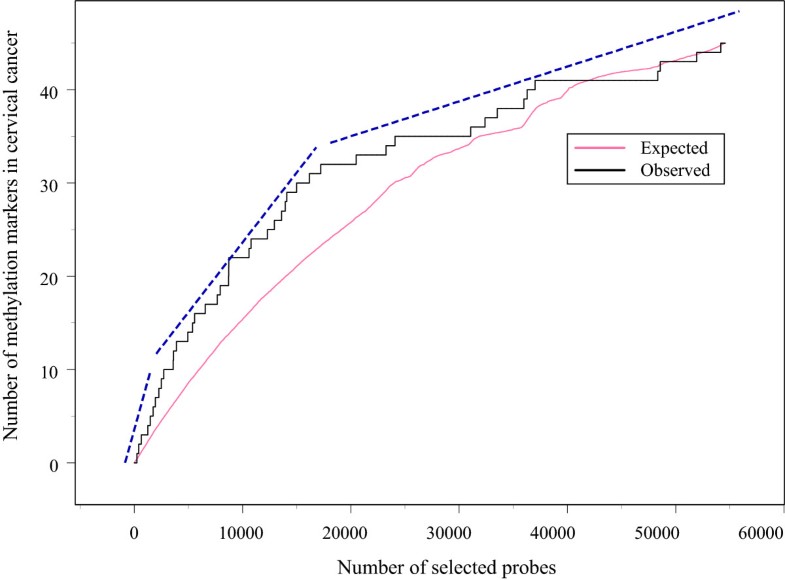 The validation of the TOP3000 probe-list selected using relaxing high-ranking
To validate whether the TOP3000 contains potential hypermethylated genes, we determined the occurrence of various gene sets that are known to be hypermethylated such as imprinted genes, chromosome-X genes, cervical cancer related hypermethylated genes and genes reported to be methylated frequently in cancers, other than cervical cancer.
Validation of the 10 highest-ranking candidate genes using COBRA
In order to validate whether the highest ranking genes represent markers that are functionally hypermethylated in cervical cancer, we performed COBRA on bisulfite treated DNA of 10 cervical cancers and 5 normal cervices. For this analysis, we focused on those first 10 genes from the highest ranking probe-list (Table
3
) that (see Additional file
8
for more details):
Table 3
Methylation status using COBRA of the 10 highest-ranking gene promoters.
| Rank | Gene symbol | Profile X-Y-Z | Chromosomal location | Methylation in cancer | Methylation in normal |
| --- | --- | --- | --- | --- | --- |
| 1 | DAZL | 1-1-13 | 3p24.3 | 9/9 | 5/5 |
| 2 | ADARB1 | 1-2-15 | 21q22.3 | Nd | Nd |
| 3 | SYCP3 | 0-1-12 | 12q | 9/9 | 5/5 |
| 4 | AUTS2 | 12-0-12 | 7q11.22 | 0/9 | 0/5 |
| 5 | NNAT | 0-1-11 | 20q11.2 | 9/9 | 5/5 |
| 6 | SST | 1-1-12 | 3q28 | 7/9 | 0/5 |
| 7 | HTRA3 | 6-0-10 | 4p16.1 | 1/9 | 0/5 |
| 8 | ZFP42 | 11-1-14 | 4q35.2 | 9/9 | 5/5 |
| 9 | NPTX1 | 2-3-14 | 17q25.1 | 5/10 | 0/5 |
| 10 | GDA | 14-3-15 | 9q21.13 | 0/9 | 0/5 |
| 47 | CCNA1 | 3-0-7 | 13q12.3-q13 | 6/10 | 0/5 |
represent a known gene (i.e. gene symbol)

contain a CpG island surrounding the TSS

are located on any chromosome except chromosome X

are expressed (present) in less than 15 carcinomas, in order to identify markers to be methylated in ≥60% of cervical cancers (no P-call)
BSP was used to amplify the CpG islands of these candidate genes using bisulfite-treated DNA and COBRA to determine the methylation status.
CCNA1
(at position 49; Additional file
8
) was included as a positive control for the highest listed, reported cervical cancer specific methylation gene promoter. COBRA of
CCNA1
revealed that 6 of 10 carcinomas are methylated at the restriction enzyme sites (T1, T3, T5, T7, T9 and T10 in Figure
3
). Sequence analysis of the BSP products (on average 7–9 independent clones for each carcinoma) of these 10 carcinomas revealed that in 6 carcinomas the promoter is hypermethylated in good agreement with the COBRA results (Figure
3C
).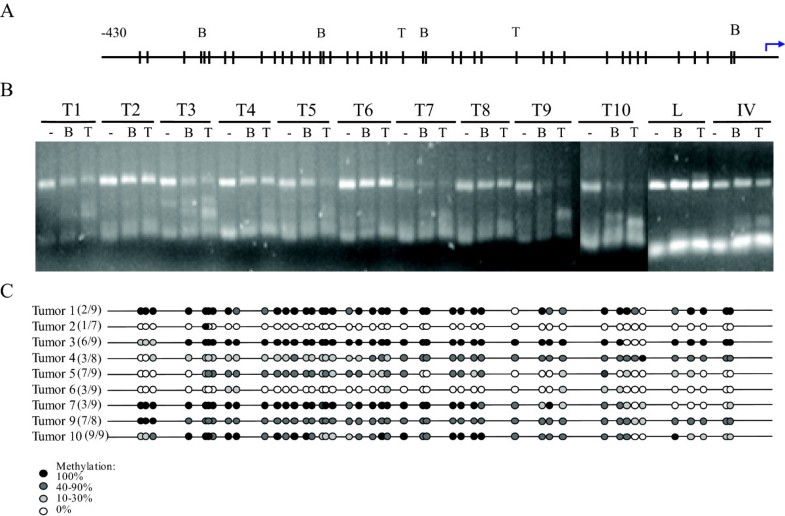 Table 3 summarizes the methylation status of the 10 highest ranking genes in 10 cervical cancer and 5 normal cervices using COBRA. One gene (ADARB1 at rank 2) could not be analyzed for methylation as no specific BSP products could be amplified using several combinations of primer pairs. Interestingly, using the BSP products of the other 9 listed genes, 7 (78%) showed methylation in carcinomas (Table 3).
Four genes are hypermethylated in all 9 tested cancers, while for
SST
(7 of 9 carcinomas),
HTRA3
(1 of 9 carcinomas) and
NPTX1
(5 of 10 carcinomas) a fraction of the tested carcinomas is hypermethylated. Figure
4
shows a representative methylation analysis of 3 genes using COBRA. Three (
NNAT
,
SST
and
NPTX1
) of the 7 hypermethylated gene promoters have been reported to be methylated in tumours previously (see Table
2
). Taken these data together, these findings showed that the relaxation ranking algorithm resulted in a very significant enrichment towards genes with a positive methylation status.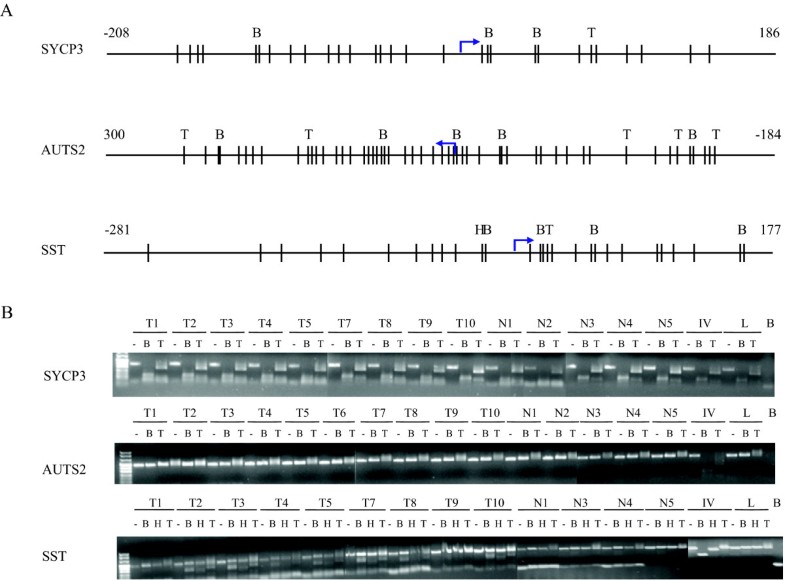 Enrichment of cervical cancer specific methylation markers
A cancer specific cervix hypermethylation marker is only of relevance for the diagnosis of (pre-) malignant disease in case normal cervical epithelium is not methylated. COBRA analysis of 5 normal cervices for all 9 genes revealed that 4 genes (DAZL,SYCP3,ZFP42 and NNAT) are hypermethylated in all 5 samples (Table 3).
On the other hand, of the 7 genes hypermethylated in cervical cancer specimens, 3 genes (SST, HTRA3 and NPTX1) did not show DNA methylation in any of the normal cervices of 5 independent individuals. We observed the same methylation profile for CCNA1 that was reported previously as a cervical cancer specific gene [48] with hypermethylation in only 6 of 10 tumours but none of the 5 normals (Table 3). This analysis revealed that the relaxation ranking algorithm not only resulted in a very significant enrichment for genes with a positive methylation status, but also for hypermethylated genes that are specifically methylated in cancers and not in the normal cervices.
Discussion and conclusion
In this study, we optimized the identification of methylation markers after pharmacological unmasking microarray approach combined with microarray expression data of primary cancer samples. For the integration of data from both cell lines and primary cancers, we developed a novel ranking strategy, which combines re-activation in cell lines and no expression in primary cancer tissue. The relaxation ranking algorithm uses a non-parametrical method of sorting. No threshold on expression level or P-calls has to be set and no overlap between different cell lines has to be chosen. The only parameter needed is the number of probes/genes that should be included in the top list. Using this algorithm, genes can still be selected for further analysis, even if it is not in (almost) all cell lines re-expressed or not silenced in most primary tumour samples.
In this study, we showed that the experimental design in combination with the ranking strategy is able to enrich a list of probes for methylated genes. Imprinted genes and genes on the X-chromosome are significantly enriched in the high-ranking TOP3000 probes. Pathway and gene ontology analysis illustrates that the high-ranking genes are involved in tumour development and progression. Enrichment of similar pathways or ontologies when selecting abnormal expressed genes is commonly reported in various cancer types [49, 50]. More importantly, methylation markers reported to be involved in various cancers (including cervical cancer) are significantly enriched in the top-lists as well. Interestingly, the highest ranking cervical cancer specific gene is CCNA1 (position 234 in Additional file 8; position 47 in Table 3). Apart from cervical cancer, CCNA1 was reported to be hypermethylated in colorectal, oral and head and neck cancer [30, 51, 52]. In good agreement with the reported data, we show that CCNA1 is hypermethylated in 6 of 10 cervical carcinomas and none of the normal cervices using COBRA and BSP sequencing (Table 3 and Figure 3).
Analysis of the methylation status of the highest ranking genes revealed that seven out of nine selected genes (78%) are methylated in cervical cancers, whereas 4 of these 7 genes (DAZL, SYCP3, ZFP42 and NNAT) were also hypermethylated in all 5 normal cervices (Table 3). Although hypermethylation of NNAT has been implicated in paediatric acute leukaemia [40], the hypermethylation status in both cancer and normal tissues suggests that NNAT acts as an imprinted gene (Additional file 5) rather than a cancer specific methylation marker in cervical cancer. The other three genes (SST, HTRA3 and NPTX1) might be cancer specific because these genes are, similar as CCNA1, hypermethylated in the cancers and not in the normal controls (Table 3). Of these genes, two were previously described as cancer specific genes: SST in colon carcinoma [53] and NPTX1 in pancreatic cancer [54]. However, all 3 genes have not been described previously in cervical cancer. The exact involvement in cervical cancer development of these 3 genes has to be explored in the future, but the application of the relaxation ranking algorithm illustrates the power of enrichment for new hypermethylated genes that can discriminate between cervical cancer and normal cervical epithelium.
The combination of the initial setup and the analysis is unique. In most other studies either few genes are investigated for their methylation status in primary cancer samples or a large-screening approach is applied on cell lines only. Generally, only genes which are re-expressed in most cell lines can be retained for further investigation, as several hundreds of genes are upregulated in one or more cell lines after treatment with DAC/TSA. Most studies used additional filtering (such as pathway analysis, known mutated genes), but the list of candidate genes that need experimental validation to determine their methylation status is long. These markers need to go through a pipeline of DNA methylation detection in cell lines and cancer samples, in order to find only a few cancer specific markers with different sensitivity and specificity [21, 23, 53]. However, the success rate is relatively low, as many promoter regions do not show (differential) methylation. In addition, CpG arrays can be used to identify putative methylation markers, as recently described for cervical cancer [55]. Again, this method requires the analysis of many markers to end up with only few cervical cancer specific methylation markers.
In the last few years it became apparent that many markers that are methylated in cancer have been shown to be methylated in normal tissues as well [12, 13, 56, 57]. Our present analysis once more illustrates that many more genes, preceded by a CpG island in the promoter region, are methylated in normal tissue as well than was previously anticipated. To be able to further increase the enrichment for these cancer specific methylated markers, the inclusion of expression microarray data from normal tissue in the relaxation ranking algorithm analysis might be helpful. To validate this, we performed global gene expression microarray analysis using the Affymetrix HGU 133 Plus 2.0 array with 54,675 probes (in parallel with the samples described in this study) on 5 independent age-matched normal cervices from healthy women. We assume that cancer specific methylated markers should be expressed in all normal cervices resulting in a positive P-call (most optimal P-call = 5). Including the P-call for normal expression on our 10 highest ranked methylated genes and CCNA1 (as listed in Table 3), revealed that all the four cervical cancer specific methylated genes (SST, HTRA3, NPTX1 and CCNA1) would not have been selected as none of the normal cervices showed a P-call for these probes (data not shown). It is generally accepted that tumor suppressor genes (including cancer specific methylated genes) are characterized by the fact that their expression can be downregulated as the result of methylation, mutations and/or deletions, but is still present in its normal counterpart tissue. However, the expression levels in normal tissue are relatively low for most of these genes when compared to those cancer tissues that do not show downregulation as was reported for p16INK4a [58]. Thus, our data suggest that the addition of expression data of normal cervices would not enrich for cervical cancer specific methylated genes.
Other possibilities to further refine the selection of cancer relevant hypermethylated genes are to restrict the ranking to gene promoters that are likely to be methylated because of defined CG-content or the presence of conserved motifs (or similar sequence attributes) related to hypermethylated promoters [59–61]. Recently, we identified novel methylation markers, based on a genome-wide promoter alignment [57]. Promoters, closely related in the alignment with known methylation markers show to have a high chance to be methylated as well.
In conclusion, the application of this new relaxation ranking methodology allowed us to significantly enrich towards methylation genes in cancer. This enrichment is both shown in silico and by experimental validation, and revealed novel methylation markers as proof-of-concept that might be useful in early cancer detection in cervical scrapings.
Declarations
Acknowledgements
This study was supported by OncoMethylome Sciences SA, Liège, Belgium and by the Dutch Cancer Society (KWF-NKB-RUG 2004-3161). Prof AGJ van der Zee is a paid consultant for OncoMethylome Sciences SA, Liège, Belgium.
Authors' Affiliations
(1)
Laboratory for Bioinformatics and Computational Genomics (BioBix), Department of Molecular Biotechnology, Faculty of Bioscience Engineering, Ghent University, Belgium
(2)
Department of Gynaecologic Oncology, University Medical Centre Groningen, University of Groningen, The Netherlands
(3)
Oncomethylome Sciences SA, Sart-Tilman (Liege), Belgium
(4)
Department of Pathology, University Medical Centre Groningen, University of Groningen, The Netherlands
Copyright
© Ongenaert et al; licensee BioMed Central Ltd. 2008
This article is published under license to BioMed Central Ltd. This is an Open Access article distributed under the terms of the Creative Commons Attribution License (http://creativecommons.org/licenses/by/2.0), which permits unrestricted use, distribution, and reproduction in any medium, provided the original work is properly cited.