Research article
Open Access
Open Peer Review
This article has Open Peer Review reports available.
Evaluation of a new high-dimensional miRNA profiling platform
BMC Medical Genomics
2009
2:57
Received: 12 January 2009
Accepted: 27 August 2009
Published: 27 August 2009
Abstract
Background
MicroRNAs (miRNAs) are a class of approximately 22 nucleotide long, widely expressed RNA molecules that play important regulatory roles in eukaryotes. To investigate miRNA function, it is essential that methods to quantify their expression levels be available.
Methods
We evaluated a new miRNA profiling platform that utilizes Illumina's existing robust DASL chemistry as the basis for the assay. Using total RNA from five colon cancer patients and four cell lines, we evaluated the reproducibility of miRNA expression levels across replicates and with varying amounts of input RNA. The beta test version was comprised of 735 miRNA targets of Illumina's miRNA profiling application.
Results
Reproducibility between sample replicates within a plate was good (Spearman's correlation 0.91 to 0.98) as was the plate-to-plate reproducibility replicates run on different days (Spearman's correlation 0.84 to 0.98). To determine whether quality data could be obtained from a broad range of input RNA, data obtained from amounts ranging from 25 ng to 800 ng were compared to those obtained at 200 ng. No effect across the range of RNA input was observed.
Conclusion
These results indicate that very small amounts of starting material are sufficient to allow sensitive miRNA profiling using the Illumina miRNA high-dimensional platform. Nonlinear biases were observed between replicates, indicating the need for abundance-dependent normalization. Overall, the performance characteristics of the Illumina miRNA profiling system were excellent.
Keywords
miRNA ExpressionmiRNA TargetAverage BiasSimple Linear ModelmiRNA Array
Background
First identified nearly 15 years ago [1], microRNAs (miRNAs) are a family of short RNA molecules that predominantly inhibit gene expression at the post-transcriptional level in eukaryotes [2, 3]. In the nucleus, genes encoding primary miRNAs (pri-miRNA) are much longer than the mature form. These primary transcripts are processed by a nuclease (Drosha) and the double-stranded RNA binding protein, DGCR8, to short 60–70 nucleotide stem-loop structures (pre-miRNA). After export to the cytoplasm, pre-miRNAs are processed by interaction with the endonuclease Dicer. Mature miRNA are ~22 nucleotides in length and guide the RNA-induced silencing complex (RISC, the core components of which contain Argonaute proteins) to the target sites, usually located in the 3' untranslated region of gene transcripts[4]. Binding of the RISC leads to suppression of translation and possibly degradation of target mRNAs.
The manner in which suppression of translation is mediated is poorly understood [5]. However, it is becoming evident that this class of gene regulator controls the expression of 20–30% percent of all human genes [6]. As miRNAs regulate the expression of a large number of protein-encoding genes [7–10], a wide range of biological processes are affected, such as metabolism, organogenesis, development, cell growth, cell death, and cell fate determination. Altered expression of miRNAs has also been associated with human disease, including cancer [11–18]. Indeed, some miRNAs have been coined "oncomirs", acting in the manner of oncogenes and tumor suppressors [11, 19], and oncogenes such as Myc have incorporated miRNA regulation into their tumorigenic potential [20].
There are now more than 541 human miRNAs identified in version 10.1 of the miRBase http://microrna.sanger.ac.uk/. For the Illumina's human miRNA BeadArray, 735 miRNA were incorporated into the beta version based on miRBase version 9.1 (February 2007 release), plus an additional 265 miRNAs derived from the literature [21]. Other than the miRNA sample preparation, the chemistry utilized by the miRNA BeadArray is similar to that used in the DASL process (DNA Annealing, Selection and Ligation). The assay is highly multiplexed, using the universal Sentrix Array Matrices (SAM, Illumina).
To better understand the important physiological functions of miRNAs, high-throughput, miRNA microarray techniques have been employed to determine and compare global miRNA expression in different tissues and cell types and under different conditions [22–29]. These methods typically require micrograms of input RNA and often have a limited dynamic range. The Illumina miRNA profiling system has been described previously, showing the accuracy of the platform by rt-PCR and digital sequencing [21] using RNA from four cell lines (the same cell lines were used in this report) and purchased human tissues from Ambion. In this study, we evaluated the performance characteristics of this platform utilizing total RNA from five colon cancer cases and from four well-characterized cell lines. There is no other publication to date addressing reproducibility and performance of the Illumina miRNA profiling platform. We believe it to be highly relevant to evaluate the platform's reproducibility, and this forms the primary focus of this report. More specifically, the goals of this study were to understand variability due to plate, extraction, dilution and technical replication using cell line and clinical samples.
Results
Four miRNA Bead Array Plates (SAMs) were used to assess variability in patient and cell line samples due to separate total RNA extractions, technical replicates of each extraction and varying total RNA input (Figure 1).
Scatter plots and the corresponding MVA plots are shown in Figure
2
for three selected technical replicates (cell lines) from SAM 1. These were chosen to provide examples of bias curves and variability observed among our test set, ranging from a low amount of scatter (overall SD 0.21) to a greater amount (overall SD 0.60). There is evidence of some disagreement between technical replicates in both the scatter and MVA plots since the points do not all fall on the respective identity lines. While the average bias smoother lies on the respective identity lines in panels A/B indicating no evidence of average bias, panels C/D and E/F show evidence of nonlinear bias with the curvature of the smoother away from the respective identity lines. Based on these plots, it is evident that the average bias can be greater than 1.0 on the log base 2 scale, corresponding to an average bias greater than 2-fold on the raw scale. The maximum disagreement is less than 2-fold in panels A/B, but is greater than 16-fold in panels E/F. The clusters of points at the far left and right ends of the MVA plot and likewise, the bottom left and top right corners of the scatter plots, show a sideways "V" pattern indicating floor or ceiling effects on the assay itself. The MVA plots show clearly that the variability around agreement is highest in the mid-expression levels, above the floor and below the ceiling, and provide a feel for the amount of scatter in the points that correspond to the respective standard deviations.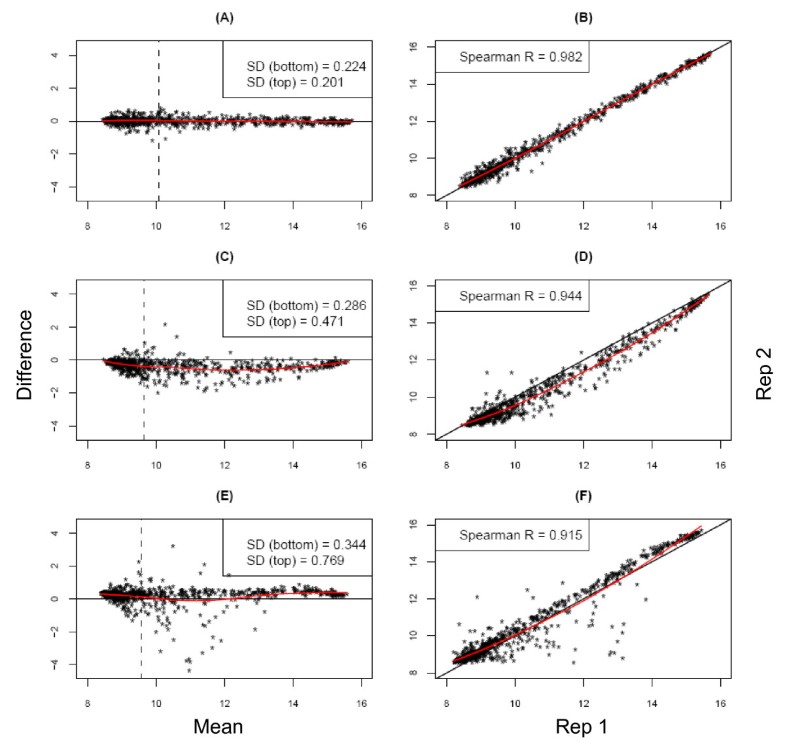 Discussion
This report is aimed at understanding the performance characteristics of a newly developed, highly sensitive, high-dimensional miRNA expression platform, the Illumina human miRNA BeadArray. In particular, we wished to rigorously assess reproducibility of the assay and present raw, un-normalized data to better understand the performance of the assay. Overall, the Illumina miRNA array system performed very well. With respect to reproducibility (both within a plate and between plates), this assay was found to be similar to other high-dimensional gene expression platforms. The recommended input of RNA was 200 ng. Using this as the reference, however, we found no evidence for a dilution effect, with comparable results obtained from 25 ng to 800 ng RNA. Therefore, miRNA from small tissue samples can be reliably assayed. Additionally, this platform can test up to 96 samples at a time, providing high throughput capability. A description of the platform has been previously published [21] and included validation of 12 individual miRNA by qPCR, and on a more global scale, miRNA expression was validated using digital gene expression.
The experimental approach was to look at variability between extractions, between technical replicates (both within and between plates) and between varying inputs of RNA using RNA from five colon cancer specimens and four cell lines. The agreement between extractions appears to be similar to that between technical replicates within an extraction and was similar for all the samples tested. As one would expect, the between-plate agreement was slightly less than within-plate agreement, although most correlation values were >0.90. There were several outliers noted in one SAM. Processed at the same time as another SAM, these may be related to sample handling or perhaps to a few underperforming probes.
We present both scatter plots and MVA plots to evaluate the data; the latter are a useful tool for assessing biases in high-dimensional data. Just as with high-dimensional gene expression microarray platforms [32, 36, 34, 38, 37], the bias curves observed here demonstrate that bias is not constant across all abundance levels for high-dimensional microRNA data indicating a need for nonlinear normalization. There is debate in current literature as to whether normalization algorithms used for high density mRNA microarrays are applicable to data from microRNA microarrays [39–43]. Most commonly used mRNA normalization algorithms assume that only a small portion of probes are differentially expressed, that the distribution of differentially expressed probes is approximately symmetric about identity. In addition, there must be sufficient probes for estimation of bias without over-fitting. These assumptions must be evaluated specific to the experiment at hand. The data we present here suggest that there are sufficient numbers of probes expressed on this microRNA platform for estimation of biases without over-fitting using standard mRNA normalization algorithms in this experiment. In addition, there is no differential expression expected in the replicates analyzed herein. Thus, the assumptions hold for these data and nonlinear normalizations such as quantile [34, 44] and cyclic loess [32, 33] should be directly applicable to this experiment. Indeed, the fastlo normalization method utilized in this report removed the nonlinearity seen in the bias curves.
Finally, we selected 12 miRNA targets to further assess the accuracy of the Illumina array utilizing a second method to quantitate miRNA levels (qPCR). Using RNA from the four cells lines used in this study, the correlation between miRNA expression levels derived from the Illumina platform compared to that from the qPCR analysis was excellent for the 12 targets. These results were essentially the same as those previously reported [21].
Overall, the Illumina array appears to be quite specific for the mature form of the miRNA. Chen et al. hypothesize that the cDNA synthesis may be more complete for the short mature miRNAs than for the pre-miRNA templates. Also, the stem-loop structure of pre-miRNAs could hinder the cDNA synthesis and annealing of the oligonucleotides, resulting in relatively selective detection of expression of the mature miRNAs [21].
In summary, we found this high-dimensional miRNA profiling platform to be highly sensitive, providing reproducible data over a wide range of RNA input amounts. The variability between extraction, replicates, and SAMs was found to be acceptable. After comparison with independently produced qPCR data, validation of the absolute and relative quantification of the technology seemed adequate as well.
Conclusion
Illlumina's miRNA profiling application provides an excellent tool for determining miRNA expression in clinical and research samples. Small amounts of RNA may be used to generate highly reproducible data. The Illumina miRNA panel therefore, presents a robust tool for a variety of research applications, providing advantages over existing tools
Declarations
Acknowledgements
We thank Malinda Woodward for excellent secretarial support and Stacy A. Johnson for technical support. The data have been deposited in the Gene Expression Omnibus (GEO ID GSE17346; http://www.ncbi.nlm.nih.gov/projects/geo/).
Funding
This work was supported by grants from the Minnesota Partnership for Biotechnology and Medical Genomics [2006-100412]; and by Mayo Clinic Comprehensive Cancer Center Shared Resource Grant [CA15083].
Authors' Affiliations
(1)
Department of Laboratory Medicine & Pathology, Mayo Clinic, Rochester, USA
(2)
Department of Health Sciences Research, Division of Biomedical Statistics and Informatics, Mayo Clinic, Rochester, USA
(3)
iMed.UL, Faculty of Pharmacy, University of Lisbon, Lisbon, Portugal
(4)
Departments of Medicine and Genetics, Cell Biology and Development, University of Minnesota Medical School, Minneapolis, USA
(5)
Biostatistics and Informatics, Masonic Cancer Center, University of Minnesota, Minneapolis, USA
(6)
Department of Pharmacology, University of Minnesota, Minneapolis, USA
(7)
Illumina Inc., San Diego, USA
Copyright
© Cunningham et al; licensee BioMed Central Ltd. 2009
This article is published under license to BioMed Central Ltd. This is an Open Access article distributed under the terms of the Creative Commons Attribution License (http://creativecommons.org/licenses/by/2.0), which permits unrestricted use, distribution, and reproduction in any medium, provided the original work is properly cited.