Correspondence
Open Access
Open Peer Review
This article has Open Peer Review reports available.
The eMERGE Network: A consortium of biorepositories linked to electronic medical records data for conducting genomic studies
BMC Medical Genomics
2011
4:13
Received: 5 February 2010
Accepted: 26 January 2011
Published: 26 January 2011
Abstract
Introduction
The eMERGE (electronic MEdical Records and GEnomics) Network is an NHGRI-supported consortium of five institutions to explore the utility of DNA repositories coupled to Electronic Medical Record (EMR) systems for advancing discovery in genome science. eMERGE also includes a special emphasis on the ethical, legal and social issues related to these endeavors.
Organization
The five sites are supported by an Administrative Coordinating Center. Setting of network goals is initiated by working groups: (1) Genomics, (2) Informatics, and (3) Consent & Community Consultation, which also includes active participation by investigators outside the eMERGE funded sites, and (4) Return of Results Oversight Committee. The Steering Committee, comprised of site PIs and representatives and NHGRI staff, meet three times per year, once per year with the External Scientific Panel.
Current progress
The primary site-specific phenotypes for which samples have undergone genome-wide association study (GWAS) genotyping are cataract and HDL, dementia, electrocardiographic QRS duration, peripheral arterial disease, and type 2 diabetes. A GWAS is also being undertaken for resistant hypertension in ≈2,000 additional samples identified across the network sites, to be added to data available for samples already genotyped. Funded by ARRA supplements, secondary phenotypes have been added at all sites to leverage the genotyping data, and hypothyroidism is being analyzed as a cross-network phenotype. Results are being posted in dbGaP. Other key eMERGE activities include evaluation of the issues associated with cross-site deployment of common algorithms to identify cases and controls in EMRs, data privacy of genomic and clinically-derived data, developing approaches for large-scale meta-analysis of GWAS data across five sites, and a community consultation and consent initiative at each site.
Future activities
Plans are underway to expand the network in diversity of populations and incorporation of GWAS findings into clinical care.
Summary
By combining advanced clinical informatics, genome science, and community consultation, eMERGE represents a first step in the development of data-driven approaches to incorporate genomic information into routine healthcare delivery.
Keywords
Diabetic RetinopathyPeripheral Arterial DiseaseCommunity ConsultationNational Human Genome Research InstituteElectronic Medical Record Data
Background
The mapping of the human genome has enabled new exploration of how genetic variations contribute to health and disease. To better realize this promise, the National Human Genome Research Institute (NHGRI) called on researchers to determine how genetic variants influence susceptibility towards chronic conditions such as diabetes, Alzheimer's disease, and cardiovascular disease, in order to ultimately improve patient care [1]. This effort has been remarkably successful [2]. The results of this work form the cornerstone not only for discovery of new biologic pathways and drug targets, but also for enabling a vision of "personalized medicine" in which genomic (and other personal health information) is incorporated into the fabric of healthcare. Delivering such advances to the bedside will require advanced information technology, based on electronic medical record (EMR) systems. Each of the five sites in the eMERGE network, formed to address these challenges, includes a DNA repository linked to an EMR, and thus the network is acting as a test bed for enabling such a future vision of healthcare. Further, aggregation of results across the network could represent an initial step toward the generation of a large prospective cohort in which healthcare status linked to biosamples are used to evaluate the impact of both genes and environment [3] on important human phenotypes, i.e. a trans-institutional or ultimately a national biobank. There are many challenges, however, to the successful execution of this idea: examples include validation and harmonization of phenotypes identified using medical records data, integration of genomic and phenotypic data across multiple sites for combined GWAS analysis, and adequacy of informed consent to share GWAS data widely, such as in the database of genotypes and phenotypes (dbGaP) [4], managed by the NIH.
The stated goals of the eMERGE Network (http://www.gwas.net) are to develop and apply approaches for using U.S. biorepositories linked to EMR systems for large-scale genomic research by determining: 1) the completeness and validity of phenotypic and exposure information derived from EMR; 2) the adequacy of existing consent for sharing data widely with other investigators within the network and outside the network through dbGaP; 3) the needs for additional consent and/or consultation with biorepository participants, investigators and other relevant groups; 4) best practices for IRB interactions, participant consent, and results reporting, and for collecting, documenting and sharing data; 5) representativeness and diversity of biorepository participants; and 6) associations of genome-wide data with EMR-defined phenotypes. Each center participating in the consortium, organized by the NHGRI with additional funding from the National Institute of General Medical Sciences, proposed to study the relationship between genome-wide genetic variation and a common disease/trait. In addition, the consortium includes a focus on ethical issues such as privacy, confidentiality, and interactions with the broader community.
Network Structure, Aims and Progress
All sites proposed a specific disease-related GWAS with specific aims related to validation of electronic phenotyping and community consultation. At each site, identification of ~3,000 phenotype appropriate subjects was to be followed by a GWAS in that set, as well as a 6th GWAS (~2,000 samples) accrued across the network. To identify subjects for study, electronic algorithms are developed, validated, and modified if necessary until positive predictive values of at least 95% are achieved where possible. All sites committed to making their electronic algorithms and NLP tools widely available and to sharing GWAS data for validated cases and controls for the other network site outcomes.
Network Organization
The network was formed in fall 2007, and its organizational structure is shown in Figure
1
. The steering committee (Principal and other investigators and NHGRI staff) meets 2-3 times annually. Setting of network goals is initiated by the working groups: (1) Genomics, (2) Informatics, (3) Consent & Community Consultation Working Group, which also includes active participation by investigators outside the eMERGE funded sites, and (4) Return of Results Oversight Committee. A five-member External Scientific Panel (ESP) was formed to provide independent input to the NHGRI director about the progress and direction of the Network and meets annually with the Steering Committee.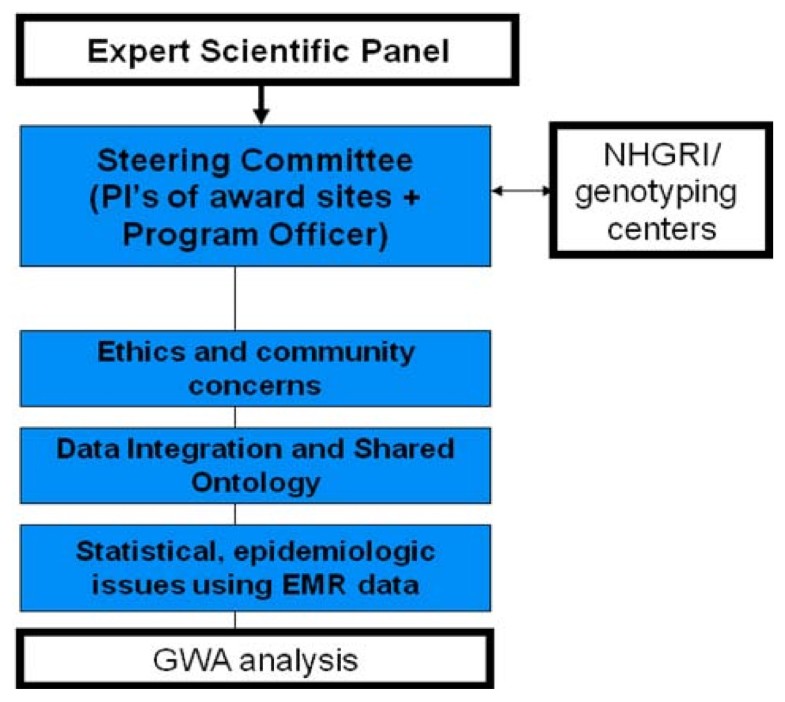 Administrative Coordinating Center
The eMERGE Network Administrative Coordinating Center (ACC), at Vanderbilt University Medical Center, provides a range of support to the network including coordination of steering committee meetings, organization of and support for working groups, a communications hub with public and private pages (http://www.gwas.net), and support for the ESP. In addition to administrative support, the ACC has assumed responsibilities for coordination of informatics and genomics efforts across sites. These include: 1) developing methods to compare the clinical characteristics of populations with specific disease phenotypes identified across institutions in the network; 2) providing standardized quality control for genotypes generated across the network and 3) Data Privacy Consultation service to assist in quantifying the risk of re-identification of de-identified data, e.g., by comparison of sets of diagnostic codes to publicly available Medicare data, health and vital statistics registries, and voter lists. The ACC received a supplement to provide standardized QA/QC for the genotypic data for all sites.
Site-specific Biorepository Descriptions and Aims
There are five sites in eMERGE: Marshfield, Northwestern, Mayo, Group Health Seattle, and Vanderbilt. In the following sections, the biobank at each institution is first described, followed by a brief description of the phenotypes being studied and community consultation activities. Key features of each biobank are summarized in Table
1
.
Table 1
Comparison of Biobanks and Phenotypes Across the eMERGE sites
| Site | Biobank design | Biobank size and demographics | Phenotypic outcomes |
| --- | --- | --- | --- |
| Marshfield | Population-based | 20,000; 98% Caucasian, mean age 48, range 18-102 | Low HDL cholesterol, cataract (n = 3968) Secondary: diabetic retinopathy |
| Mayo Clinic | PAD cases identified from the Mayo non-invasive vascular laboratory database; control subjects without PAD identified from the Cardiovascular Health Clinic | 1687 cases (mean age 65) and 1725 controls (mean age 60) | Peripheral arterial disease (PAD) (n = 3412); Secondary: red blood cell indices |
| Northwestern | Outpatient clinic and hospital-based | Approximately 10,000; 12% African American, 8% Hispanic; Mean age 50, range 18 - 90+ | Primary: type II diabetes (n = 3531); Secondary: lipids and height |
| Group Health | ACT Study Cohort of aged 65 and olderrandomly sampled from an HMO all known not to be demented at enrollment and followed for development of dementia, and Alzheimer's Disease (source of cases and controls) ADPR: Alzheimer's disease cases from a model incidence case registry (source of cases) | Approximately 4000 persons over age 65 from ACT Study | Alzheimer Disease (n = 3390), carotid artery stenosis; Secondary: statin adverse events |
| Vanderbilt | Use of discarded blood/non-human subjects linked to electronic medical records | Approximately 75,000; 70% Caucasian, 10% African American; mean age 53, range 18-100 | Electrocardiographic QRS duration (n = 3192); Secondary: PheWAS |
Current Status of the Network
Choice of genotyping platform and QA
As of June 2010, all sites had received genotyping data from DNA samples that had been shipped to NHGRI-designated central genotyping laboratories at the Broad Institute and the Center for Inherited Diseases Research at Johns Hopkins University. The Illumina 660Wquad1a was selected as the genotyping platform for subjects of European ancestry and other racial/ethnic groups than African Americans, while the Illumina 1 M product is being used for African-American subjects. The distribution of samples across sites and primary phenotypes is included in Table 1. The process for quality control (QC) of the genotyping data is discussed at weekly teleconferences led by the Administrative Coordinating Center (ACC) with participants from NHGRI, NCBI, the genotyping centers, and the Genomics workgroup. The Genomics workgroup is developing a uniform QC pipeline for the eMERGE network that will be publicly available upon completion.
Sharing of genotype and phenotype data
To compare phenotypes across sites, data sharing agreements have been initiated between the individual eMERGE sites and the consortium's ACC and between all of the individual sites. These allow sharing of de-identified ICD-9 codes to compare underlying population characteristics among the sites, and to share phenotypic and genotypic data to allow the combining of data to increase sample size and allow for replication. For example, additional dementia cases were provided by two sites to augment the cases at GHC.
One example of increased statistical power afforded by the network is presented in Table
2
for one of the secondary outcomes (diabetic retinopathy) that leverages genotyping already performed for one of the primary eMERGE phenotypes.
Table 2
Sample size estimates for GWAS of diabetic retinopathy with power estimates for the individual sites and with combined data
| eMERGE site | Estimated number of diabetic retinopathy cases and controls | Power for GWAS, p < 10-8, MAF = .10 OR = 2.5 |
| --- | --- | --- |
| Marshfield | 367/569 | .424 |
| Northwestern | 150/1262 | .243 |
| Mayo | 83/3412 | .101 |
| Group Health | 324/667 | .449 |
| Vanderbilt | 260/500 | .270 |
| Combined | 1184/6410 | .999 |
Another example of cross-site collaboration is in the QA/QC of all of the GWAS genotype data. The ACC performs quality assurance for all genotyping data. All sites submit phenotypic data to dbGAP at the same time they submit DNA samples for genotyping to allow adequate time for data cleaning prior to the genotyping results being available. The ACC has ensured common definitions and coding for phenotype variables being deposited in dbGAP. As mentioned above, the ACC also facilitates the QA/QC of these data in collaboration with the other components of the network. This ensures that accurate genotype and phenotype data will be deposited to dbGaP.
Another example of early cross-site integration is a study being performed by the ACC comparing prevalent ICD-9 codes across network sites for similar and different phenotypes to assess the comparability of large populations taken from different institutions (Figure
2
). The goal of this research is to develop a metric to quantify the similarity and differences of two populations across all diseases (using the range of ICD-9 codes). In addition, this method should allow rapid elucidation of particular differences in the populations. These results are showing that different institutions employing similar phenotype definitions produce populations with similar comorbid disease distributions, while different phenotypes tend to be more dissimilar.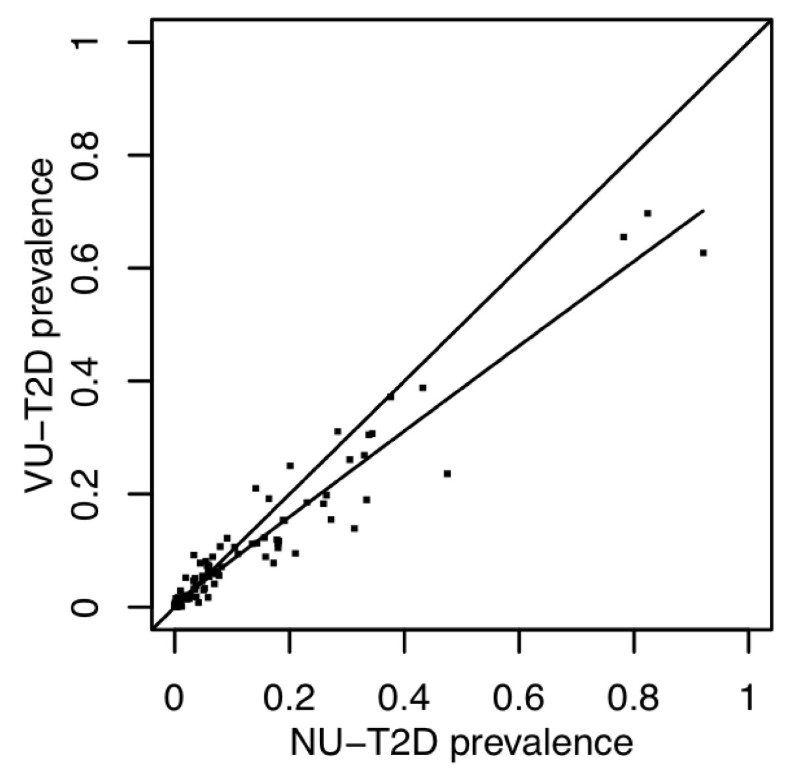 Choice of cross-network phenotypes
A ranking exercise was developed for network-wide phenotypes and completed by all five sites. Elements of the ranking included the importance of the scientific question, whether GWAS had been performed for that outcome before, and the relative ease or difficulty of developing accurate electronic phenotyping algorithms appropriate to EMR-derived clinical data. Autoimmune hypothyroidism was the first cross-network phenotype selected to meet these criteria with sufficient numbers of cases and controls across the network. However, an examination of records associated with samples already targeted for GWAS identified several thousand subjects with hypothyroidism. This finding further reinforces the potential that generating dense genomic information across subjects with EMRs will represent an important and reusable resource for discovery and validation in genome science
Goals for network collaboration
After network sites were selected, and initial progress was made on the site-specific goals, the External Scientific Panel (ESP) reviewed the program and generated a set of further goals for the network as a whole. As a result, work at each network site has been extended to include cross-site comparisons and sharing of new tools and approaches. Examples include, in addition to hypothyroidism mentioned above, other commonly acquired clinical laboratory values as continuous traits.
For phenotypes already subjected to numerous GWAS, such as myocardial infarction and type 2 diabetes, investigators were encouraged to identify unique or compelling features that could be added based on the ability to mine the entire EMR, and/or to focus on minority subjects, if available. Vanderbilt and Northwestern partnered to include a large sample of African Americans in a study of type 2 diabetes.
Each site has been encouraged to address issues of non-genetic, environmental exposures and their impact on specific phenotypes (e.g. baseline socio-economic status, smoking) and determine to what degree these measures can be extrapolated from the EMR. Validation of the accuracy of smoking data from EMRs is being undertaken at Vanderbilt, Mayo Clinic and Marshfield and Marshfield has added smoking history to the vitals section of their internally-developed EMR.
The ESP indicated that feedback to the EMR community is essential, both to private companies that produce widely-used EMR software and others working on EMRs. This is especially true for important phenotypes that can be broadly defined, as that will make it easier to extend the methods developed to many more sites. Marshfield will be working to implement eMERGE recommendations in their internally developed EMR.
Vanderbilt is adding a pediatric component to their biobank and will examine and report on consent and proxy issues and share lessons learned with the network.
Phenotyping efforts will be expanded to include drug responses and their relationship to genome variation. Drug responses are also likely to be important in defining other eMERGE-related disease phenotypes (such as steroid use and its relationship to conditions such as cataract sub-type and asthma response).
All sites have developed a list of best practices to be shared with the network and the wider research community (Table
3
).
Table 3
Best practices being developed by the eMERGE sites
| eMERGE site | Best practices |
| --- | --- |
| Marshfield | Enhance internal EMRs to capture data in a structured format. This may involve changing existing input points in the record. Information validated against questionnaire data where applicable; Develop and evaluate a computer-based consenting process along with revisions to the current written informed consent document for our general biobank; Development of validated electronic algorithms for cataract, HDL, and diabetic retinopathy |
| Mayo Clinic | Manual abstraction vs. EMR-based algorithms: virtually all algorithms ultimately are dependent upon unstructured data; develop criteria for standardizing data dictionaries and best practices for handling missing data elements; community engagement survey instrument & educational video to educate community regarding biobank and community engagement processes; develop institutional policy and procedure for sharing of GWAS data; assess phenotyping heterogeneity from the EMR |
| Northwestern | Informatics: Identify shortcomings of data capture from routine clinical care and repurposed for research; Develop and implement common standards for formatting and sharing data; Community engagement: Develop model consent language; Summarize community engagement efforts around data sharing in our population; Genomics: Develop process for GWAS data certification review and approval; Other/general: Develop best practices for interacting with IRBs around biorepository formation and ongoing consultation |
| Group Health | Mapping the electronic derived cases vs. 'research quality' (e.g. dementia). How to handle cases from different sources; Use of "low tech" methods to extract NLP information; identify participant-centered best practices regarding consent from existing cohorts; develop recommendations for institutions, investigators re consent, data sharing, other issues with GWAS and related research (products from a consensus panel process) |
| Vanderbilt | Identify shortcomings and enhance internal EMRs to capture data in a structured format; develop methods for assessing/labeling certainty of data shared to public databases; create a description of the various analogs to human subjects biobanking in a non-human subjects model |
| Administrative Coordinating Center | Creation of a library of searchable phenotype algorithms plus associated metadata; creation of educational materials on genomic data privacy for IRBs and other regulatory decision makers; develop a re-identification risk framework for biomedical data to be shared to dbGaP |
Summary
Lessons learned
Many challenges have been identified and some have been overcome, providing a set of information that can be used by groups wanting to undertake similar research. The biggest lessons learned to date have come from the informatics arena. With the major task to develop validated algorithms to define phenotype from EMRs, investigators quickly confirmed that diagnostic codes are insufficient on their own for research-quality case and control classification. Each EMR is unique and EMR systems do not necessarily contain all data elements necessary for a given case definition. Differences in site populations suggest that the cohorts selected may not be clinically comparable for some conditions being studied. This is currently being evaluated by measuring the distribution of disease codes that co-occur with the primary disease phenotype that is the focus of a particular GWAS (for example, the frequency of heart disease, stroke and renal failure disease codes in cohorts selected because the individuals have diabetes). Furthermore, if the health system with the biobank is not the primary health care provider, information necessary to assign case and control status may be lacking because of care received elsewhere that is not documented in the EMR. Analysis of free text can be very difficult for electronic data extraction, but has been shown to be essential for case/control classification for several of the phenotypes. A useful strategy is to engage content experts early in algorithm development. A common validation methodology to determine the predictive value of the computerized cohort selection algorithms needs to be employed. Not surprisingly, achieving the required consensus on data standards and data dictionaries is time consuming but essential to the analysis of pooled data from heterogeneous systems. Data sharing is facilitated where common or similar institutional policies and procedures are developed.
Ethical issues that have been identified include whether the original consent allowed for sharing of data with dbGaP or investigators from other institutions, and whether the original consent allowed for the study of more than one phenotype. Investigators at Group Health and the University of Washington undertook a sub-study of reconsent of their subjects to deposit deidentified research data in dbGaP [24, 25].
Potential and real benefits of the network have been identified. The power of the network includes collaborations with other experts in the field, sharing of protocols, data/drug mining lessons learned that can be implemented in other EMRs, and the development of well validated electronic phenotyping algorithms that can be used for case/control classification and for identification of potential subjects for study/trial recruitment.
Next steps in Current Funding Cycle
In addition to the outcomes already mentioned, the eMERGE network is developing and disseminating best practices recommendations in the areas of electronic phenotyping and community consultation related to biobanking and data sharing. The wealth of phenotypic information in the EMRs is being mined for additional GWAS outcomes in the genotyped subjects.
Future Directions for the Network
Plans are underway to expand the network in diversity of populations and incorporation of GWAS findings into clinical care.
Summary
The eMERGE network is advancing our knowledge of best practices related to the linking of biobanks with data from electronic medical records to facilitate genomic discoveries in an efficient manner. As biobanks are developed within health care settings, the lessons learned from the eMERGE network can be applied to these settings to further scientific discoveries in a timely fashion.
List of Abbreviations
ABI:

ankle brachial index
ACC:

Administrative Coordinating Center
ACT:

Adult Changes in Thought study
AD:

Alzheimer's Disease
ARRA:

American Reinvestment and Recovery Act
CASI:

Cognitive Abilities Screening Instrument
CTSA:

Clinical and Translational Science Award
dbGaP:

database of genotypes and phenotypes
DNA:

deoxyribonucleaic acid
DSM:

Diagnostic and Statistical Manual
ECG:

electrocardiogram
EDW:

enterprise data warehouse
ELSI:

ethical, legal and social issues
eMERGE:

electronic Medical Records and Genomics
EMR:

electronic medical record
ESP:

External Scientific Panel
GH:

Group Health, GWAS: genome wide association study
HAAS:

Honolulu Asia Aging Study
HDL:

high-density lipoprotein
ICD:

International Classification of Diseases
ICR:

intelligent character recognition
MAF:

minor allele frequency
NHGRI:

National Human Genome Research Institute
NIH:

National Institutes of Health
NINCDS-ADRDA:

National Institute of Neurological and Communicative Disorders and Stroke - Alzheimer's Disease and related Disorders Association
NLP:

natural language processing
NUMC:

Northwestern University Medical Center
OR:

odds ratio
PAD:

peripheral arterial disease
PheWAS:

phenome-wide association study
PMRP:

Personalized Medicine Research Project
QA:

quality control
QC:

quality control
RBC:

red blood cells
RFA:

Request for Applications
RUI:

research unique identifier
SD:

synthetic derivative
SHA:

secure hash algorithm
T2D:

type 2 diabetes
TSH:

thyroid stimulating hormone
VGER:

Vanderbilt Genome Electronic Records project
VUMC:

Vanderbilt University Medical Center
WBC:

white blood cells
Declarations
Acknowledgements
The eMERGE Network was initiated and funded by NHGRI, with additional funding from NIGMS through the following grants: U01-HG-004610 (Group Health Cooperative); U01-HG-004608 (Marshfield Clinic); U01-HG-04599 (Mayo Clinic); U01HG004609 (Northwestern University); U01-HG-04603 (Vanderbilt University, also serving as the Coordinating Center), and the State of Washington Life Sciences Discovery Fund award to the Northwest Institute of Medical Genetics.
Members of the External Scientific Panel include: Gerardo Heiss, PhD (University of North Carolina), Stan Huff, PhD (University of Utah) Howard McLeod, PhD (University of North Carolina, Chair), Jeff Murray, PhD (University of Iowa), and Lisa Parker, PhD (University of Pittsburgh).
eMERGE Team
Marshfield
Catherine A. McCarty, PhD, MPH, Principal Investigator; Justin Starren, MD, PhD, Informatics; Peggy Peissig, Informatics; Richard Berg, MS, Statistician; Luke Rasmussen, Programmer; James Linneman, Programmer Analyst; Aaron Miller, Programmer Analyst; Vidhu Choudary, Programmer Analyst; Lin Chen, MD, Ophthalmologist; Carol Waudby, MA, Research Coordinator; Terrie Kitchner, Senior Research Coordinator; Jonathan Reeser, MD, IRB Chair; Norman Fost, MD, Ethicist, University of Wisconsin; Marylyn Ritchie, PhD, Statistician, Vanderbilt University; Russell A. Wilke, MD, PhD, Internist and Pharmacologist, Vanderbilt University
Northwestern
Rex L. Chisholm, PhD, Principal Investigator; Pedro C. Avila, MD, Allergist/Immunologist; Philip Greenland, MD, Epidemiologist; M. Geoff Hayes, PhD, Statistical Geneticist; Abel Kho, MD, MS, Internist and Informatics; Warren A. Kibbe, PhD, Informatics; Amy A. Lemke, MS, PhD, public health/community engagement; William L. Lowe, MD, Endocrinologist; Maureen E. Smith, MS, CGC, genetic counselor/community engagement; Wendy A. Wolf, PhD, community engagement/program management; Jennifer A. Pacheco, Programmer Analyst; William K. Thompson, PhD, programmer/natural language processing; Joel Humowiecki, Data Analyst; May Law, MPH, Programmer Analyst/Statistician.
Mayo
Christopher Chute, MD, PhD, Principal Investigator; Iftikar Kullo, M.D, Co-Investigator; Barbara Koenig, PhD, Co-Investigator -bioethics; Mariza de Andrade, PhD, Co-Investigator -statistical genetics; Suzette Bielinski, PhD, Co-Investigator -epidemiology; Jyotishman Pathak, PhD, informatics; Guergana Savova, PhD, informatics/natural language processing; Joel Wu, JD, bioethics; Joan Henriksen, PhD, bioethics; Keyue Ding, PhD, genome science; Lacey Hart,MBA, program management; Jeremy Palbicki, programmer analyst
Group Health
Eric B. Larson, M.D.,MPH Overall Principal Investigator, Katherine Newton, PhD, epidemiologist, Evette Ludman, Ph.D, behavioral scientist, Leslie Spangler, Ph.D., epidemiologist, Gene Hart, M.S., Programmer, David Carrell, Ph.D., programmer/natural language processing. University of Washington team: Gail Jarvik M.D., Ph.D., University of Washington site Principal Investigator, genetic analysis, phenotypes, and bioethics, Paul Crane, M.D., MPH, General Internist, Wylie Burke, M.D., Ph.D., bioethics, Stephanie Malia Fullerton, Ph.D., bioethics, Susan Brown Trinidad, M.A., bioethics, Fred Hutchinson Cancer Research Center team: Chris Carlson Ph.D., Fred Hutchinson Cancer Research Center site Principal Investigator, biostatistics and genomics, Andrew McDavid, programmer/analyst.
Vanderbilt
Dan M. Roden, M.D., Principal Investigator; Ellen Clayton, M.D., J.D., bioethics; Jonathan L. Haines, Ph.D., genome science; Daniel R. Masys, M.D., informatics and Coordinating Center PI; Larry R. Churchill, Ph.D., bioethics; Daniel Cornfield, Ph.D., sociology/community engagement; Dana Crawford, Ph.D., statistical genetics/genome science; Dawood Darbar, M.D., Ph.D., electrophysiology; Joshua C. Denny, M.D., M.S., informatics/natural language processing; Bradley A Malin, Ph.D., informatics/privacy protection; Marylyn D. Ritchie, Ph.D., statistical genetics/genome science; Jonathan S. Schildcrout, Ph.D., biostatistics, Hua Xu, Ph.D., informatics/natural language processing; Andrea Havens Ramirez, M.D., clinical phenotyping; Melissa Basford, M.B.A., program management; Jill Pulley, M.B.A., program management.
Authors' Affiliations
(1)
Center for Human Genetics, Marshfield Clinic Research Foundation, Marshfield, USA
(2)
Center for Genetic Medicine, Northwestern University, Chicago, USA
(3)
Division of Biomedical Statistics and Informatics, Mayo Clinic, Rochester, USA
(4)
Division of Cardiovascular Diseases, Mayo Clinic, Rochester, USA
(5)
Department of Genome Sciences, University of Washington, Seattle, USA
(6)
Group Health Research Institute, Seattle, USA
(7)
Office of Population Genomics, National Human Genome Research Institute, Bethesda, USA
(8)
Department of Biomedical Informatics, Vanderbilt University School of Medicine, Nashville, USA
(9)
Center for Human Genetics Research, Vanderbilt University School of Medicine, Nashville, USA
(10)
Department of Pharmacology, Vanderbilt University School of Medicine, Nashville, USA
Copyright
© McCarty et al; licensee BioMed Central Ltd. 2011
This article is published under license to BioMed Central Ltd. This is an Open Access article distributed under the terms of the Creative Commons Attribution License (http://creativecommons.org/licenses/by/2.0), which permits unrestricted use, distribution, and reproduction in any medium, provided the original work is properly cited.