Research article
Open Access
Open Peer Review
This article has Open Peer Review reports available.
Radiation dose-rate effects on gene expression for human biodosimetry
BMC Medical Genomics
2015
8:22
Received: 29 January 2015
Accepted: 1 May 2015
Published: 12 May 2015
Abstract
Background
The effects of dose-rate and its implications on radiation biodosimetry methods are not well studied in the context of large-scale radiological scenarios. There are significant health risks to individuals exposed to an acute dose, but a realistic scenario would include exposure to both high and low dose-rates, from both external and internal radioactivity. It is important therefore, to understand the biological response to prolonged exposure; and further, discover biomarkers that can be used to estimate damage from low-dose rate exposures and propose appropriate clinical treatment.
Methods
We irradiated human whole blood ex vivo to three doses, 0.56 Gy, 2.23 Gy and 4.45 Gy, using two dose rates: acute, 1.03 Gy/min and a low dose-rate, 3.1 mGy/min. After 24 h, we isolated RNA from blood cells and these were hybridized to Agilent Whole Human genome microarrays. We validated the microarray results using qRT-PCR.
Results
Microarray results showed that there were 454 significantly differentially expressed genes after prolonged exposure to all doses. After acute exposure, 598 genes were differentially expressed in response to all doses. Gene ontology terms enriched in both sets of genes were related to immune processes and B-cell mediated immunity. Genes responding to acute exposure were also enriched in functions related to natural killer cell activation and cell-to-cell signaling. As expected, the p53 pathway was found to be significantly enriched at all doses and by both dose-rates of radiation. A support vectors machine classifier was able to distinguish between dose-rates with 100 % accuracy using leave-one-out cross-validation.
Conclusions
In this study we found that low dose-rate exposure can result in distinctive gene expression patterns compared with acute exposures. We were able to successfully distinguish low dose-rate exposed samples from acute dose exposed samples at 24 h, using a gene expression-based classifier. These genes are candidates for further testing as markers to classify exposure based on dose-rate.
Keywords
Low dose-rate effectsRadiation biodosimetryPrediction
Background
To optimize biodosimetry methods for estimating radiation exposure after a large-scale radiological event, all likely radiation qualities, modes of exposure and exposure times should be considered while designing assays that will be useful for triage [1]. It is important to determine whether an individual received a dose by a lower dose-rate, which can be from both internal and external sources of radiation, and which may pose a moderate health risk as compared with a single acute dose. Low dose-rates of exposure may also confound the estimation of total dose if dosimetry assays are not tailored to distinguish dose-rate effects [2].
There have been many studies addressing the development of a gene expression-based signature for estimation of dose, in peripheral blood irradiated ex vivo [3–6], in blood from total body irradiated (TBI) patients [7–9], isolated human monocytes [10], CD4+ lymphocytes [11], skin from biopsies [12, 13], and cell lines from humans [14–16]; and a few that address effects of similar doses delivered over a period of hours or days in cell lines [15, 16], but little is known about the gene expression response of human blood to low dose-rates (LDR). Development of a gene signature in blood that is able to discriminate between irradiated samples without a matching pre-exposure sample has been shown to be a powerful tool in biodosimetry assay development [3], and the goal of this study was to use a similar approach and identify genes that would discriminate between both dose and dose-rates. There are in vivo studies on transcriptomic changes in radiation workers; and also changes induced by internal emitters in mice, that have determined dose and dose-rate effects in organs and blood [17–23]. These studies have revealed that gene expression differences can be detected after prolonged exposure times.
In the study presented in this paper, exposure of human blood ex vivo to LDR and acute irradiation gave a robust gene expression response as measured by microarrays and validated by qRT-PCR. We identified genes that responded uniquely to LDR and not to acute doses. Class prediction by dose-rate successfully identified samples as LDR-exposed or acute. This is an important first step towards developing and further refining gene-expression based assays that can be used to determine the contribution of dose-rate to overall dose.
Discussion
A variety of exposure types and combinations of exposures could result from an improvised nuclear device (IND) or radioactive dispersal device (RDD). In order to develop appropriate radiological triage approaches, biodosimetry assays must be tested and optimized for their ability to detect the contribution of various factors such as dose and dose-rate. A tiered approach to triage in large-scale scenarios [33, 34] would ideally include a low-dose rate detection assay to identify individuals who have received exposure over a prolonged time, so that their treatment can be adjusted accordingly. In a recent NATO study involving different laboratories that cross-validated results for different radiation biodosimetry assays, the dicentric chromosome assay, micronucleus assay, γ-H2AX and gene expression were assessed for their sensitivity and it was concluded that a combination of assays would be optimal for the estimation of dose and "never versus ever" exposure [35, 36]. Therefore, it is possible that a gene expression signature that can discriminate between low dose-rates and acute exposures, in combination with other assays that estimate dose, will enhance the ability to identify individuals with an immediate need for clinical treatment in a large-scale event.
Low dose-rate studies have also been done for very low cumulative doses, to assess the gene expression response. One such study on a prostate cancer cell line measured gene expression changes after a 24-hour chronic exposure to dose-rates as low as 7-17 μGy/min, and unexpectedly, found that the gene expression response was more similar to that of a 2 Gy acute dose than a 10 cGy acute dose [15]. In another study in mice, which were given a 5-week continuous dose of radiation at 2 μGy/min (cumulative dose 10.5 cGy, which was previously shown to be effective on gene expression as a single acute dose [6]) there was no significant change in gene expression. The effects observed at these very low doses may be the result of various factors inherent to the study design, the extended time in the second study or the origin and type of cells in the first, but it emphasizes the need for biodosimetry experiments to be designed to establish the range of dose rates and exposure times likely to impact on biodosimetric estimates and triage decisions.
Using an ex vivo blood irradiation model that has previously shown changes in radiation response genes that are sensitive to dose and time [3, 37], we exposed blood samples to relatively high total doses (up to 4 Gy), in the range of Acute Radiation Syndrome (ARS), either acutely, or over a period of 24 h. The prolonged radiation exposure time was to approximate exposure to fallout from an improvised nuclear device (IND) or radioactive dispersal device (RDD) that might occur before first responders arrive on the scene and are able to begin taking samples for biodosimetry.
In the current study, we detected gene expression changes at all doses, with increasing numbers of genes responding with increasing dose, as expected (Table 1). The number of genes differentially expressed at lower doses (0.56 Gy and 2.25 Gy) by LDR (p-value <0.001) was slightly higher than those after acute doses, however, the period of time from end of exposure to harvest was shorter after low dose-rate exposures, which may contribute to this difference. In the case of LDR 4.45 Gy however, the number of genes differentially expressed was less than acute 4.45 Gy (Additional file 2).
We focused our analyses on the 4.45 Gy dose responses, because they allowed us to determine and compare maximum differences in gene expression and biological function. These comparisons revealed that the acute exposure elicits many responses similar to LDR, but may also affect additional processes related to natural killer cells and cell-cell signaling via chemokines. In contrast, the gene expression response to LDR initiated some of the same functions as acute exposure, but additional processes related to nucleotide metabolism (Table 2) and DNA repair were also affected.
Further GO analyses of the LDR gene expression response against PANTHER pathways revealed that the p53 pathway was found to be significantly affected at all doses (LDR 0.56Gy, p-value 5.0 × 10
-4
; LDR 2.23 Gy, p-value 4.8 × 10
-5
; and LDR 4.45 Gy, 1.5 × 10
-5
). This suggests that at 24 h after the start of exposure at all doses, p53-regulated functions in cell stress, cell cycle and DNA damage repair are important; even after the shortest LDR exposure. We focused on p53 target genes as this pathway was the top scoring biological pathway controlling gene regulation across all doses and dose-rates. The heat map in Fig.
4
depicts genes that are regulated by p53 across all three doses in the LDR treatment group. More p53-regulated genes were involved in the response after the highest dose (4.45 Gy) where blood cells were exposed continuously to the LDR radiation with no recovery period. In the case of the lowest dose (0.56 Gy) and intermediate dose (2.23 Gy) a subset of these genes responded and changes in mRNA were still detectable at 24 h after the start of exposure. This suggests that there is an accumulation of stress and damage during the protraction of dose, possibly mediated by p53 and also other transcriptional regulators [
38
,
39
], that persists and is not completely resolved at 24 h after the start of exposure.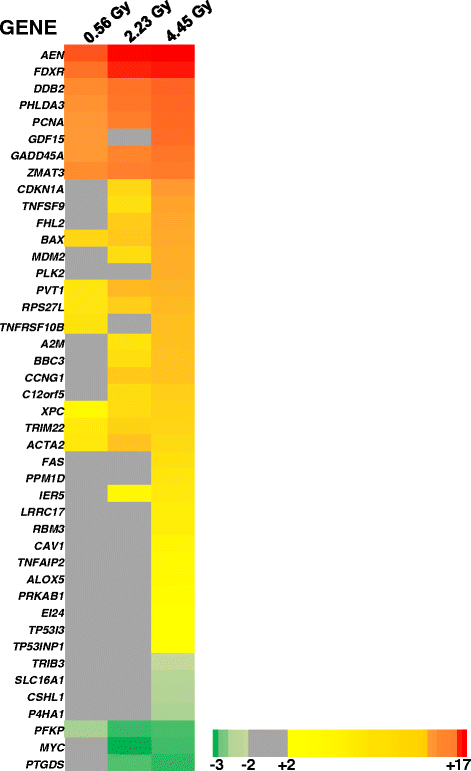 We were also able to identify groups of genes that were more responsive to LDR than acute dose rate (Fig. 3c and d). Genes such as RBM3 and GRM2 that were up regulated after LDR appeared to respond to doses ≥2.23 Gy. In the case of down regulated genes, DUSP3 and ID1, the response was significant (p-value <0.001) at even the lowest dose, LDR 0.56 Gy. The down regulation of ID1 mRNA after LDR was interesting because it is a known radiation response gene to acute γ-irradiation in cell lines [40]. In our study it was not induced significantly above background by acute dose but persistently down-regulated by LDR. Other genes shown here, RBM3 (RNA binding motif protein 3) and GRM2 (Glutamate receptor, metabotropic 2) and DUSP3 (Dual specificity phosphatase 3) have not been previously shown to be affected by radiation in blood and may represent candidate genes for further studies on dose-rate effects in radiation biodosimetry.
A comparison of gene expression changes by dose rate between LDR and acute only, revealed the lowered expression of genes encoding glycolytic enzymes, by the protraction of exposure at 24 h. These genes are involved in glucose metabolism and energy production in cells and the continuous delivery of radiation at LDR may have a dampening effect on the activity of these metabolic functions. In another study using the same LDR, 3.1 mGy/min for 24 h in mice, measurement of metabolites in urine at 48 h after the beginning of exposure showed that citrate in the TCA cycle was decreased by both LDR and acute exposure [41]. In the same study, hexanoylcarnitine and tiglylcarnitine from fatty-acid oxidation pathways were decreased by LDR exposure compared to controls or acute exposure to the same dose, consistent with the perturbations we found reflected in the gene expression data.
The changes observed in blood gene expression after 24 h in the current study support the development of dosimetry signatures to distinguish between dose-rates of exposure, as well as between doses. We performed class predictions by irradiation status and dose-rate (Tables 3 and 4) and dose (Table 5). The classifier gene set that performed best and distinguished between LDR and acute exposure included the LDR-only response genes DUSP3 and ID1 (Fig. 3d). This suggests that it may be possible to develop a gene-based signature that can detect protracted exposures without the need for a pre-exposure sample. Further independent validation studies will of course be needed, but such a test could also be used in conjunction with other strictly dosimetric assays, including gene expression or cytogenetic endpoints, to provide a better and more practical biodosimetry assay.
Conclusions
This study investigated the effects of dose-rate on human blood cell gene expression, over a 24-hour period. Although there were many similarities in immune function and stress response genes, we found that low dose-rate exposure can result in distinctive gene expression patterns compared with acute exposures. Typical p53 gene responses were also seen at all doses delivered by the lower dose rate. We were able to successfully distinguish low dose-rate exposed samples from acute dose exposures, using classification algorithms on our gene expression data. These genes are candidates for further validation studies to develop a gene-based signature that can detect low dose-rate exposures for large-scale biodosimetry.
Abbreviations
LDR:

Low dose-rate
IND:

Improvised nuclear device
RDD:

Radioactive dispersal device
Declarations
Acknowledgements
We thank the Center for Radiological Research members Gary Johnson and Dr. Gerhard Randers-Pehrson for designing and constructing the custom-built incubator and Thoraeus filter for low dose-rate exposures. We thank Dr. Helen Turner and Dr. Antonella Bertucci for sample collection. We also thank Dr. Congju Chen for assisting with irradiations. Analyses were performed using BRB-ArrayTools developed by Dr. Richard Simon and BRB-ArrayTools Development Team. This work was supported by the Center for High-Throughput Minimally-Invasive Radiation Biodosimetry, National Institute of Allergy and Infectious Diseases grant number U19AI067773.
Authors' Affiliations
(1)
Center for Radiological Research, Columbia University, New York, USA
Copyright
© Ghandhi et al. 2015
This article is published under license to BioMed Central Ltd. This is an Open Access article distributed under the terms of the Creative Commons Attribution License (http://creativecommons.org/licenses/by/4.0), which permits unrestricted use, distribution, and reproduction in any medium, provided the original work is properly credited. The Creative Commons Public Domain Dedication waiver (http://creativecommons.org/publicdomain/zero/1.0/) applies to the data made available in this article, unless otherwise stated.