Research article

Open Access

Open Peer Review
This article has Open Peer Review reports available.
Pivotal role of the muscle-contraction pathway in cryptorchidism and evidence for genomic connections with cardiomyopathy pathways in RASopathies
BMC Medical Genomics
2013
6:5
Received: 14 February 2012
Accepted: 6 February 2013
Published: 14 February 2013
Abstract
Background
Cryptorchidism is the most frequent congenital disorder in male children; however the genetic causes of cryptorchidism remain poorly investigated. Comparative integratomics combined with systems biology approach was employed to elucidate genetic factors and molecular pathways underlying testis descent.
Methods
Literature mining was performed to collect genomic loci associated with cryptorchidism in seven mammalian species. Information regarding the collected candidate genes was stored in MySQL relational database. Genomic view of the loci was presented using Flash GViewer web tool (http://gmod.org/wiki/Flashgviewer/). DAVID Bioinformatics Resources 6.7 was used for pathway enrichment analysis. Cytoscape plug-in PiNGO 1.11 was employed for protein-network-based prediction of novel candidate genes. Relevant protein-protein interactions were confirmed and visualized using the STRING database (version 9.0).
Results
The developed cryptorchidism gene atlas includes 217 candidate loci (genes, regions involved in chromosomal mutations, and copy number variations) identified at the genomic, transcriptomic, and proteomic level. Human orthologs of the collected candidate loci were presented using a genomic map viewer. The cryptorchidism gene atlas is freely available online: http://www.integratomics-time.com/cryptorchidism/. Pathway analysis suggested the presence of twelve enriched pathways associated with the list of 179 literature-derived candidate genes. Additionally, a list of 43 network-predicted novel candidate genes was significantly associated with four enriched pathways. Joint pathway analysis of the collected and predicted candidate genes revealed the pivotal importance of the muscle-contraction pathway in cryptorchidism and evidence for genomic associations with cardiomyopathy pathways in RASopathies.
Conclusions
The developed gene atlas represents an important resource for the scientific community researching genetics of cryptorchidism. The collected data will further facilitate development of novel genetic markers and could be of interest for functional studies in animals and human. The proposed network-based systems biology approach elucidates molecular mechanisms underlying co-presence of cryptorchidism and cardiomyopathy in RASopathies. Such approach could also aid in molecular explanation of co-presence of diverse and apparently unrelated clinical manifestations in other syndromes.
Keywords
Cryptorchidism
Muscle-contraction pathway
Cardiomyopathy
Comparative integratomics
Protein-protein interactions
Systems biology
Undescended testes
RASopathy
Background
Cryptorchidism (CO) is the most frequent congenital disorder in male children (2-4% of full-term male births) and is defined as incomplete descent of one (unilateral) or both (bilateral) testes and associated structures. Cryptorchidism has a potential effect on health; defects in testes descent usually cause impaired spermatogenesis, resulting in reduced fertility and increased rates of testicular neoplasia, and testicular torsion (reviewed in [1]). Cryptorchidism is common in human, pigs, and companion animals (2–12%) but relatively rare in cattle, and sheep (≤ 1%) [2].
Testicular descent is a complex series of events which requires concerted action of hormones, constitutive mechanisms, and the nervous system. In most species, including human, the complete descent of testes usually occurs prenatally, while in some (e.g. dogs), postnatally. Beside environmental factors like endocrine disruptors, CO is at least in part determined by genetic causes (chromosome or gene mutations), and is often a common feature of different syndromes. For example, Klinefelter syndrome and mutations in INSL3 gene have already been recognized as a cause of CO in some cases [3].
The comparative knowledge attained through study of animal models has been of great importance in understanding complex disease etiology, suggesting several candidate genes involved also in the pathogenesis of human diseases [4]. Therefore, the use of comparative genomics approach, integrating and cross-filtering the available knowledge from different species seems highly justified. Different animal models for CO exist; for example natural mutants or transgenic mice, rat, rabbit, dog, pig and rhesus monkeys are used to elucidate the role of different factors involved in CO [5]. Based on mouse knock-out models from Mouse Genome Informatics (MGI) database, several genes appear as possible candidates (AR, HOX genes, INSL3, RXFP2, and WT1). Additionally, the technological progress in the last years enabled the use of high-throughput omics-information, at coding (DNA), expression (RNA), and proteomic level. This technological revolution creates a vast amount of data, which increases the need for application of bioinformatics tools that are able to connect omics data with phenotype and enable search for overlapping pathogenetic mechanisms in different genetic diseases [6]. However, this existing technology hasn't been significantly employed in human CO research on a genome and transcriptome-wide scale; to date only one genome-wide expression study has been performed in rat [7].
Integratomics represents a novel trend in the omics-research and is based on the integration of diverse omics-data (genomic, transcriptomic, proteomic, etc.), regardless of the study approach or species [8–10]. High genetic homology between mammals and the availability of well annotated genomes from different species allows the assembled data to be presented in a form of a comparative genomic view, displaying candidate genes as a single species orthologs.
Information extracted from diverse and methodologically focused studies are often fragmented and controversial. To overcome this problem we integrated the collected data, using a holistic (map-driven) approach, and developed freely available interactive genomic visualization tool. Such map-based approach allows identification and prioritization of candidate genes [11] based on a number of literature sources (references), genomic position, and pathway analyses, employing all currently available knowledge in different species. However, extrapolating the gained knowledge from one species to another is often difficult due to different anatomical and physiological characteristics, which should be considered when comparing pathology of the disease in different species.
To identify genetic factors potentially involved in CO pathogenesis in human we 1) applied comparative integratomics approach and assembled the database of all CO-associated genomic loci reported in the literature, regardless of the study approach and species, 2) presented the loci on a genomic map as human orthologs, and 3) prioritized the collected data using systems biology approach. The collected candidate genes were classified in corresponding biological pathways and the most significant CO-enriched pathways were proposed. Such classification of candidate genes allowed us to prioritize biological pathways (characterized by genes involved in the pathogenesis of CO), which revealed importance of several pathways (for example muscle contraction mechanisms) that may also play a role in the pathogenesis of other clinical features distinctive for different syndromes often concurrent with CO. In order to additionally illuminate the CO-associated pathways we performed a network-based protein-protein interaction analysis, which resulted in prediction of 43 additional CO candidate genes.
Methods
In search for CO associated candidate loci seven different research approaches were considered: (i) chromosomal abnormalities associated with CO, (ii) copy number variations, (iii) clinical syndromes with known genetic mutations that feature CO, (iv) transgenes and knock-outs that result in CO associated phenotypes, (v) association studies/mutation screening that show association between sequence variation/mutation screening and CO, (vi) expression patterns associated with CO, and (vii) candidates associated with CO at proteomic level.
Results and discussion
Extensive literature mining was performed resulting in 217 collected candidate loci (chromosome regions and genes) reported to be involved in CO in human or/and animals. The generated database served as the foundation for the development of freely available interactive genomics viewer designed to integrate multi-species data from various research approaches. Enriched biological pathways and 43 additional CO candidate genes were suggested, based on protein-protein interaction network (PPIN) analysis. The workflow of the study is presented in the Figure 
1
.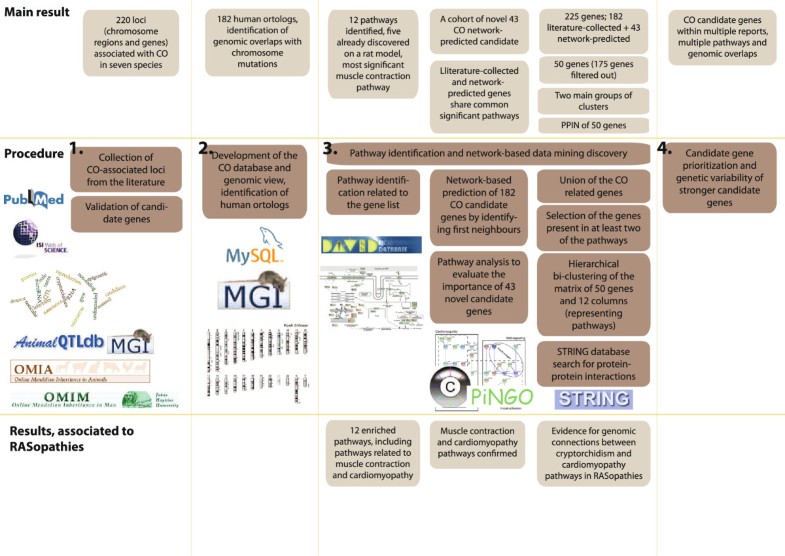 Conclusions
In this study we present an overview of CO associated candidate regions/genes and suggest pathways potentially involved in the pathogenesis of the disease. The integrative, comparative-genomics approach, and in silico analyses of the collected data aim to help solving the problem of fragmented and often contradictory data extracted from different methodologically focused studies. The protein-protein interactions analysis revealed the most relevant pathways associated with CO candidate gene list and enabled us to suggest additional candidate genes based on network prediction. Described systems biology approach will contribute to a better understanding of genetic causes for cryptorchidism and provides possible example how integration and linking of complex traits related data can be used for hypothesis generation. Publicly available online CO gene atlas and data entry option will allow researcher to enter, browse, and visualize CO associated data. The proposed network-based approach elucidates co-presence of similar pathogenetic mechanisms underlying diverse clinical syndromes/defects and could be of a great importance in research in the field of molecular syndromology. This approach has also a potential to be used for future development of diagnostic, prognostic, and therapeutic markers. The developed integratomics approach can be extrapolated to study genetic background of any other complex traits/diseases and to generate hypothesis for downstream experimental validation.
Declarations
Acknowledgements
This work was supported by the Slovenian Research Agency (ARRS) through the Research programme Comparative genomics and genome biodiversity (P4-0220). C.V.C. received financial support from the Italian Inter-polytechnic School of Doctorate (SIPD) and from the King Abdullah University of Science and Technology.
Authors' Affiliations
(1)
Integrative Systems Biology Laboratory, Biological and Environmental Sciences and Engineering Division, Computer, Electrical and Mathematical Sciences and Engineering Division, Computational Bioscience Research Center, King Abdullah University for Science and Technology (KAUST), Thuwal, Saudi Arabia
(2)
Department of Mechanics, Politecnico di Torino, Italy
(3)
Proteome Biochemistry Unit, San Raffaele Scientific Institute, Milan, Italy
(4)
Department of Animal Science, Biotechnical Faculty, University of Ljubljana, Domzale, Slovenia
Copyright
© Cannistraci et al.; licensee BioMed Central Ltd. 2013
This article is published under license to BioMed Central Ltd. This is an Open Access article distributed under the terms of the Creative Commons Attribution License (http://creativecommons.org/licenses/by/2.0), which permits unrestricted use, distribution, and reproduction in any medium, provided the original work is properly cited.