Software

Open Access

Open Peer Review
This article has Open Peer Review reports available.
ASEQ: fast allele-specific studies from next-generation sequencing data
BMC Medical Genomics
2015
8:9
Received: 17 November 2014
Accepted: 12 February 2015
Published: 1 March 2015
Abstract
Background
Single base level information from next-generation sequencing (NGS) allows for the quantitative assessment of biological phenomena such as mosaicism or allele-specific features in healthy and diseased cells. Such studies often present with computationally challenging burdens that hinder genome-wide investigations across large datasets that are now becoming available through the 1,000 Genomes Project and The Cancer Genome Atlas (TCGA) initiatives.
Results
We present ASEQ, a tool to perform gene-level allele-specific expression (ASE) analysis from paired genomic and transcriptomic NGS data without requiring paternal and maternal genome data. ASEQ offers an easy-to-use set of modes that transparently to the user takes full advantage of a built-in fast computational engine. We report its performances on a set of 20 individuals from the 1,000 Genomes Project and show its detection power on imprinted genes. Next we demonstrate high level of ASE calls concordance when comparing it to AlleleSeq and MBASED tools. Finally, using a prostate cancer dataset we report on a higher fraction of ASE genes with respect to healthy individuals and show allele-specific events nominated by ASEQ in genes that are implicated in the disease.
Conclusions
ASEQ can be used to rapidly and reliably screen large NGS datasets for the identification of allele specific features. It can be integrated in any NGS pipeline and runs on computer systems with multiple CPUs, CPUs with multiple cores or across clusters of machines.
Keywords
Allele-specific features
Parallel computation
Genome analysis
Transcriptome analysis
Next-generation sequencing
SNPs
Background
Next-generation sequencing (NGS) provides unprecedented single base level information of the human genome and transcriptome and opens up the investigation of previously unexplored biological questions. By integrating information from individuals' genetic makeup accessible in sequencing reads, it is possible to quantitatively estimate DNA somatic lesion clonality and infer tumor evolution, mosaicisms, or allele specific expression and binding [1-5]. Allele specific expression (ASE) is a common phenomenon observed in human cells where transcription originates predominantly from one allele [6,7]. Imprinted genes, physiological conditions (as for chromosome X inactivation) or other mechanisms affecting multiple sites of the human genome can contribute to the phenotypical human variability [6]. Specifically, ASE was demonstrated relevant to tumorigenesis in particular with respect to tumor-suppressor genes [8]. Transcript degradation by miRNA, mono-allelic disruption of a regulatory region or alternative splicing patterns, and alternative polyadenilation can initiate ASE [9-11] as well as epigenetic phenomena, like histone modifications inherited during mitosis or DNA methylation [7,12].
Available ASE analysis tools [4,5,13-15] either require trios, i.e. genomic information from individual's parents, or solely rely on RNA-seq data with limitations in terms of exploring large datasets or in potential high false positive rates, respectively. To overcome these limitations and readily extend the analysis to large datasets, we developed ASEQ, an application that provides a complete and easy-to-use set of functionalities to optimally and rapidly perform ASE studies. We implemented an original method to identify ASE genes from paired genomic and transcriptomic NGS data that takes full advantage of a built-in fast computational engine thus reducing the effort of single base level computation, which still represents one of the major bottlenecks in NGS data analysis. Indeed, to deal with the computationally intense task of calculating reads coverage at specific chromosomal positions (namely the pileup), which is fundamental in ASE studies, ASEQ combines the power of multi-threaded computation with samtools C APIs, a programming library that offers rapid random access functionalities to indexed alignment files [16]. We first i) tested the performances of our tool on a selected set of 1,000 Genomes Project individuals, ii) validated its allele-specific expression detection power on imprinted genes, and iii) compared the performance with existing tools. Next, we queried paired whole exomes sequencing and transcriptomes RNA-seq data of 22 individuals to nominate ASE genes potentially involved in prostate cancer.
Implementation
ASEQ is a command line application written in C that provides high performing NGS data retrieval features and statistical assessment of allele specific features. ASEQ includes a main execution mode, ASE, that performs the allele-specific expression computations and two auxiliary modes called PILEUP and GENOTYPE. PILEUP is the fast multi-threaded computational engine that is used by the other modes to generate pileups. The GENOTYPE mode is used to generate input information to ASE mode when necessary. PILEUP and GENOTYPE are also provided as standalone features as they proved successful in NGS pipelines that we recently applied to whole genome and to targeted sequencing data from tissue and plasma DNA [1,17].
Parallel pileup implementation
The auxiliary mode PILEUP allows executing the pileup analysis for a list of single nucleotide positions, e.g. polymorphic positions along the genome like SNPs, using NGS data. Input and output formats (VCF, BAM, and BED) are compliant with the 1,000 Genomes Project (all specifics are outlined in the ASEQ manual and available online). Using pileup routines from samtools APIs, our application provides a built-in multi-threaded solution that optimizes the execution time when multiple CPUs or cores are available. By specifying the number of threads T to be used, the application provides two strategies for pileup computation: the static strategy splits the list of positions into T sub lists and initiates different threads to execute parallel pileups using a shared data structure; the dynamic strategy coordinates T different threads to execute parallel pileups of sequential sub lists of determined size as specified by the user using a shared data structure. While the former strategy is desirable for most scenarios, the latter one speeds-up the computation in the presence of genomic regions with high variance of completion time (e.g. regions with high levels of amplification). For each single nucleotide position in input, the PILEUP mode returns information about the read count results for each of the 4 bases A, C, G and T, the strand bias information for each base, the genomic coordinate (chromosome and position) and the unique identifier (dbsnp ID) if available. The application also provides a way to simultaneously perform multiple pileup computations on several lists of single nucleotide positions and corresponding NGS data files.
Genotype calls
The auxiliary GENOTYPE mode determines the genotype at each input SNP position. The GENOTYPE mode is not designed to discover SNPs, but rather to compute the genotype of an input sample at known SNP positions (e.g. dbsnp catalogue). Given a list of known SNPs the application first computes the pileup from each NGS data file using the fast PILEUP computational engine and then determines the genotype calls for each sample independently. To perform genotype calls the tool offers two strategies. The first method, htperc, is based on alternative read counts percentages. The method calls a heterozygous genotype if the proportion of coverage of the alternative base with respect to the total coverage at that position is in the range [0.2,0.8] (default values); otherwise the method calls homozygous genotype, either for the reference or the alternative base. The second method, binom, implements a binomial test with probabilities p and q for the reference and the alternative allele, respectively. To account for the reference bias mapping [18], we apply default probabilities p = 0.55 and q = 0.45 (user-specific, see Additional file 1: Figure S1 and Supplementary Methods). No heterozygous genotypes are called for SNPs with reference or alternative allele coverage equal to zero. However, since this option can be too restrictive in presence of low coverage, the parameter can be set by the user, thus allowing the binomial test to be executed. Regardless of the method chosen, read counts information for reference and alternative alleles are included in the output files and are then utilized to optimize the ASE analysis. To streamline the input of the ASE mode, the GENOTYPE mode returns an output file restricted to the subset of SNPs with heterozygous genotypes. The complete list is also provided in a separate file.
ASE analysis
The main ASE mode performs allele specific expression analysis. Two input options are implemented: (i) the
gene model
input that requires a list of coding heterozygous SNPs of the sample and a list of genes start/end coordinates; (ii) the
transcript model
input that requires a list of heterozygous SNPs of the sample and a list of transcripts with exonic coordinates. In the gene model option ASEQ matches coding SNPs and gene coordinates, whereas in the transcript model option transcript specific exon coordinates are considered for each SNP. The input list of heterozygous SNPs can be generated through the GENOTYPE mode or any other suitable SNPs genotyping tool, e.g. GATK [
19
]. Figure
1
A shows the standard ASEQ pipeline using the gene model input.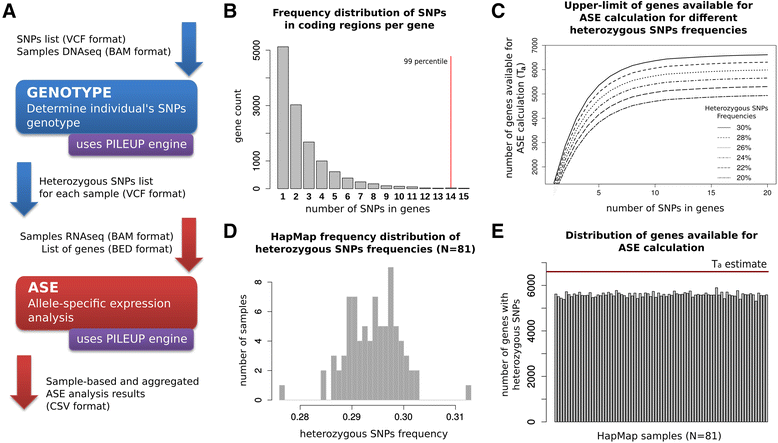 Given a gene, the list of coding heterozygous SNPs for a study individual and the RNA-seq data file, the application performs the heterozygosity test on the RNA data at each input SNP position (using the previously described binomial method with p = q = 0.5, tunable by the user). A position is annotated as showing ASE, when a non-heterozygous call in NGS RNA-seq data is detected. To control for false positive ASE calls due to different depths of coverage between the DNA- and the RNA-seq data, the application performs an additional statistical test on the reference and alternative alleles counts proportions from the DNA and the RNA NGS data (Fisher Exact Test), whenever the DNA coverage information is available. For each sample and each gene with available heterozygous SNPs in the sample a, ASEQ returns a positive ASE result if the proportion of SNPs passing the test (denoted as ASE score) is greater than a predefined threshold (user-specific, default equal to 0). For all gene-sample pair without available heterozygous SNPs or RNA-seq data coverage below a user-specified threshold, the application returns a flag of not available for ASE calculation. Additionally, when multiple samples are investigated, the application also returns an ASE gene flag if it shows ASE in at least N samples available for the gene ASE calculation (user-specific, default N = 1). As output, ASEQ provides both sample-based and aggregated ASE results.
For each execution mode the user can specify the minimum base quality score, the minimum read quality score and the minimum depth of coverage for the pileup computations and the significance threshold for the statistical tests used in the GENOTYPE and ASE modes (default values set to 0, 0, 1, 5%, and 5%, respectively).
Conclusions
We presented a tool to rapidly screen NGS datasets for allele specific expression studies. This tool can also be applied to investigate eQTL [28]. Systematic assessment of ASEQ performance showed the efficacy and reliability of the approach on multiple datasets and identified potential cancer related ASE genes. The tool can be used within any NGS pipeline that runs on computer systems with multiple CPUs, CPUs with multiple cores, or across clusters of machines. As future work we will apply ASEQ to identify tissue and cancer specific ASE genes and explore its efficacy in detecting allele-specific binding (ASB) patterns in cancer.
Availability and requirements
Project name: ASEQ
Project home page: http://demichelislab.unitn.it/ASEQ
Operating system(s): Platform independent
Programming language: C
License: MIT
Endnotes
aNote that a gene may span multiple SNPs.
bNote that while ASEQ PILEUP mode returns the read count for each base separately, to have the same output data GATK Pileup mode would require an additional processing step that for simplicity here is not considered in the overall GATK Pileup execution time.
cDifferent tools embed different preprocessing, filtering and processing pipelines along with different set of conditions to be satisfied for an ASE call to be made. This may result in different set of analyzable genes.
Abbreviations
NGS:

Next-generation sequencing
ASE:

Allele-specific expression
WGS:

Whole genome sequencing
WES:

Whole exome sequencing
UCSC hg19 gene catalogue:

UCSC hg19 knownGenes catalogue
Declarations
Funding
Department of Defense (PC094516 and PC101020P2 to F.D., A.R. and D.P.), National Cancer Institute (R01CA152057 to F.D.), and the Associazione Italiana per la Ricerca sul Cancro (AIRC, IG 13562 to F.D.).
Authors' Affiliations
(1)
Centre for Integrative Biology (CIBIO), University of Trento, Trento, Italy
(2)
Department of Pathology and Laboratory Medicine, Weill Cornell Medical College, New York, USA
(3)
Institute for Computational Biomedicine, Weill Cornell Medical College, New York, USA
(4)
Institute for Precision Medicine, Weill Cornell Medical College & New York Presbyterian Hospital, New York, USA
Copyright
© Romanel et al.; licensee BioMed Central. 2015
This article is published under license to BioMed Central Ltd. This is an Open Access article distributed under the terms of the Creative Commons Attribution License (http://creativecommons.org/licenses/by/4.0), which permits unrestricted use, distribution, and reproduction in any medium, provided the original work is properly credited. The Creative Commons Public Domain Dedication waiver (http://creativecommons.org/publicdomain/zero/1.0/) applies to the data made available in this article, unless otherwise stated.