Research article
Open Access
Open Peer Review
This article has Open Peer Review reports available.
Integrated network analysis and logistic regression modeling identify stage-specific genes in Oral Squamous Cell Carcinoma
BMC Medical Genomics
2015
8:39
Received: 9 March 2015
Accepted: 6 July 2015
Published: 16 July 2015
Abstract
Background
Oral squamous cell carcinoma (OSCC) is associated with substantial mortality and morbidity but, OSCC can be difficult to detect at its earliest stage due to its molecular complexity and clinical behavior. Therefore, identification of key gene signatures at an early stage will be highly helpful.
Methods
The aim of this study was to identify key genes associated with progression of OSCC stages. Gene expression profiles were classified into cancer stage-related modules, i.e., groups of genes that are significantly related to a clinical stage. For prioritizing the candidate genes, analysis was further restricted to genes with high connectivity and a significant association with a stage. To assess predictive power of these genes, a classification model was also developed and tested by 5-fold cross validation and on an independent dataset.
Results
The identified genes were enriched for significant processes and functional pathways, and various genes were found to be directly implicated in OSCC. Forward and stepwise, multivariate logistic regression analyses identified 13 key genes whose expression discriminated early- and late-stage OSCC with predictive accuracy (area under curve; AUC) of ~0.81 in a 5-fold cross-validation strategy.
Conclusions
The proposed network-driven integrative analytical approach can identify multiple genes significantly related to an OSCC stage; the classification model that is developed with these genes may help to distinguish cancer stages. The proposed genes and model hold promise for monitoring of OSCC stage progression, and our findings may facilitate cancer detection at an earlier stage, resulting in improved treatment outcomes.
Keywords
Coexpression network analysisGene moduleHub geneMicroarrayOral squamous cell carcinomaLogistic regression modeling
Background
Oral cancer is a common cancer worldwide with squamous cell carcinoma being the most prevalent subtype, which accounts for 96 % of oral-cavity cancers [1]. There are ~260,000 new cases of oral squamous cell carcinoma (OSCC) and 124,000 deaths worldwide annually [2]. Despite considerable advances in treatments, the overall five-year survival rate of patients at the advanced stage is only 30 %, but is greater than 90 % among patients with early-stage OSCC [3]. Unfortunately, only 35 % of cases of oral cancer are detected at the earliest stage (without producing symptoms) [4]because of its molecular complexity and clinical behavior. Therefore, there is an urgent need for identifying molecular predictors that may enable cancer detection at early stages.
Remarkable advances in technologies for assaying gene expression and the availability of high-throughput data have opened up new avenues of cancer research that may allow researchers to generate hypotheses regarding improved disease classification. Global gene expression profiles in OSCC have been studied using traditional approaches which have helped to identify some candidate gene biomarkers on the basis of comparison between cancerous and non-cancerous cases [5–7]. In addition, several computational methods have been developed to identify biomarkers for oral cancer prognosis and diagnosis [8–10]. Comparative analysis of expression profiles between early and late stages has uncovered genes with stage-dependent alterations in expression of various cancers [11, 12]; however, to our knowledge, not much efforts has been devoted to analysis of OSCC stage progression in relation to aggressiveness of the cancer.
Genes and proteins function cooperatively and thus regulate common biological processes by co-regulating each other [13]; however, genes identified via the classical approaches are usually not functionally related and therefore may not reveal key biological processes. Because of these limitations, the traditional approaches are not very useful for identification of specific genes that contribute to or are affected by complex diseases. Fortunately, rapid advances in network biology have effectively provided valuable frameworks for analysis of multidimensional biological data and have important applications to clinical practice. Instead of analyzing tens of thousands of gene comparisons, the network-based analysis offers a meaningful data reduction scheme that limits the analysis to only hundreds [14–16] or even tens [17–20] of relevant genes. Altered gene coexpression networks have been proven to be the major cause of dysregulated expression during cancer progression [21, 22]. Diseases can therefore be studied as networks by systematically exploring topological associations between contributing genes. Gene coexpression networks have been utilized even to identify key tumorigenic genes with the aim to find biomarkers or to gain insights into probable disease mechanisms. Nevertheless, most of these studies remain limited to physically interacting genes and do not take into account their associations with the disease phenotype. On the other hand, disruption in connections within disease modules give rise to particular disease phenotypes [23]. Thus, now it seems to be more important to consider the phenotypic association in order to characterize the mechanisms of disease progression [24].
A complex alteration of global gene expression profiles among genes is a determinant of progression of cancer stages and grades [25–27].Because genes that are highly connected within a gene set are thought to drive other genes [28], it was hypothesized that examining the altered gene expression profiles of key genes might help to discriminate between early and late stage cancers. Although cancer stage is an effective prognostic factor, to the best of our knowledge, systematic studies characterizing gene expression data in relation to OSCC stage progression are scarce.
In the present study, we identified key genes associated with OSCC stage and developed a classification model to discriminate the two most common OSCC groups: early stages (I, II) versus late stages (III, IV). For this purpose, first, a set of highly correlating genes was obtained from a gene coexpression network. For prioritizing the candidate genes, the analysis were then restricted to genes with high connectivity and a significant association with cancer stage. To advance the understanding of these relations, using expression profiles of the putative gene candidates, we then develop a classification model to discriminate cancer stages; this model helped to classify OSCC efficiently. The methodology presented herein seems to be the first implementation of key hub genes (depending on topological and phenotypic importance) to identify an OSCC stage and may predict clinical aggressiveness of this cancer.
Methods
To identify the key genes whose expression may discriminate between early- and late-stage OSCC samples, we adopted the following major steps: (1) merging of multiple microarray datasets to identify differentially expressed genes (DEGs) in tumor samples compared to normal (healthy) controls, (2) analysis of the gene coexpression network to identify stage associated modules and their key hub genes, and (3) development of a hub gene-based classifier model to distinguish OSCC stages. Schematic representation of the overall strategy is shown in Fig.
1
.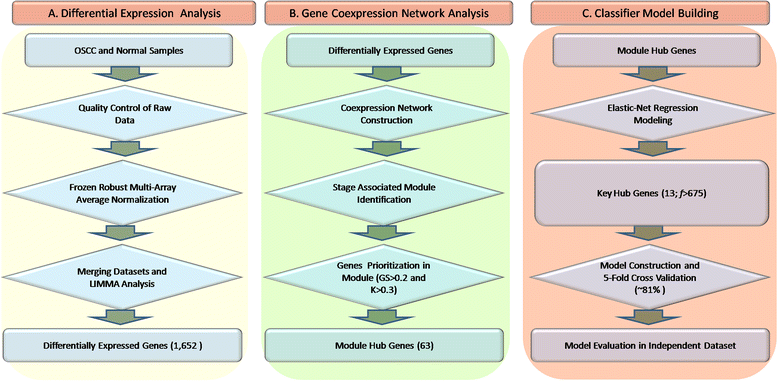 Results
Our analysis consisted of several steps: a flow chart of the method is provided in Fig. 1. The results of our analysis are summarized in the following major steps: (1) data acquisition and merging of multiple microarray datasets to identify DEGs in tumor samples, (2) analysis of the gene coexpression network to identify cancer stage-associated modules, and (3) identification of cancer hub genes and development of a key hub gene-based classifier model to distinguish OSCC stages. Details of each step are summarized below.
Discussion
The clinical stage of cancer is the most important determininant of a treatment regimen for a patient and is useful for assessment of the risk of metastases and for prediction of recurrence and mortality in patients with oral cancer; thus, the cancer stage is an efficient tool for improvement of survival rates. Accordingly, to improve the survival rates among the patients, OSCC should be diagnosed as early as possible. Given the difficulty of procuring stages in cancer, it is important to determine expression profiles of genes associated with these stages. The emerging field of systems biology can help to elucidate biological mechanisms underlying complex traits and may provide a functional context for identifying those genes that contribute to cancer development. Alterations in gene expression correlate with a tumor histotype, grade, and stage. Various researchers have utilized differential expression analysis along with coexpression network mining and identified important regulatory networks in cancer datasets [97]. Furthermore, network-based approaches are known to perform better at prediction of cancer metastasis in comparison with gene-based approaches [98]. Considering these advantages, we implemented a meta-analysis and knowledge-independent approach to construct a gene coexpression network and then developed a stage prediction model to discriminate early- and late-stage OSCC tumors. Our assumption was that a group of interconnected genes with topological and trait relevance (rather than a large number of individual genes) may yield most reliable predictions regarding an OSCC stage.
Thus, the WGCNA-based gene coexpression network was analyzed here to identify modules of strongly correlated genes during OSCC stage progression. Although many alternative coexpression network methods have been proposed [99], WGCNA offers several valuable opportunities including interpretation of module robustness, calculation of network properties, and the possibility of association of modules with external clinical traits. In this study, the network was based on analysis of tumor samples; therefore, it can provide a glimpse into the disease status where specific characteristics of stage progression are involved. Because modules showed genes of biological interest, focusing on them seems to be a biologically meaningful data reduction scheme. One coexpression module (pink) was found to be strongly associated with cancer stages (Fig. 4a), suggesting that genes in this module contribute to or are driven by a cancer stage. Furthermore, the pink module is also distinct from the others in the sense that genes within this module positively correlate with the phenotype of an OSCC stage and offer the highest significance of the module as well (Fig. 4b).
Gene regulation occurs in the context of complex networks of interactions among multiple genes rather than in a linear one-to-one process [100]. Much attention has been focused on the modular approach to selection of targets for a therapeutic intervention. In the present study, we further refined the core of oncogenic module by identifying the most central genes also called hubs. It is worth noting that the number of hubs depends upon the threshold and can be varied accordingly. Modules may arise due to non-biological variation; therefore they were tested for enrichment.
As mentioned earlier, different cancers can share common characteristics including cell cycle regulation [90], phosphate metabolic processes [84], and regulation of keratinocyte proliferation [93] (Table 2).Our findings are consistent with the notion that these common processes are associated with cancers.
Additionally, ontological associations of hub genes can be extended to a neighboring highly connected gene cluster comprising coexpressed genes, within the confines of a given module. Besides categories related to cancer-associated ontological terms, these central players showed direct significant evidence of known cancer-associated pathways. Several of the hub genes that we identified in the pink module are consistent with the results of other studies on cancer, though some hub genes did not show any association with OSCC. Apart from their topological centrality, gene significance—which measures the strength of differential gene expression between the early- and late-stage groups—also points to an important association of these genes with the phenotypic traits of an OSCC.
A smaller number of biomarkers often does not perform well, whereas a cancer classification system that is based on an expression profile of a reasonable number of genes can outperform standard systems that are based on clinical and histological criteria [101, 102]. Feature screening is a useful approach to analysis of multidimensional data with the aim of identifying all features relevant to the response variables. Elastic-net regression has been proposed as a way to select significant features and was even used to select genes relevant to diagnosis or prognosis of a disease [103, 104]. In our analysis, elastic-net regression modeling was used to identify the best subset of hub genes (those that have the strongest correlations with the stage phenotype). The classifier model that was developed by means of differential expression of 13 key hub genes was potent enough to discriminate between OSCC stages.
Detailed and systematic literature search suggests that dysregulation of these hub genes is directly involved in OSCC and may play an important role in the development of other cancers. For example, GNA12 [105], GLS [106], SNX10 [107], and HOXA1 [108] are often dysregulated in OSCC, while the genes CBX3 [109] and ABCC4 [110] are differentially regulated in HNSCC. In addition, CBX3 and ABCC4 are promising therapeutic targets in osteosarcoma [111] and pancreatic cancer [112], respectively. CBX3 has been reported to function in chromatin packaging and gene expression regulation and has also been found to possibly regulate euchromatin repression by associating with nucleosomes in heterochromatin [113]. Some studies have also shown that high expression of CBX3 is associated with other tumors [113].
Up-regulated genes EGFR [114] and HMGA2 [115] are possible tumor markers of OSCC. HMGA2 was found to be highly expressed in metastatic lung adenocarcinoma and contributes to cancer progression and metastasis [116]. EGFR regulates signaling pathways that participate in developmental processes, including cell cycle activation, cell survival, proliferation, and angiogenesis [117]. Furthermore, dysregulation of EGFR is among the most frequently studied molecular events that leads to oral carcinogenesis, and OSCCs show upregulation of EGFR by 42 % to 58 % [118]. Various studies have highlighted the role of EGFR in the pathogenesis of oral carcinoma [119], and this protein is also frequently expressed in many types of cancer, including HNSCC [120].
In the present study, involvement of some of the selected genes in OSCC is not supported by direct evidence; however, they may be linked to tumorigenesis indirectly. For example, GLS plays an important role in cell growth and energy metabolism during cancer stage progression [121], while HMGB3 promotes cell proliferation and migration and is associated with poor prognosis in urinary bladder cancer [122]. In addition to large consumption of energy, cancer cells accumulate building blocks like nucleic acids, lipids, and cofactors for construction of new cellular components, including amino acids [123]. Glutamine is among the main sources for maintenance of activity of essential metabolic pathways such as glycolysis and the anaplerotic flux of the tricarboxylic acid cycle. GLS converts glutamine to glutamate and performs an important function in cell growth and energy metabolism during cancer stage progression [121]. Furthermore, some reports have suggested that inhibition of GLS slows down the growth of glioblastoma cells and therefore may be therapeutic strategy against such cancers [121].
Although precise role of the HMGB3 gene has not been determined in OSCC, this gene promotes cell proliferation and migration and performs an important function in DNA replication, recombination, and repair [122]. Altered expression of this gene is also associated with other cancers including urinary bladder cancer [122], metastatic breast cancer [124], and gastric cancer [125].
Metabolic processes can be adapted in a way to drive macromolecular biosynthesis for rapid cell growth and proliferation [126]. Serine can be converted to glycine, which provides carbon units for one-carbon metabolism; therefore, the serine biosynthetic pathway plays a crucial role in glucose conversion [127]. The PSPH gene was found to be upregulated in the L-serine biosynthetic pathway during metastasis [128]. Serine biosynthesis is also elevated in tumor lysates [129], where PSPH acts as a rate-limiting enzyme of this pathway [130]; this finding is indicative of its regulatory role in tumor progression.
Tumor-associated macrophages (TAMs) have both positive and negative effects on tumor growth of various cancers. Since TAM expression is significantly associated with stages of invasion, these cells possibly play a role in angiogenesis during oral cancer progression [131].
MMD, a gene associated with differentiation of monocytes into macrophages, is a key signature of a relapse and survival among patients and is involved in lung cancer [132]. Although function of the MMD protein is unknown, certain studies have shown that macrophage activation promotes cancer metastasis [133].
GNA12 mRNA levels are significantly upregulated in OSCC, and consistently high levels of the GNA12 protein expression are detected in ~75 % of OSCC tissues. Overexpression of this protein drives migration and invasion of oral cancer cells; targeting of GNA12 was proposed for prevention of metastasis [105].
Although the expression profile and function of ABCC4 in OSCC remain unclear, this gene is a promising target for treatment of pancreatic cancer[112]. HOXA1 is dysregulated in various cancers, for example it is overexpressed in OSCC [108] (where it promotes cell proliferation) and is downregulated in small cell lung cancer [134].
MicroRNAs are important for regulation of post-transcriptional repression of some genes and have been identified as statistically unique markers for discrimination of cancer from healthy tissue, thus serving as a valuable tool for cancer diagnosis [10, 135]. Differentially expressed microRNAs have been found to tightly regulate four of the possible biomarkers that we identified—HMGA2, EGFR, HOXA1, and ABCC5/ABCC4 [10]—further supporting their involvement in oral-cancer progression. Although the exact role of some of the selected genes—PSPH, ATP2C1, MMD, ATP13A3, ABCC4, and HMGB3—has not been established in OSCC, a modular hierarchy and "guilt-by-association" rule may be utilized to identify the direct (or indirect) association of these genes with OSCC. Because these hub genes have good predictive power at distinguishing OSCC stages, they may provide new insights into the biological mechanisms underlying the stage progression.
Our study was somewhat limited by the next-generation sequencing data perspective [136], and we used a relatively small set of genes in the coexpression analysis. Additionally, due to limited availability of clinical data, it was not possible to incorporate other phenotypic parameters into our analysis (e.g., cancer grade and type). Nevertheless, our study has several strengths including the use of multiple large datasets, careful QC, a powerful statistical approach to identification of modules, and a well established and validated model that can effectively discriminate between early- and late-stage OSCC tumors. Despite simplicity, our systematic analysis illustrates a method for classification of OSCC stages; this method can help researchers to identify the cancer stage by means of molecular features instead of histopathological analysis or measurement of tumor size. With the availability of additional samples and inclusion of more clinical and topological feature vectors, the accuracy of this prediction model may be enhanced. We expect that, if confirmed in empirical studies, the selected gene features will speed up the discovery of molecular signatures of stage progression in OSCC. This approach may also open up opportunities for development of novel diagnostic modalities or therapeutic interventions in other cancers.
Conclusions
We present a systematic computational and statistical pipeline, comprising differential expression, analysis of a gene coexpression network, and logistic regression modeling. This method helped us to identify13 key hub genes as features associated to stage progression in OSCC. We were able to differentiate between early- and late-stage tumor samples on the basis of differences in expression profiles of the 13 identified genes. Although some of the hub genes are OSCC-specific, many have been implicated in other carcinomas. Since all genes in a module are strongly associated, our results may point to a number of other promising candidate genes that warrant further analysis; hence, empirical studies will be needed to address their specific roles. For example, the precise roles of some of our selected genes—PSPH, ATP2C1, MMD, ATP13A3, ABCC4, and HMGB3—are unknown in OSCC. If characterized, these genes may define OSCC-associated processes or may serve as possible therapeutic targets. The selected gene set may turn out to be a valuable reference set for identification and validation of biomarkers of OSCC. To the best of our knowledge, this study is the first implementation of key hub genes (by means of expression profiles and coexpression network) to develop a classification model for OSCC stages.
Abbreviations
AUC:

Area under the ROC curve
BC:

Betweenness centrality
BP:

Biological processes
DEG:

Differentially expressed gene
FDR:

False discovery rate
GEO:

Gene Expression Omnibus
GO:

Gene ontology
GS i GS:

Gene significance
HNSCC:

Head and neck squamous cell carcinoma
HPV:

Human papilloma virus
MDS:

Multidimensional scaling
ME:

Module eigengene
MS:

Module significance
OSCC:

Oral squamous cell carcinoma
ROC:

Receiver-operating characteristic
WGCNA:

Weighted gene correlation network analysis
Declarations
Acknowledgments
We thank CSIR-Institute of the Himalayan Bioresource Technology (CSIR-IHBT) project "Computational Systems and Network Biology" for the computational infrastructure. Infrastructural support in the form of the Bioinformatics Infrastructure Facility (BIF) was provided by the Department of Biotechnology, the Government of India. VR was supported by a fellowship from the CSIR project "Physiological biochemical and molecular analysis of economically important plants for understanding and exploiting their growth, adaptation and metabolic mechanisms". This manuscript represents IHBT communication number: 3802.
Authors' Affiliations
(1)
Functional Genomics and Complex Systems Laboratory, Biotechnology Division, CSIR-Institute of Himalayan Bioresource Technology, Council of Scientific and Industrial Research, Palampur, India
(2)
Academy of Scientific and Innovative Research (AcSIR), New Delhi, India
Copyright
© Randhawa and Acharya. 2015
This article is published under license to BioMed Central Ltd. This is an Open Access article distributed under the terms of the Creative Commons Attribution License (http://creativecommons.org/licenses/by/4.0), which permits unrestricted use, distribution, and reproduction in any medium, provided the original work is properly credited. The Creative Commons Public Domain Dedication waiver (http://creativecommons.org/publicdomain/zero/1.0/) applies to the data made available in this article, unless otherwise stated.