Research article
Open Access
Open Peer Review
This article has Open Peer Review reports available.
Microarray analysis of peripheral blood lymphocytes from ALS patients and the SAFE detection of the KEGG ALS pathway
BMC Medical Genomics
2011
4:74
Received: 24 May 2011
Accepted: 25 October 2011
Published: 25 October 2011
Abstract
Background
Sporadic amyotrophic lateral sclerosis (sALS) is a motor neuron disease with poorly understood etiology. Results of gene expression profiling studies of whole blood from ALS patients have not been validated and are difficult to relate to ALS pathogenesis because gene expression profiles depend on the relative abundance of the different cell types present in whole blood. We conducted microarray analyses using Agilent Human Whole Genome 4 × 44k Arrays on a more homogeneous cell population, namely purified peripheral blood lymphocytes (PBLs), from ALS patients and healthy controls to identify molecular signatures possibly relevant to ALS pathogenesis.
Methods
Differentially expressed genes were determined by LIMMA (Linear Models for MicroArray) and SAM (Significance Analysis of Microarrays) analyses. The SAFE (Significance Analysis of Function and Expression) procedure was used to identify molecular pathway perturbations. Proteasome inhibition assays were conducted on cultured peripheral blood mononuclear cells (PBMCs) from ALS patients to confirm alteration of the Ubiquitin/Proteasome System (UPS).
Results
For the first time, using SAFE in a global gene ontology analysis (gene set size 5-100), we show significant perturbation of the KEGG (Kyoto Encyclopedia of Genes and Genomes) ALS pathway of motor neuron degeneration in PBLs from ALS patients. This was the only KEGG disease pathway significantly upregulated among 25, and contributing genes, including SOD1, represented 54% of the encoded proteins or protein complexes of the KEGG ALS pathway. Further SAFE analysis, including gene set sizes >100, showed that only neurodegenerative diseases (4 out of 34 disease pathways) including ALS were significantly upregulated. Changes in UBR2 expression correlated inversely with time since onset of disease and directly with ALSFRS-R, implying that UBR2 was increased early in the course of ALS. Cultured PBMCs from ALS patients accumulated more ubiquitinated proteins than PBMCs from healthy controls in a serum-dependent manner confirming changes in this pathway.
Conclusions
Our study indicates that PBLs from sALS patients are strong responders to systemic signals or local signals acquired by cell trafficking, representing changes in gene expression similar to those present in brain and spinal cord of sALS patients. PBLs may provide a useful means to study ALS pathogenesis.
Keywords
Gene OntologyAmyotrophic Lateral SclerosisAmyotrophic Lateral Sclerosis PatientMotor Neuron SurvivalSporadic Amyotrophic Lateral Sclerosis
Background
Amyotrophic lateral sclerosis (ALS) is a progressive neurodegenerative disease causing muscle weakness and wasting resulting from the loss of motor neurons in brain and spinal cord characterized by ubiquitinated inclusions in brain and spinal cord of post mortem ALS patients [1]. Several genome-wide association studies (GWAS) have shown evidence of genetic heterogeneity underlying disease susceptibility [2]. Single nucleotide polymorphisms were found in the ITPR2 (inositol 1,4,5-triphosphate receptor, type 2) [3], FGGY (FGGY carbohydrate kinase domain containing) [4], DPP6 (dipeptidyl-peptidase 6) [5], with variable strength of association with ALS and limited replication. None of these genes has been proven relevant to the pathogenesis of ALS. More recently, mutations were found in the UNC13A (unc-13 homolog A) gene [6] and in the 9p21 chomosomal locus [7]. To overcome challenges in the interpretation of results from GWAS and data from the world of "omics" in general, ALS researchers are actively engaged in integrative global bioinfomatics and the creation of ALS models for development of new ALS therapies (Euro-MOTOR project) [8]. Despite genetic heterogeneity underlying disease susceptibility, the clinical manifestations of the ALS phenotype are relatively homogeneous; suggesting that at the cellular and molecular levels there may be a convergence of a limited number of pathways that could lead to the ALS phenotype.
Gene expression profiling studies using microarrays and/or real time quantitative RT-PCR have been conducted on various tissues from rodent models for ALS such as muscle or brain tissues, lumbar spinal anterior horn tissues, spinal cord motor neurons isolated by laser capture microdissection (LCM), whole blood or peripheral blood mononuclear cells (PBMCs). Similar studies were performed on spinal cord tissues or LCM-isolated motor neurons obtained post mortem from ALS patients. Roughly, ~1000 unique genes were found differentially expressed but only ~5% differentially expressed in the same direction in more than one study [9], indicating little reproducibility. Poor reproducibility may be due to the use of different gene expression profiling methods or platforms, tissue of different origin, methods used for biological sample preparation, time of tissue collection at pre-symptomatic or symptomatic stage, and use of a particular batch of rodents or human cohort. Rather, one may find greater commonalities at the pathway alteration level with regard to apoptosis regulation, calcium regulation, oxidative stress and mitochondrial function, ER-stress and unfolded protein response (UPR), UPS and autophagy, RNA processing, DNA metabolism, axonal transport, integrity of the neuromuscular junction, muscle atrophy, and direct/indirect interactions with astrocytes, microglia and T-cells. Within these biological processes, genes of importance are those with mutations or polymorphisms shown to confer susceptibility to or cause ALS; or genes playing a critical role in the pathways that involve susceptibility genes.
A number of studies have sought blood biomarkers that may be useful to detect early signs of ALS, assess disease progression, monitor treatment effects, or track down the cause(s) of the disease, in a minimally-invasive fashion in ALS patients. Using qRT-PCR, Lin et al. (2009) have shown subtle transcriptional down-regulation of mitochondrial electron-transfer chain genes in whole blood from ALS patients [10]. Saris et al. (2009) have identified co-expressed gene modules (clusters) in total blood from sporadic ALS (sALS) patients [11]. These findings resulted from subtle differential expression of 2300 probe-encoded genes and were related to biological/disease categories such as post-translational modification, infection mechanism, inflammatory disease, neurological disorder, and skeletal and muscular disorder. Gagliardi et al. (2010) showed increased SOD1 mRNA expression in spinal cord, brain stem and lymphocytes of sporadic ALS (sALS) patients [12]. Zhang et al. (2011) identified gene expression profiles of short-term cultured PBMCs from ALS patients, demonstrating the activation of monocytes/macrophages via the LPS/TLR4 neuroinflammatory pathway [13]. Lincecum et al. (2010) demonstrated the activation in ALS pathogenesis of a co-stimulatory pathway bridging the activation of T-cell responses and the amplification of the innate immune response, based on gene expression profiles obtained from whole blood of the G93A SOD1 mouse model and ALS patients [14]. Circulating white blood cells might acquire certain properties from long distance signals mediated by small metabolites or macromolecules circulating in peripheral blood. They might also acquire novel properties from trafficking at sites of neurodegeneration associated with rupture of the blood brain barrier or blood-spinal cord barrier in early and late ALS to a variable degree. Further investigation in this area of ALS research is critically needed [15].
In the current work, we analyzed RNA extracted from PBLs of ALS patients and control subjects, thereby reducing some of the complexity of mixed expression patterns generated by RNA from reticulocytes, granulocytes, monocytes, thrombocytes and plasma, normally present in whole blood. Indeed, gene expression profiles of blood-derived samples are strongly dependent on the predominant constituent cell type(s) [16, 17]. Analyses of mRNA expression data by LIMMA [18], SAM [19] and SAFE [20], revealed alterations of the ubiquitin/proteasome system (UPS). Using proteasome inhibition assays, parallel changes of UPS activity at the protein level were determined in subcultured PBMCs (mainly composed of lymphocytes) from ALS patients, by Western blot analysis.
Methods
Isolation of peripheral blood lymphocytes from ALS patients and controls
During year 2007 until March 2008, blood samples to be used for microarray analysis were collected at Carolinas Neuromuscular/ALS-MDA Center with approval by the IRB at Carolinas Medical Center. Informed consent was obtained from all participants to this study. ALS diagnosis was determined according to the El Escorial Criteria for "definite" ALS after exclusion of other conditions [
21
]. Disease onset was defined as time of initial weakness, dysarthria or dysphagia. Blood samples (~18 mL) were drawn from sporadic definite ALS patients and healthy control (HC) subjects by venipuncture into tubes adequate for either serum or lymphocyte isolation. The healthy controls (HCs) consisted of 9 white females (mean age 51.4 ± 11 (standard deviation) years) and 2 white males (64, 65). The sALS patients consisted of one black male (49), one black female (69), 5 white females (mean age 59 ± 20 years), and 4 white males (mean age 47 ± 9 years). Table
1
presents the clinical characteristics of the enrolled patients and healthy controls subjected to microarray analysis. PBMCs were isolated using Histopaque™-1077 density gradient centrifugation method. Using this procedure, yields were generally 1-2 × 10
6
PBMCs per mL of blood. Lymphocytes were further enriched to over 90% purity from the PBMC fraction by subsequent PERCOLL gradient centrifugation [
22
]. Blood samples were processed immediately upon reception in the lab within 30 minutes after blood draw.
Table 1
Demographic and clinical data for ALS patients (n = 11) and healthy controls (n = 11) enrolled for Agilent Human Whole Genome 4 × 44k Array analysis
| Clinical Data at Time of Collection | ALS patients | Healthy controls |
| --- | --- | --- |
| Mean age ± SD | 53.8 ± 13 | 52.2 ± 11 |
| Female | 6 | 9 |
| Male | 5 | 2 |
| Bulbar onset | 2 | - |
| Limb onset | 8 | - |
| Generalized | 1 | - |
| ALSFRS-R <24 | 5 | - |
| ALSFRS-R >24 | 6 | - |
| Onset of weakness ≤1 yr | 4 | - |
| Onset of weakness 1-5 yrs | 4 | - |
| Onset of weakness >5 yrs | 3 | - |
| Mean age of onset ± SD | 47.2 ± 18 | - |
| Death <3 yrs post-onset | 3 | - |
| Death >5 yrs post-onset | 2 | - |
| Mean age of death (n = 5) ± SD | 62.2 ± 12 | - |
RNA extraction, amplification, and dual mode reference design microarrays
The common reference design [23] was used for sample assignment in the dual color mode of expression assay on the Agilent Human Whole Genome 4 × 44k Microarrays to analyze ~40000 transcripts. Microarray experiments were performed, in which each of the 22 RNA samples (HC and sALS) was co-hybridized with RNA from the HC reference pool that was constituted with equal amounts of each of the 11 RNA samples from healthy controls. Total RNA stored in TRIzol (Invitrogen) at -80°C, was extracted from the lymphocyte samples at Cogenics, Inc. (Morrisville, NC) by standard procedures. The quantity of each of the total RNA samples and determination of the A260/280 nm ratio was determined by spectrophotometry and the size distribution was assessed using an Agilent Bioanalyzer. Fifty nanograms of total RNA was converted into labelled cRNA with nucleotides coupled to a fluorescent dye (either Cy3 or Cy5) using the Quick Amp Kit (Agilent Technologies, Palo Alto, CA) following the manufacturer's protocol. The A260/280 nm ratio and yield of each of the cRNAs were determined and a quality assessment was done using an Agilent Bioanalyzer. Equal amounts of Cy3 and Cy5-labeled cRNA (825 ng) from two different samples were hybridized to Agilent Human Whole Genome 4 × 44k Microarrays. The hybridized array was washed and scanned and data were extracted from the scanned image using Feature Extraction version 10.2 (Agilent Technologies). The non-normalized and normalized microarray datasets have been deposited in the NCBI Gene Expression Omnibus [24] as series GSE28253.
Statistical analyses and SAFE data mining
Raw data .txt files in Agilent format were converted to .MEV files using ExpressConverter™ v2.1 of the TM4 Microarray Suite (TIGR Genomics, Rockville, CA). Background-subtracted raw data were normalized using the MIDAS pipeline (TM4, TIGR Genomics, Rockville, MD) according to Sioson et al. (2006) with the following steps: total intensity normalization, LocFit (LOWESS), standard deviation regularization and low intensity trim [25]. Filtering stringencies requiring that the integrated signal intensities (ISI) for each Cy3 and Cy5 channels were more than two standard deviation(s) of the Cy3 and Cy5 background (ISI = 7000), generated the dataset DS7000 [7199 probes, 5540 unique genes]. DS7000 was subjected to LIMMA [18] and SAM [19] analyses using TMeV v4.5.1 program (TM4, TIGR Genomics, Rockville, MD) to determine differentially expressed genes. The false discovery rate (FDR) was 1.17% (delta = 0.90) for DS7000. SAFE analysis was performed with Bioconductor 2.5 according to Barry, Nobel, and Wright (2005) [20] to identify gene sets demonstrating different expression levels between classes of comparison. Default settings for local (t-test) and global (Wilcoxon) statistics were used. Comparisons were based on gene ontology databases for biological processes, molecular functions, cellular components, and the protein families (Pfam) and KEGG databases.
Total ubiquitination and proteasome inhibition assays with PBMCs from ALS patients and healthy controls
Freshly isolated PBMCs (composed of ~80% lymphocytes and ~20% of monocytes per flow cytometry analysis) from ALS patients and healthy controls, were subcultured overnight (O.N.) for 18 hr at 37°C in RPMI (Invitrogen) supplemented with 10% FCS (Invitrogen) and supplemented or not with added-back matched autologous serum that had been prepared in parallel. These PBMCs were treated, or not treated, for 1.5 hrs at 37°C with the reversible proteasome inhibitor MG132 (Sigma). For each patient or healthy control, serum was prepared separately from PBMCs from the same blood draw. Matched serum was supplemented at a concentration of 20% to the O.N. cultures. A total of 750000 cells were seeded per well of a 48-well plate. Cells were treated with 10 μM proteasome inhibitor MG132 or DMSO vehicle at 0.09% for 1.5 hrs. Cells were collected and snap frozen until Western blot analysis. Cells were lysed into RIPA buffer (150 mM NaCl, 1.0% IGEPAL® CA-630, 0.5% sodium deoxycholate, 0.1% SDS, 50 mM Tris, pH 8.0) including protease inhibitor cocktails [complete Mini EDTA-free protease inhibitor cocktail tablets (Roche) and Protease Inhibitor cocktail P8340 (Sigma)]. Total protein was quantified using BioRad Dc protein assay. An aliquot (20 μg total protein) was supplemented with 2x Laemmli's sample buffer and boiled for 5 minutes prior to separation by sodium dodecyl sulfate (SDS)-12.5% polyacrylamide gel electrophoresis for 130 min at 100V. Proteins were transferred to polyvinylidene difluoride membranes (Millipore) and quenched with blocking buffer containing 10% non-fat milk in PBS-0.1 Tween 20 for 1 hr at room temperature. The membranes were incubated overnight at 4°C with primary monoclonal anti-ubiquitin sc-8017 antibody (1/1000 dilution; Santa Cruz) diluted in the blocking buffer. Membranes were subsequently incubated with goat anti-mouse human absorbed HRP-secondary sc-2055 antibody (1/10000 dilution; Santa Cruz) for 30 minutes and assayed using the Super Signal Pico chemiluminescence detection system (Thermo Fisher Scientific). Subsequent reprobing with anti-beta-actin antibody sc-81178 (Santa Cruz) was performed by stripping membranes of bound antibodies in stripping buffer (62.5 mM Tris HCL, 2% SDS, and 100 mM 2-mercaptoethanol [pH 6.7]) at 56°C for 20 minutes. ECL films and a LAS3000 imaging system (Fuji) were used for detection of the chemiluminescence. Silver staining was used to confirm loading homogeneity in the PAGEs post-electrotransfer using SilverSNAP stain (Thermo Fisher Scientific), in addition to reprobing of the membranes for beta-actin.
Semi-quantitative analysis of the Western blot data
Raw images were processed in ImageJ program (Dr. Wayne Rasband, wayne@codon.nih.gov, National Institute of Mental Health, Bethesda, Maryland, USA). The accumulated HMW ubiquitinated protein forms were delineated by a rectangular area, for which the background subtracted integrated density could be measured. The integrated density could then be measured for same area below the accumulated forms at a level of the blotting membrane demonstrating consistency of staining throughout the lanes, thereby providing a contrast reference area per lane. Calculation of a signal-to-noise (S/N) ratio for the accumulated forms was then determined independently from the detection of beta-actin that was achieved by stripping and reprobing the Western blot membranes.
Results
We studied gene expression profiles of lymphocytes isolated from 11 patients diagnosed with definite sporadic ALS (sALS) and 11 healthy control subjects. Clinical characteristics for this cohort are described in Table
1
. Figure
1
summarizes results from microarray data normalization and LIMMA, SAM and SAFE analyses.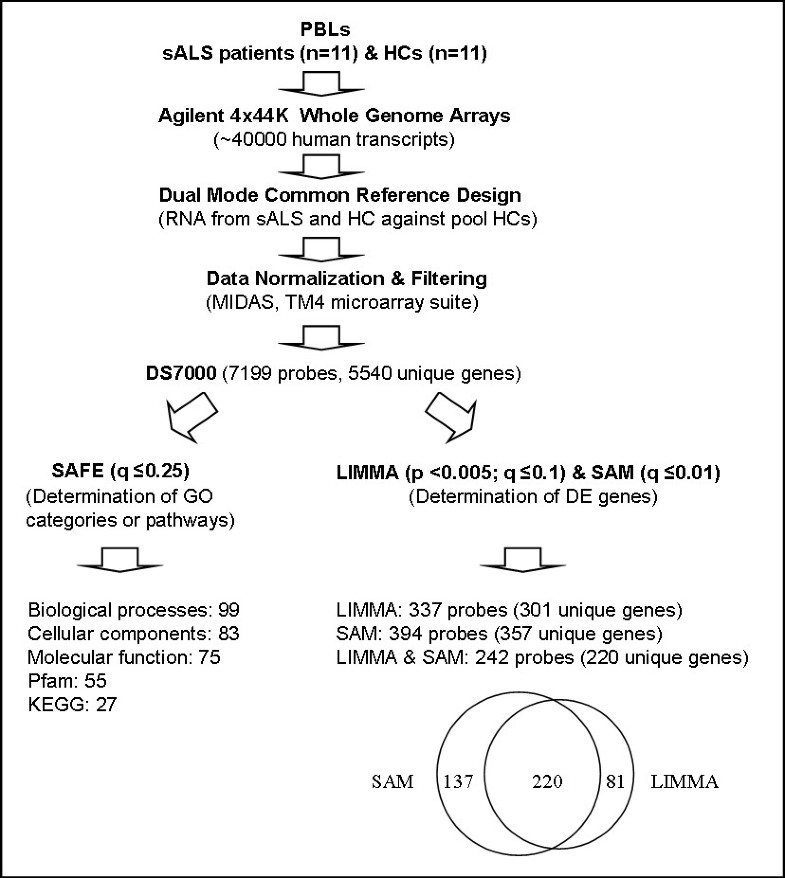 Discussion
We report, for the first time, genome-wide expression profiling of purified lymphocytes from patients with amyotrophic lateral sclerosis. This study, performed with the long oligonucleotide Agilent Human Whole Genome 44 × 4K Array, demonstrates that ALS relevant differential gene expression and pathway perturbations can be identified in peripheral blood lymphocytes by a functional enrichment method such as SAFE [20] and not only in brain or spinal cord that are directly affected by the disease. In the search for blood biomarkers in neurological disorders, determination of molecular signatures or pathway alterations becomes critical in the analysis of microarray data generated from the blood compartment. This is due to the fact that at the genome-wide scale of gene expression, relevant biological differences may be modest or even negligible relative to the noise. The expression profiling studies on whole blood from ALS patients by Saris et al. (2009) [11] and Lin et al. (2009) [10] clearly illustrate the challenge for data interpretation when variations in gene expression are minimal and performed by different methods. In the first case, 2300 probe-encoded genes were differentially expressed with fold changes in expression (ALS vs. controls) varying from 1.015 to 1.588 (mean value ± SD = 1.097 ± 0.073). In the second case, Lin et al. (2009) also reported small fold changes in expression of four mitochondrial genes of the electron transport chain (FLAD1, RFK, CYCS, and SDHB). A broader range of fold changes in expression for subcultured PBMCs was reported in the work by Zhang et al. (2011) [13] which could be due to subculture conditions and/or the method chosen for normalization of the microarray data [43, 44]. In our study, fold changes in expression for the genes found significant by SAM and LIMMA (i.e. DS3500), varied from 1.244 to 3.422 (mean value ± SD = 1.556 ± 0.28). Therefore, one may not expect to correlate differential expression by qRT-PCR for many genes due to the large sample size required to eventually confirm small changes in expression. This problem is partially circumvented by global pathway analysis methods. Many differentially expressed genes identified by SAM and LIMMA may be subjectively placed in the context of ALS pathogenesis. In addition, there was little overlap with 166 genes that were found associated with ALS to a variable degree in several single-gene and genome-wide association studies (GWAS). For instance, TARDBP, SOD1, KIFAP3 and COX7C were differentially expressed in our study. TARDBP and SOD1, clearly associated with ALS pathogenesis, have also been identified by various genetic analyses for their association with ALS. The fact that SAFE, LIMMA, and SAM identified SOD1 mRNA upregulation to be significant confirms findings by Gagliardi et al. (2010). Gagliardi et al. showed that SOD1 mRNA levels were increased in spinal cord, brain stem, and lymphocytes of sporadic ALS patients, but did not correlate with gender, age or duration of the disease [12].
For the first time, gene expression data from the blood compartment from sporadic ALS patients could be associated with the KEGG ALS disease pathway and KEGG disease pathways of neurodegenerative disorders such as Alzheimer's, Parkinson's and Huntington's diseases. Considering that global genome-wide subtle changes in gene expression were used for this determination, this result is rather unexpected. Protein activity changes that are caused by the presence of the disease are generally not expected to consistently correspond to transcriptional regulations. Our use of purified lymphocytes has likely provided a better dataset to study ALS-specific signature in the blood compartment as opposed to total blood.
However, because of the small sample size of our study (n = 22) and because ALS is a heterogeneous disease, it is not possible to capture the breadth of the disease process occurring during onset and progression of the disease. In addition, disease responses in lymphocytes may not mirror many of the disease processes occurring in brain, which depend on the alteration of the blood brain barrier and the microenvironment represented by glia and microglia. Furthermore, assuming that transcriptional regulation produces more or less active protein with appropriate subcellular localization and in a timely manner, about half of the genes based on their expression would have a negative effect on motor neuron survival while the rest would have a positive effect according to current ALS literature (Table 6). This clearly indicates very limited replication of processes occurring in brain or spinal cord of ALS patients. Thus, while similar pathways are affected in motor neurons and lymphocytes due to a possible systemic common cause(s), it is expected that some responses may differ in their details possibly reflecting differential susceptibility.
In our pathway analysis of the dataset DS7000 generated with Agilent Human Whole Genome 4 × 44K Array, SAFE identified alteration of gene expression pertaining to gene ontology (GO) categories relevant to ALS pathogenesis (and/or other neurological diseases), such as DNA metabolism, RNA splicing, mitochondrial function, oxidation, ER and Golgi functions, UPS, neurological function, post-translational modification and viral infection. These results are consistent with findings by Saris et al. (2009) that were determined by whole blood RNA profiling [11]. However, following pathway analysis using SAFE, we went further in the analysis of transcriptional alterations of the UPS by identifying a correlation between the expression of differentially expressed individual UPS-related genes and the time of presence of the disease or the ALSFRS-R. Indeed, whole exome sequencing identified mutations in the gene encoding valosin-containing protein (VCP), a key component of the UPS, as a cause of familial ALS, demonstrating that disturbances of UPS function may be closely linked to ALS pathogenesis [45]. A total of nine differentially expressed genes, were related to the UPS including four ubiquitin ligases representative of UPS GO groups identified by SAFE (ANAPC4, SHFM1, UBR1, and UBR2). Differential expression of the "N-end rule" ubiquitin ligase UBR2 gene [46] in lymphocytes from ALS patients was found to correlate with disease duration and ALSFRS-R at the time of sampling. Although, overall UBR2 mRNA expression is upregulated in ALS patients compared to healthy controls, a decrease in expression correlated with more advanced stage or severity. This apparent paradox can be explained by the possibility that an initial disease process to which healthy controls are never exposed, causes an initial upregulation of UBR2 mRNA expression which then declines as the disease progresses with increasing impairment of the UPS machinery. One possible mechanism of action of E3 ubiquitin ligases UBR1 and UBR2 could be to facilitate targeting of foldable conformers to the proteasome [39] and to provide protection against toxicity of (unknown) misfolded proteins that accumulate during the disease course in lymphocytes from ALS patients. This mechanism is similar to the E3 ubiquitin ligase dorfin (encoded by RNF19A) that prevents mutant SOD1-mediated neurotoxicity and improves symptoms in the transgenic G93A SOD1 mouse model [47, 48]. Indeed, the presence of some cellular toxicity in PBMCs was shown by De Marco et al. (2010) [49] who determined that the cytoplasmic fraction of TDP-43 in circulating PBMCs of sporadic and familial ALS patients was increased. In addition, by analogy with mutant SOD1-mediated toxicity, human wild-type TDP-43-mediated neurotoxicity might be partially alleviated by co-expression with ubiquilin 1 (encoded by UBQLN1) involved in autophagy and proteasome targeting [50, 51]. Moreover, mutations in ubiquilin 2 (encoded by UBQLN2) have been associated with X-linked juvenile ALS and adult sporadic ALS [52]. Ubiquilins bind to both ubiquitin ligases and the proteasome, providing a connector function within the UPS [53].
Our proteasome inhibition assays also indicate that lymphocytes from ALS patients exposed to serum factors and metabolites in vivo have acquired new properties with regard to the UPS and other pathways that are normally perturbed in degenerating motor neurons. In this respect, the study by Watanabe et al. (2010) [54], showing that metabolic alterations of the UPS may take place in the skin of ALS patients, follows the same paradigm. In addition, using short-term PBMC cultures Zhang et al. (2011) [13] showed that monocytes in ALS patients have acquired unique properties that relate to neuroinflammation and innate immunity.
Conclusions
Our approach demonstrates that subtle changes in gene expression measured by Agilent Human Whole Genome 4 × 44K Array may be interpreted objectively. Without underestimating the complexity of ALS pathogenesis, our analyses with these arrays identify multiple new directions worth further investigation, including systemic UPS pathway alterations, in the search of biomarkers associated with the cause(s) or the progression of ALS. Overall, it remains to be determined which properties the circulating lymphocytes acquire by long distance signaling in the peripheral blood system, and which properties they acquire by local signaling or local cell-cell contact due to trafficking of the lymphocytes at the sites of neurodegeneration in brain or spinal cord.
Declarations
Acknowledgements and Funding
We would like to thank Drs. Herbert L Bonkovsky and Farah K Mougeot for critical review of the manuscript. We also thank the Carolinas Neuromuscular/ALS-MDA Center staff for their help with consenting patients and acquisition of patients' samples and data. This work was supported by grants from the Carolinas ALS Research Fund of the Carolinas Healthcare Foundation, the Charlotte-Mecklenburg Health Services Foundation (HSF), and a grant from the North Carolina Translational and Clinical Sciences Institute (Award 10KR40936).
Authors' Affiliations
(1)
Department of Neurology, ALS Biomarker Laboratory - James G Cannon Research Center, Carolinas Medical Center, Charlotte, USA
(2)
Department of Neurology, Carolinas Neuromuscular/ALS-MDA Center, Carolinas Medical Center, Charlotte, USA
(3)
Department of Neurology, University of North Carolina School of Medicine-Charlotte Campus, Carolinas Medical Center, Charlotte, USA
(4)
Department of Biostatistics, University of North Carolina at Chapel Hill, Chapel Hill, USA
Copyright
© Mougeot et al; licensee BioMed Central Ltd. 2011
This article is published under license to BioMed Central Ltd. This is an Open Access article distributed under the terms of the Creative Commons Attribution License (http://creativecommons.org/licenses/by/2.0), which permits unrestricted use, distribution, and reproduction in any medium, provided the original work is properly cited.