Research article

Open Access

Open Peer Review
This article has Open Peer Review reports available.
Systems analysis of human brain gene expression: mechanisms for HIV-associated neurocognitive impairment and common pathways with Alzheimer's disease
BMC Medical Genomics
2013
6:4
Received: 4 September 2012
Accepted: 30 January 2013
Published: 13 February 2013
Abstract
Background
Human Immunodeficiency Virus-1 (HIV) infection frequently results in neurocognitive impairment. While the cause remains unclear, recent gene expression studies have identified genes whose transcription is dysregulated in individuals with HIV-association neurocognitive disorder (HAND). However, the methods for interpretation of such data have lagged behind the technical advances allowing the decoding genetic material. Here, we employ systems biology methods novel to the field of NeuroAIDS to further interrogate extant transcriptome data derived from brains of HIV + patients in order to further elucidate the neuropathogenesis of HAND. Additionally, we compare these data to those derived from brains of individuals with Alzheimer's disease (AD) in order to identify common pathways of neuropathogenesis.
Methods
In Study 1, using data from three brain regions in 6 HIV-seronegative and 15 HIV + cases, we first employed weighted gene co-expression network analysis (WGCNA) to further explore transcriptome networks specific to HAND with HIV-encephalitis (HIVE) and HAND without HIVE. We then used a symptomatic approach, employing standard expression analysis and WGCNA to identify networks associated with neurocognitive impairment (NCI), regardless of HIVE or HAND diagnosis. Finally, we examined the association between the CNS penetration effectiveness (CPE) of antiretroviral regimens and brain transcriptome. In Study 2, we identified common gene networks associated with NCI in both HIV and AD by correlating gene expression with pre-mortem neurocognitive functioning.
Results
Study 1: WGCNA largely corroborated findings from standard differential gene expression analyses, but also identified possible meta-networks composed of multiple gene ontology categories and oligodendrocyte dysfunction. Differential expression analysis identified hub genes highly correlated with NCI, including genes implicated in gliosis, inflammation, and dopaminergic tone. Enrichment analysis identified gene ontology categories that varied across the three brain regions, the most notable being downregulation of genes involved in mitochondrial functioning. Finally, WGCNA identified dysregulated networks associated with NCI, including oligodendrocyte and mitochondrial functioning. Study 2: Common gene networks dysregulated in relation to NCI in AD and HIV included mitochondrial genes, whereas upregulation of various cancer-related genes was found.
Conclusions
While under-powered, this study identified possible biologically-relevant networks correlated with NCI in HIV, and common networks shared with AD, opening new avenues for inquiry in the investigation of HAND neuropathogenesis. These results suggest that further interrogation of existing transcriptome data using systems biology methods can yield important information.
Keywords
HIV encephalitis
HIV-associated dementia
HIV-associated neurocognitive disorder
Weighted gene coexpression network analysis
WGCNA
CNS penetration effectiveness
National neuroAIDS tissue consortium
Coexpression module
Background
Infection with Human Immunodeficiency Virus-1 (HIV) frequently leads to neurologic consequences that are heterogeneous both behaviorally and pathologically. Behaviorally, some individuals will develop HIV-associated neurocognitive disorder (HAND), a syndrome of widely varying severity with unclear neuropathogenesis [1]. In some individuals with HAND, pathological evidence of encephalitis, termed HIV-encephalitis (HIVE), is seen upon autopsy; however, the correlation between HAND and HIVE is modest at best [2, 3]. To investigate the neuropathogenesis of HIVE and HAND, several methodologies have been employed, including measurements of gene expression alterations using. To date, most transcriptome studies utilizing brains of HIV-infected (HIV+) humans have focused on gene expression changes underlying HIVE. Such studies, generally limited to examination of the frontal grey matter, have found altered regulation of genes involved in neuroimmune functioning, and also implicated neurodegenerative pathways based on dysregulation of genes involved in synapto-dendritic functioning and integrity [4], toll-like receptors [5], and interferon response [6]. As recently reviewed [7], findings from human microarray studies have been partially replicated in simian immunodeficiency virus models, especially with regards to interferon-related and neuroinflammatory-related genes [8, 9]. Mouse astrocytes exposed to HIV have also shown some transcription overlap with those of simian and human studies [10]. More recently, in an analysis of gene microarray data derived from multiple brain regions of HIV + individuals with HAND alone or HAND with HIVE, two apparently distinct transcriptome profiles were found, suggesting that there may be two etiological pathways to HAND [11]. Specifically, HIVE with concomitant HAND was associated with high brain viral load, upregulation of inflammatory pathways across all brain regions, and downregulation of neuronal transcripts in frontal neocortex. Conversely, HAND without HIVE was characterized by low brain HIV burden without evidence of increased inflammatory response, and without downregulation of transcripts in frontal neocortical neurons. Indeed, only transcripts characteristically expressed by vascular and perivascular-type cells were consistently dysregulated in HAND without HIVE. Taken together, the results of that most recent and comprehensive study of HIV+ brain transcriptome suggests divergent neuropathogenic gene expression signatures reflecting different pathways underlying HAND with HIVE as compared to HAND without HIVE (see also Gelman and Moore [12]).
While these studies have provided important information, further interrogation of the data may provide further insight into the pathogenesis of HAND and HIVE. Thus far, analysis of transcriptome data has involved comparing gene transcript levels between groups and then determining the gene ontology of those genes that demonstrate significant differences in expression. However, because genes function in biologically-related networks, and therefore are likely to exhibit correlated expression, this method may overlook important aspects of disease pathogenesis. Further, while similarities may be observed in the expression of specific genes across species, these genes may be involved in different biological pathways in the species examined, confounding interpretation. As such, despite the diversity of microarray studies of HIV+ brains within and across species, no coherent picture of transcriptome aberrations has emerged. In the current study, we apply weighted gene co-expression network analysis (WGCNA), a proven systems biology methodology, to an existing gene expression data set derived from HIV + human brains [13–15]. WGCNA enables a more systematic and global interpretation of gene expression data, identifying biologically meaningful 'modules' that are often comprised of functionally related genes and/or correspond to cell types [16]. This is accomplished by assessing gene co-expression patterns (i.e., correlation matrices). The focus on co-expression modules, each consisting of possibly hundreds of genes with common co-expression across samples, allows for a biologically motivated reduction of data while also alleviating the problem of multiple comparisons. Typically, WGCNA results in fewer than 20 modules (as opposed to thousands of genes), which can then be examined for their association to clinical or biological variables of interest. Given the limited sample size of most transcriptome studies, a module based analysis is not only biologically meaningful but also attractive from a statistical point of view. An advantage of WGCNA vis-a-vis alternative coexpression based analyses is the availability of powerful module preservation statistics which can be used to quantitate the extent to which disease related modules are present in other data sets, including other species, or other organs and cells within the same organism [17–19]. Finally, by reducing data into a few biologically meaningful co-expression modules, WGCNA allows for direct association analysis with clinical and biomarker variables, thus allowing direct delineation of causative disease pathways. The validity of WGCNA is demonstrated by the reproducible and biologically meaningful results in several other applications and diseases [20–24].
Another highly useful application of microarray data is to identify disease mechanisms that are common between neurologic conditions. Studies of transcriptomic changes have been vital in elucidating the pathogenesis of neurodegenerative conditions such as Alzheimer's disease (AD )[25–27]. Utilizing such data, Miller et al. employed WGCNA to explore commonalities and differences between normal aging and pathological aging (i.e. AD) [28], resulting in the identification of biologically relevant modules conserved between AD and aging that included mitochondrial processes and synaptic plasticity. In the context of HAND, identifying biological pathways common to Alzheimer's disease and other neurological conditions could open the door to employing readily available pharmaceutical treatments in those with HIV.
In this paper we describe two studies. In Study 1, we extended the findings of Gelman et al. [11] in a number of ways. First, we examined the relationship between gene expression and two clinically-relevant variables: HIV-related neurocognitive impairment (regardless of HIVE status) and CNS penetration effectiveness [29] of antiretroviral drug regimens. We focused on neurocognitive impairment as this is a more continuous phenotype, as compared to neuropathological diagnosis. We also chose to examine CPE as the effect of highly penetrant regimens upon neurobiological functioning remains uncertain. We utilized both standard differential expression and WGCNA to identify biologically relevant pathways and modules associated with these clinical variables. We also utilized WGCNA to identify co-expression module differences across four clinically and/or neuropathologically distinct groups: HIV-seronegative, HIV + without HAND or HIVE, HAND without HIVE, and HAND and HIVE. We hypothesized that WGCNA would allow further and valuable interpretation of previously evaluated microarray data, and that biologically-relevant pathways and modules associated with clinical variables would be identified. In Study 2, we elucidated transcriptional commonalities and differences in neurocognitive impairment among HIV and AD. We hypothesized that both diseases would involve common genes and pathways associated with neurocognitive impairment.
Methods
Study 1: Identifying transcriptome networks associated with neurocognitive impairment and CNS penetration effectiveness of antiretroviral regimen using both standard differential gene expression analysis and WGCNA
Study 2: differential gene expression and enrichment analysis to determine common pathways associated with neurocognitive impairment in HIV and Alzheimer's disease
Patient groups
All HIV + cases (Groups B, C, and D, as described above) were used. Data for Alzheimer's (AD) cases was produced in a previous study (Blalock et al., 2004) [25] and available on the Gene Expression Omnibus. In that study, AD cases were clinically evaluated and their diagnosis was confirmed at autopsy. After removing 3 outliers (see [28]), there were 8 controls, 6 cases with incipient (mild) dementia, 8 with moderate dementia, and 6 with severe dementia. Dementia severity was determined primarily via pre-mortem neurocognitive testing. Gene expression data for both studies were profiled using Affymetrix® gene array platforms (HG-U133A).
Primary clinical outcomes
Study 2 included correlation of gene expression with neurocognitive impairment. As in Study 1, neurocognitive impairment was determined using the GCR in HIV + cases, as described above. In AD cases, the Mini Mental Status Exam, or MMSE [49], was used. The MMSE is a widely used neurocognitive screening measure. Scores range from 0–30, with lower scores indicating greater impairment.
Statistical analysis
To assess the transcriptional similarities between NCI associated with HIV and AD, gene microarray data from FC and BG of the 15 HIV+ brains (Groups B, C, and D described above) were compared to that of hippocampus of 30 brains obtained from individuals from the Blalock et al. study, including 8 neurocognitively normal controls and 22 with autopsy-confirmed AD [25].
First, we chose a single probe for each gene in the AD analysis using collapseRows as with these data, omitting all genes except the ones common to both analyses (total common genes = 8167) [36]. Second, we calculated the correlation between transcription level of each of these genes and the MMSE score in the AD data for comparison with the correlations between the respective genes and GCR scores in the HIV + group. We then plotted each of these pairs of correlations as a point on a graph in order to assess to what extent impairment genes in HAND are also impairment genes in AD. We define "impairment genes" as genes whose expression either increases (upper right of plots; R > 0.25) or decreases (lower left of plots; R < −0.25) with impairment in the hippocampus of AD subjects, as well as both the BG and FC of HAND subjects. We then conducted enrichment analysis on significant genes. In addition, we assessed which of the modules in the WGCNA of HIV + brains were also enriched for AD-related impairment genes by comparing the number of genes in the Blalock study that were correlated with MMSE score with the number expected by chance using a hypergeometric test.
An overview of both studies and associated analyses are depicted in Figure
1
.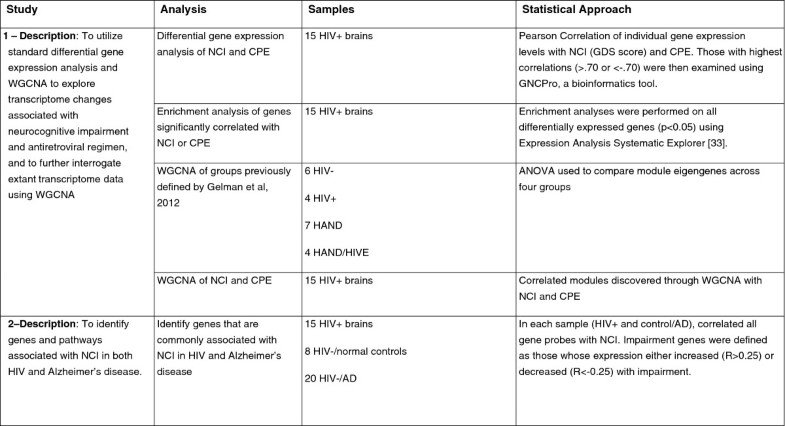 Discussion
In the studies described within this paper, we employed WGCNA to further explore transcriptome changes within brain tissue of HIV + individuals. In addition, we directly compared transcriptome changes in brains obtained from individuals with HIV to those with Alzheimer's disease. WGCNA has many advantages over traditional methods for differential expression analysis, including a focus on co-expression patterns thereby allowing for identification of biologically-relevant modules consisting of related genes, detection of hub genes that may eventually serve as targets for therapeutic modulation, and reducing data allowing for direct association analysis with disease-related variables [20–24, 54].
HAND is a common consequence of HIV infection [55]. As suggested by the results of Gelman et al. [11], there may be two distinct etiologies for HAND. The first is associated with neuropathological findings of HIVE together with high brain viral load and global upregulation of inflammatory response genes and downregulation of neuronal pathways with the FC. The second lacks the classic neuropathological findings of HIVE and is associated with relatively low brain viral load. This type also has relatively little transcriptomic dysregulation, with the exception of upregulated endothelial cell type transcripts in the BG. Overall our results, largely indicated by statistical trends rather than significant findings, recapitulate the main findings of Gelman et al. [11]. For example, both the previous and current studies found significant upregulation of pathways involved in inflammation and neuroimmunity in those with HIVE. In the current study, this was reflected in the Light Cyan (12b) and Turquoise (11a) modules in the BG and FC, respectively, and to a lesser extent the Light Cyan module in the WM (12c). Note that our analysis differed from Gelman et al. in that we did not directly compare pairs of groups (e.g., A vs. D), but rather examined all groups via ANOVA. Further, Gelman et al. performed their enrichment analysis using Ingenuity software, and probed for changes in expression of more than two-fold. Conversely we utilized WGCNA, which allowed for the further analysis of these data and provided additional avenues of study based on this precious microarray resource. For instance, our module based analysis reveals that some of our modules relate to cell types. Specifically, we found that the Red module within the FC (6a), enriched with oligodendrocyte-related genes, was particularly elevated in the HIVE group (Group D), suggesting specific dysfunction of this cell type in those with HIVE. In addition, our module-based analysis led to somewhat different enrichment of GO categories, and also provides a framework for understanding how various pathways interact through co-expression. For example, Gelman et al. identified 2 upregulated canonical pathways within the FC of individuals with HIVE, consisting of interferon signaling and activation of IRF cytosolic pattern recognition receptors. In comparison, the WGCNA identified 2 upregulated modules, consisting of a much wider array of pathways. The first module indicated increased transcription, DNA binding, and oligodendrocyte-related functioning, while the second indicated increased lysosome, lytic vacuole, glycosidase, antigen presentation, and interferon induction. Further, while Gelman identified 11 downregulated pathways within the FC of those with HIVE, our analysis indicated a single module consisting largely of pathways involved in hydrogen ion transporter activity, monovalent inorganic cation transporter activity, mitochondrion functioning, and transporter activity. As such, it is possible that our single module represents a meta-pathway that encompasses many of the GO pathways identified by the previous approach, as well as some that were not detected previously. Together, the WGCNA reveals different canonical pathways associated with HIVE, allows for a more systems-based interpretation of the data, and provides insight into the interactive activity of the various canonical transcription pathways.
Further extending the findings of the previous study, we examined the relationship between HIV-associated neurocognitive impairment (NCI) and gene expression, without making a distinction between those with or without HIVE. The reason for this approach is based on the poor correlation between HIVE and neurocognitive deficits that are characteristic of HAND [2, 3], suggesting that biological processes that do not inevitably culminate in HIVE underlie neurocognitive changes in those with HIV. We used two methods; 1) correlating standard differential gene expression with GDS, and 2) correlating modules derived via co-expression matrices with GDS. Our two methods revealed very different findings, both worthy of further exploration. First, using standard differential expression analyses coupled with a bioinformatics networking program, we identified three notable genes within the WM network. Expression of the inhibitor of DNA binding gene (ID2) was negatively correlated with NCI, such that expression of this gene decreased with higher NCI. The ID pathway has been implicated in reactive gliosis [56], and is upregulated by proinflammatory cytokines implicated in HAND [57]. Another apparently relevant gene showing modest connectivity is death-associated protein (DAP). The findings of Deiss [58] suggest that DAP is one of two genes that mediate gamma-interferon induced apoptosis. Importantly, gamma-interferon has long been known to play a significant role in HIV-related neuropathology [59, 60]. Of note, the fact that ID2 and DAP were negatively correlated with NCI goes against expectation, considering their reported neurobiological roles and associations with HIV-related immune factors. A third relevant gene, that showed strong positive correlation with NCI, is GRK6. GRK6 is involved in dopamine sensitivity at the D2 receptor [61]. Dysfunction of the dopaminergic neural systems, such as the frontostriatal system, has been strongly implicated in the etiology of HAND [62–67]. As such, one possible scenario is that upregulation of GRK6 results in desensitization of D2 receptors within the frontostriatal system, leading to increased NCI. Desensitization of D2 receptors may in turn lead to upregulated transcription. The complex balance of dopaminergic tone, mediated largely by the D2 receptor, was recently described by Gelman et al., who found that downregulation of D2 transcripts in HIV + human prefrontal cortex was associated with more favorable neuropsychological and neuropathological outcomes [68], underscoring the possible role of this receptor in the etiology of HAND. Of note, chemokine (C-C motif) ligand 2 (CCL2), also known as monocyte chemotactic protein-1, is also shown in this network, and has been repeatedly implicated in HAND [69–72]. Secondly, we explored GO categories associated with NCI. Notably, statistically significant downregulated GO categories were found only in the FC. Categories included the mitochondrion, mitotic cell cycle, DNA repair, proteasome complex, and nucleus. Together, these findings implicate a general breakdown of cellular functioning within the FC, including energy depletion and catabolism of intracellular waste products. Dysregulation of proteasome functioning was implicated in the FC. Proteasome dysfunction was previously reported in studies that related gene expression to pre-mortem neurocognitive functioning [73, 74]. Enriched GO categories were identified in all three brain regions, including transcription regulation in both FC and WM, and homo sapiens 19 in WM and BG. The homo sapiens 19 category contains a large number of brain-related genes. Finally, we employed WGCNA to examine co-expression modules associated with NCI. Largely confirming the GO analysis, we found modules in the FC largely representative of transcription and cellular signaling and glycoprotein functioning that showed significant positive correlation with impairment. However, in addition to these pathways, another module representative of oligodendrocyte functioning showed a notable trend (p = .052) for positive correlation in the FC. This module was also positively correlated with NCI in the WM. Within the Red module in WM (6c), hub genes included those implicated in other neurological conditions and CNS functioning, including WNK1 (linked to both cardiovascular [75] and Alzheimer's disease [76]) and NEO1 (involved in nervous system development and apoptosis [77]). Interestingly, a larger module more prominently associated with oligodendrocytes (11c/Turquoise) does not show increased expression with NCI, suggesting that only a subset of oligodendrocyte-associated genes may be related to HAND. These results suggest that a more in depth look at oligodendrocytes in relation to HAND may be warranted, particularly given recent implications of the role of oligodendrocytes in HAND and HIVE [78–80], as well as other neurodegenerative diseases, including AD [81, 82]. Indeed, considering the prominence of myelin pallor and gliosis as early neuropathological findings in AIDS patients, the role of oligodendrocyte-associated gene dysgregulation is not unexpected. Importantly, as these genes did not individually show significant correlations with NCI, they would not have been detected in a standard differential expression analysis.
Both methods (standard differential expression analysis and WGCNA) here provide complementary interpretation of changes that occur in the brain with NCI, and together provide a more complete look at NCI than either method alone. For example, both methods suggest that NCI is the result of increased transcription activity within the FC and WM. Further, both implicate decreased mitochondrial activity in the FC, and in the case of WGCNA, frontal white matter as well. Beyond that, standard analysis suggests that NCI is associated with downregulation of various networks or pathways involved in cellular functioning, energy metabolism, and proteasome functioning within the FC, as well as upregulation of categories such as transcription regulation in FC and WM, and Homo Sapiens 19 genes in WM and BG. Further, specific genes implicated include those involved in dopamine receptor sensitivity, apoptosis, and reactive gliosis. Conversely, WGNCA suggests that NCI is associated with increased transcription within the FC and WM. However, it also implicates oligodendrocyte dysfunction. Notably, the WGCNA did not identify any modules within the BG that were associated with NCI. Such divergent results are important, as they provide alternative directions for future investigations.
In study 1 we also examined the relationship between transcriptomic changes and antiretroviral therapy regimen, or more specifically CPE. The CPE is based on pharmacokinetic and pharmacodynamic characteristics of antiretroviral medications, including their ability to cross the blood brain barrier and eradicate HIV within the CNS [29]. In the current study, using differential expression analysis, only a few genes were found to have modest correlations with CPE, and no GO categories were identified. Follow-up analysis with GNCPro in the WM revealed only a single gene with notable connectivity; TNPO3. TNPO3 is required for HIV-1 integration into the host DNA, and higher CPE would be expected to decrease its expression [51, 52]. Counter intuitively, expression of this gene was positively correlated with CPE in the WM. Even when using WGCNA, no co-expression modules were found to be associated with CPE, suggesting that higher penetrating regimens do not have a significant impact upon gene expression. While ours is the first study to examine the association between CPE and brain transcriptome in HIV, the relationship between combination antiretroviral therapy (cART) use and brain gene expression was recently described by Borjabad et al. [83]. Notably, they found that cART-treated cases had transcriptome signatures that more closely resembled those of HIV-seronegative cases. Further, brains of individuals who were taking cART at the time of death had 83-93% fewer dysregulated genes compared to untreated individuals. Despite this, in both treated and untreated HIV + brains there were approximately 100 dysregulated genes related to immune functioning, interferon response, cell cycle, and myelin pathways. Perhaps helpful in explaining our findings, gene expression in the HIV + brains did not correlate with brain viral burden, suggesting that even high CPE regimens, which have been shown to reduce CSF viral load [84], may not reduce transcriptomic dysregulation. Indeed, the absence of an association between CPE and brain transcriptome would help to explain the overall equivocal results thus far of studies examining the relationship between CPE and HIV-related NCI [31–33, 85].
Study 2 sought to identify common transcriptome changes in HIV and AD that were related to NCI. Findings indicate some overlapping biological pathways underlying these two diseases. In total, 234 identical genes were upregulated and 413 downregulated in both diseases. Further, there was a modest correlation between HAND and AD in the level of correlation with cognitive impairment. More specifically, genes strongly correlated with NCI in HAND tend also to be strongly correlated with NCI in AD. Suppressed biological pathways associated with NCI in both diseases include cytoplasm, energy pathways, mitochondrion, tricarboxylic acid cycle, transit peptide, and synaptic vesicle. Conversely, expression of genes involved in cell differentiation, activator, repeat, cell communication, regulation of transcription, and phosphorylation increased with severity of NCI in both diseases. With regards to specific cell types, expression of neuronal marker genes was reduced with increasing NCI in both diseases, whereas expression of marker genes for astrocytes increased with NCI. Together, a picture emerges of waning neuronal functioning and waxing astrocytosis underlying the progressive neurocognitive decline in both diseases. This is further indicated by the results of cellular composition analysis, which found that neuronal loss/dysfunction along with gliosis underlies the impairment signature common to HIV and AD, a finding that is consistent with previous studies of AD [86, 87] and HAND [88–90]. Notably, examination of genes with greatest intramodular connectivity that are common between AD and HIV confirmed the down-regulation of mitochondrial-related genes in relation to NCI in both diseases; however, it also revealed a disproportionate number of cancer-related genes that were upregulated in both groups. This included genes in which upregulation is implicated in cancer (CTDSP2, CASC3, PGF) and those that are thought to be involved in tumor suppression (SASH1, HIPK2). The significance of these findings is unclear. Note that a recently published meta-analysis compared brain transcriptomes (frontal grey and/or frontal white matter) from individuals with HIVE and/or HAND to those from individuals with AD (various anatomic locations), without consideration of NCI [91]. Due to the different methodologies used, and the lack of specific anatomical focus (which as demonstrated here can lead to vastly different results), these two studies are not directly comparable.
While the findings of the current studies are compelling, they should be considered with the following caveats. First, the HIV + sample, while well-characterized both pre and post-mortem, was small. This in turn limited the power of our statistical analyses, and as such we have largely reported trends rather than statistically significant findings. While this limits the impact of our findings, we hope that they may still stimulate questions and new avenues for investigation. Second, the association of pre-mortem clinical data with post-mortem transcriptome data is fraught with difficulties, including variable time ranges between data collection, questionable reliability of psychometric testing among the very ill, uncertainty of adherence to ARV regimen, and effects of different causes of mortality upon brain transcription, to name a few. Finally, the comparison of AD and HIV brains involved different anatomical regions, which may have distinct transcription pathways regardless of disease state.
Conclusion
In summary, we provide here a systems biological interpretation of brain transcriptome data derived from HIV + individuals and those with Alzheimer's disease. Our results build upon previous findings that utilized a different grouping and analytic approach, and add an important dimension to understanding HIV-neuropathogenesis from a systems perspective. In addition, the identification of common pathways and genes associated with NCI in HIV and Alzheimer's disease is a novel finding that we believe warrants further investigation.
Declarations
Acknowledgements
This study was funded in through the National NeuroAIDS Tissue Consortium, which consists of National Neurological AIDS Bank (U01-MH08021 and R24-NS38841 - Singer), Texas NeuroAIDS Research Center (U01-MH083507 and R24-NS45491 - Gelman), Manhattan HIV Brain Bank (U01-MH083501 and R24-MH59724 - Morgello), and California NeuroAIDS Tissue Network (U01-MH083506 and R24-MH59745 - Grant). Funding was also provided by the National Institute for Drug Abuse grant R01DA030913 (Levine & Horvath).
Authors' Affiliations
(1)
Department of Neurology, National Neurological AIDS Bank, David Geffen School of Medicine at the University of California, Los Angeles, USA
(2)
Department of Human Genetics, David Geffen School of Medicine at the University of California, Los Angeles, USA
(3)
Department of Medicine (Division of Infectious Disease & International Medicine) and Department of Psychiatry & Behavioral Medicine, Morsani College of Medicine, University of South Florida, Tampa, USA
(4)
Departments of Pathology and Neuroscience & Cell Biology, University of Texas Medical Branch, Galveston, USA
(5)
Department of Psychiatry and Biobehavioral Sciences, David Geffen School of Medicine at the University of California, Los Angeles, USA
(6)
VA Greater Los Angeles Healthcare System, Los Angeles, USA
(7)
Department of Pathology, Keck School of Medicine at the University of Southern California, Los Angeles, USA
(8)
Departments of Neurology, Neuroscience, and Pathology, Manhattan HIV Brain Bank, The Mount Sinai School of Medicine, New York, USA
(9)
Department of Psychiatry, California NeuroAIDS Tissue Network, University of California, San Diego, USA
(10)
Department of Biostatistics, University of California, Los Angeles, USA
Copyright
© Levine et al; licensee BioMed Central Ltd. 2013
This article is published under license to BioMed Central Ltd. This is an Open Access article distributed under the terms of the Creative Commons Attribution License (http://creativecommons.org/licenses/by/2.0), which permits unrestricted use, distribution, and reproduction in any medium, provided the original work is properly cited.